Summary
Current Position: Prince William County School System
Affiliation: Republican
Candidate: 2019 State Delegate
Overview: N/A
About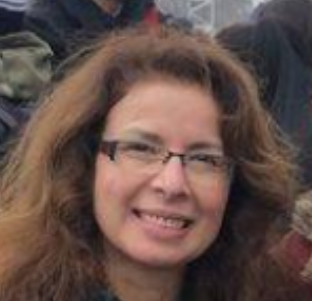 Source: Campaign page
While her husband served in the Navy they were stationed in Italy, there Maria learned to paint, using oil on canvas. As an artist, she has held art exhibits in various places, including the Bolivian Embassy. Maria is a published author. In 2007 she completed her first book, "Eternal Life", which is published in both English and Spanish, "Vida Eterna". Maria and her youngest daughter, Carolena are co-editing a children's book, expecting to be published later this year. Maria M​artin is running for the Virginia House of Delegates to serve the country she loves which has been her home for the last 26 years of her life. She has been an American citizen since 1997.
Maria first came to the United States as a student. While living in Maryland she attended a community college, where she studied English and a variety of business classes. Maria returned to Bolivia; and then, seven years later, was offered sponsorship to the United States, and this time found herself in San Diego, California. In San Diego she met her husband, a career Navy man while attending church. Maria is grateful of being a wife and the mother of three children. Her oldest is a Biology teacher who is currently attending medical school, her second born is a Civil Engineer-Army Officer, and her youngest child is a writer and film director.
Education is also important to Maria. In 2012 she obtained a Bachelor of Science Degree in Human Resources Management from Park University. She also obtained endorsements to teach Spanish and English as a Second Language from the University of Phoenix. As a resident of Prince William County for the last 25 years, Maria has worked in the Prince William County School System.
Maria has volunteered at the National Marine Corps Museum (NMCM). She has also volunteered to serve on a mobile team to help during the devastating hurricane Harvey storm in Houston Texas. Maria also dedicate her time to other efforts she believes are important.
Maria has been an active member of Move Church since 2000. That has given her the opportunity to serve in the Pastoral Team as a counselor, an interpreter, an altar minister, an ambassador in the welcoming center, and as a worker and member in the building program.
TO THE VOTERS
I believe that we should all pursue happiness through the fulfillment of our desires whether at a personal of professional level, respecting the rights of others. I believe that over the years with the intention to please everyone, the rule of law's purpose, to protect the civil rights of the people has been stretched to the point that it has lost its balance leaving some without a voice.
Contact
Email:
Offices
Campaign Office
P.O. BOX 84
Dumfries, VA 22026
Phone: 703-272-4724
Web
Campaign Site, Twitter, Government Page
Issues
Source: Campaign page
Promotion of the Arts
As an artist and a writer Maria wants to promote art in all the mediums, including the use technology in our district. She believes there is so much talent among our residents to explore. This is one of the factors that will bring us together because art has a language of its own.
Civil Rights
Maria believes that we should all pursue happiness through the fulfillment of our desires whether at a personal of professional level respecting the rights of others. She believes that over the years with the intention to please everyone the rule of law's purpose to protect the civil rights of the people has been stretched to the point that it has lost its balance leaving some without a voice, even the most vulnerable. Maria is not only pro-life. She is pro-abundant-life. She believes in the scripture that says "My people perish because of a lack of knowledge." (Hosea 4:6)
Economy
Maria will be an advocate to lower tax rates, in addition she will work to control and prioritize spending in order to keep Virginia one of the top states in the nation to live, educate, work and to raise families. Maria will advocate for tax policies that foster innovation in business and doesn't overburden hard working families.
Small businesses are fundamental to a vibrant economy. Entrepreneurs, independent contractors, and small businesses of our new economy, contribute to local economies by bringing both growth and innovation to the community. Small businesses give opportunities to achieve financial independence, and provide employment opportunities.
Education
Maria believes quality education is an important factor in creating a strong foundation for future generations across Prince William County. All children deserve equal opportunities to excel and achieve their goals. It is our responsibility to create the environment at home and at school conducive to student success. Maria believes Virginia needs to invest more funds in classrooms and pay our hard-working teachers salaries comparable to other government employees with the same level of education. Virginia needs to attract and retain high quality teachers ensuring they are respected and protected in the workplace. Education works best at the local level, when the students and parents take responsibility and ownership of the system.
Environment
Encourage environmental policy
"Change your mind, change your life." Is more than a slogan when we talk about our environment. Maria believes in the moral obligation of the people to be good stewards of God-given natural beauty and resources of our country. To preclude the devastating environmental changes in our district and state, we should encourage environmental policy. With individual self restriction we will improve our environment and protect our natural habitat. We should ensure that environmental policy meets the needs of localities. For that we must adopt new consumption behavior lifestyles, implement renewable sources of energy and implement research to prevent irreversible environmental damage. Economic prosperity and environmental protection must advance together.
Health Care
Programs for Virginia families
Healthcare cost is a major problem for Virginia families. Virginia needs to support, create and establish programs that incentivize wellness and disease prevention. Virginia needs to be a leader in the nation promoting medical innovation, development, and research. We need a patient friendly healthcare system that works for Virginia families.
The opioids crisis is affecting far too many Virginia families as well as our economy; we must have a comprehensive approach to dealing with this deadly crises including research and alternative treatment. Maria will work with other lawmakers to find solutions to this crisis.
Infrastructure
Transportation being a common issue in Virginia is a true matter when we talk about the Interstate 95, which is the main artery in our district. Alternatives such as enhanced bus transit, construction of roads to relieve the congestion in of I95 and its parallel Route 1 are in the forefront of Maria's concerns about the 52nd District.
Veterans
Maria is the spouse of a veteran, her oldest daughter attended Marine Corps Officer Candidate School and her son presently serves as an Army officer. Maria has seen and experienced the many sacrifices service men and women and their families make while serving our nation. Virginia is the home for many veterans who have proudly served our country. Maria will make sure veteran designated funding is used towards programs that help all veterans to succeed in their new civilian roles. Treating our veterans with dignity, respect and responsibility will reduce or/and eliminate the risk of becoming homeless while reducing and/or preventing suicide. Maria will be an advocate for veterans.
Twitter