Summary
Current Position: State Delegate for VA House District 88 since 2002
Former: Spotsylvania County Board of Supervisors from 2000 – 2002
Affiliation: Republican
Candidate: 2019 State Delegate VA House District 88
Mission Statement: N/A
About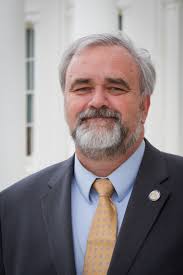 Source: Campaign page
Mark Cole has served in the Virginia House of Delegates since 2002 representing the 88th District, which includes parts of Stafford, Spotsylvania and Fauquier counties, and the city of Fredericksburg. He is a member of the House committees on Finance and Education, Small Business Commission, Rappahannock River Basin Commission, and is Chairman of the Privileges and Elections Committee.
He has previously served on the state Veterans Services Board, Virginia Commission on Youth, Southern Regional Education Board, the House Science and Technology Committee, 1st Congressional District BRAC Task Force, Quantico Civilian-Military Council, and Spotsylvania County Board of Supervisors.
From 1985 through 2012 Mark worked as a defense contractor supporting the Navy at the Naval Surface Warfare Center in Dahlgren, Virginia. He currently works as a Deputy County Administrator for Spotsylvania County.
From 1980 to 1985, he served in the U. S. Navy as Ordnance and Missile Officer on board the USS Mississippi (CGN 40). After active duty, Mark continued to serve in the Navy Reserve reaching the rank of Commander before retiring in 2004.
He is a graduate of Mary Washington College, Germanna Community College, and Western Kentucky University with degrees in Computer Science and Civil Engineering Technology.
Mark Cole has been active in his community as a Church Trustee, Sunday school teacher, youth soccer coach, and a member of the American Legion, the Veterans of Foreign Wars (VFW), the Gideons, and the Ruritans. He has also been an active member of the Republican Party and has worked in the campaigns of several Republican candidates.
His wife, Genia, is a retired kindergarten teacher. They have four adult children.
Experience
Work Experience
Deputy County Administrator
Spotsylvania County
US Navy and Naval Reserve
1980 to 2004
Education
B.L.S
Mary Washington College
1993
BS
Western Kentucky University
1980
A.A.S.
Germanna Community College
1990
Awards
Virginia Community Colleges, Distinguished Alumnus
Mount Olive Baptist Church Community Service Award
Navy Commendation Medal (three)
Navy Achievement Medal (two)
AEGIS Excellence Award
American Conservative Union, Defender of Liberty
Personal
Birth Year:

 1958

Place of Birth:

 Louisville, KY

Gender:

 Male

Race(s):

 Caucasian

Religion:

 Baptist

Spouse:

 Eugenia

Children:

 four
Membership & Affiliation
Fairview Baptist Church (River Club Campus)
Military Officers Association of America
American Legion
Gideons
VFW
Rappahannock River Basin Commission
Contact
Legislative Assistant: Rachel Rutherford
Administrative Assistant During Session: Margie Doggett
Email:
Offices
Capitol Office
Pocahontas Building
900 E. Main St,
Richmond, Virginia 23219
Phone: (804) 698-1088
District Office
P.O. Box 41965
Fredericksburg, VA 22404-1965
Phone: (540) 786-3402
Web
Government Page, Campaign Site
Politics
Source: Wikipedia
Cole was elected to the Spotsylvania County, Virginia Board of Supervisors in 1999, where he served until 2002 when he took office in the Virginia House of Delegates. He is the chairman of the House Privileges and Elections Committee and is a member of the House Finance and Education Committees.[1]
Positions
Cole describes himself as a fiscal and social conservative that supports individual rights while opposing tax increases. He opposed Republican initiatives to raise taxes in 2007 and 2013.
Microchip implantation
Cole was criticized in February 2010 for comments made by him about his sponsorship of HB53, a bill in the House of Delegates which would ban implantation of microchips into humans by their employers:
My understanding — I'm not a theologian — but there's a prophecy in the Bible that says you'll have to receive a mark, or you can neither buy nor sell things in end times, some people think these computer chips might be that mark.
Rob Boston of Americans United for Separation of Church and State said of this on MSNBC that "the sort of paranoid strain of thinking among these folks just—it advances to meet the new technology that we have." The bill passed the House on a bi-partisan vote 88 to 9. 
Bathroom bills
In 2016, Cole sponsored House Bill 663, a bathroom bill restricting public restroom use according to a person's "anatomical sex", defined as "the physical condition of being male or female, which is determined by a person's anatomy", with violators liable for a civil penalty not to exceed $50. HB663 was introduced on January 11, 2016 and died in committee in February 2016. It was widely reported that HB663 would require adults to inspect the genitals of children before they were allowed to enter the appropriate facilities, but this was dismissed by Snopes as a misleading interpretation of the bill's text, which states that administrators "shall develop and implement policies that require every restroom … that is designated for use by a specific gender to solely be used by individuals whose anatomical sex matches such gender designation." Cole sponsored House Bill 781 one day later on January 12, 2016, which used the same wording but substituted "biological sex" for "anatomical sex". The use of "biological sex" allowed for an update via amended birth certificate. HB781 also died in committee in February.
Voter registration
In 2017, Cole sponsored House Bill 1598, which would require those registering to vote after January 1, 2018 for state and local elections to provide proof of citizenship. HB1598 passed the House of Delegates on a 64-37 party line vote in February 2017.
Recent Elections
2017 State Delegate for VA House District 88
| | | |
| --- | --- | --- |
| Mark Cole (R) | 14,022 | 52.7% |
| Stephen Ronald Aycock (D) | 9,918 | 37.3% |
| Amanda M. Blalock () | 2,373 | 8.9% |
| Gerald Lee Anderson (G) | 255 | 1.0% |
| Write In (Write-in) | 41 | 0.2% |
| TOTAL | 26,609 | |
2015 State Delegate for VA House District 88
| | | |
| --- | --- | --- |
| Mark Cole (R) | 11,123 | 93.6% |
| Write In (Write-in) | 764 | 6.4% |
| TOTAL | 11,887 | |
Finances
COLE, MARK L has run in 9 races for public office, winning 9 of them. The candidate has raised a total of $735,504.
Source: Follow the Money
Committees
Committees
Chair: Privileges and Elections
Education
Finance
Subcommittees
Education – Subcommittee #1
Finance – Subcommittee #1
Appointments
Voting Record
See: Vote Smart
New Legislation
Source: Virginia Legislative Information System
Issues
Source: Campaign page
Sound conservative leadership for Virginia!
Mark Cole has spent his public life fighting for the needs of Virginia's families and taxpayers. Too many politicians are advocates for government bureaucracy. Mark is an advocate for you!
Since taking office in 2002, more than 100 bills that Mark sponsored and 300 that he co-sponsored have passed and become law. Additionally Mark has led the fight to STOP tax increases and OPPOSE wasteful government spending.
Better Government
BALANCING THE STATE BUDGET
– Opposed wasteful spending
– Supported legislation to control the growth in government spending
– Opposed attempts to raid transportation funds
– Opposed tax increases
"Delegate Mark Cole has been a strong voice for fiscal responsibility and conservative values in Richmond. He shares with me the principles of limited government and personal responsibility. We need leaders like Mark in the House of Delegates fighting for Virginia's families."
Congressman Dave Brat, 7th District 
Civil Rights
DEFENDING CONSTITUTIONAL RIGHTS
Successfully sponsored legislation to protect the right of law abiding citizens to keep and bear arms
– Defended the Right to Life
– Sponsored a resolution defending the Pledge of Allegiance to the Flag
Education
IMPROVING EDUCATION
– Led the fight to get additional state funds to increase teacher pay for our schools
– Supported efforts to ensure that the state fully funded its share of the education budget
– Supported efforts to empower parents and make schools accountable
– Worked to streamline bureaucracy to get more resources to the classroom
– Opposed unfunded mandates and wasteful spending
Immigration
CRACKED DOWN ON ILLEGAL IMMIGRATION
– Co-sponsored legislation banning "sanctuary cities" in Virginia
– Opposed efforts in the US Senate to grant amnesty to illegal aliens
– Passed legislation denying state and local benefits to illegals
– Co-sponsored legislation to allow state and local law authorities to enforce immigration law
"If the Federal government is not going to do its job to secure our borders and stem the tide of illegal immigration, I want to make Virginia an unattractive destination for them!"
Delegate Mark Cole
Infrastructure
FOUGHT FOR TRANSPORTATION SOLUTIONS
– Supported increased funding for transportation
– Expanded the authority of localities to collect road impact fees from developers
– Secured funding for improvements to local roads
– Passed legislation requiring VDOT to prioritize improvements to I-95
– Supported land use and growth reforms to reduce sprawl and congestion
– Supported reforms to streamline government bureaucracy and improve efficiency
"When Northern Virginia tried to raid Stafford's transportation funds, Mark Cole stopped them dead in their tracks!"
Mark Osborn, Former Stafford County Supervisor
Safety
PROTECTING FAMILIES
– Strengthen laws against sexual predators, child pornographers, and gangs
– Co-sponsored legislation to require internet filters for public library computers
– Increased penalties for drunk driving
– Defended traditional family values
SUPPORTING LAW ENFORCEMENT AND EMERGENCY SERVICES
– Led the fight to get additional funds to increase pay for state troopers and deputies
– Supported critical funding for fire and rescue
"Public safety and emergency services are Mark Cole�s top priorities. He helped ensure that funding was available for pay raises for deputies and state troopers. He has been a strong voice for us in Richmond."
Former Sheriff Charlie Jett, Stafford County
Veterans
SUPPORTING OUR MILITARY AND VETERANS
– Sponsored legislation strengthening employment rights for National Guard and Reserve members called to active duty
– Successfully sponsored legislation protecting military dependent voting rights
– Co-sponsored legislation granting in-state tuition to military members
– Supported construction of a new veterans� care center
– Worked with Congress to defend area military bases
"Mark Cole is a common-sense leader who has been a strong supporter of our veterans and military communities. I have worked with him on issues affecting Virginia's veterans and military facilities and can tell you he is a dedicated public servant who has gone the extra mile to make sure you are represented in Richmond!"
Congressman Rob Wittman, 1st District 
News
Source: Campaign
Session updates on home page
Videos
Other Videos
VA Delegate Defends Position on Transgender Bathroom Legislation
BlazeTV
Published on January 15, 2015
By: BlazeTV
A Virginia legislator faced intense criticism this week after he introduced two bills that would prohibit transgender students from using bathroom facilities that correspond with their gender identity. Mark Cole, a Republican in the Virginia House of Delegates, said in a statement Tuesday that his proposals are "common sense" ways to "protect the privacy of children and adults."