Summary
Current Position: State Delegate for District 45 since 2016
Affiliation: Democrat
Mark Levine was elected in 2015 to represent the 45th Delegate District of Virginia (Alexandria, Arlington, Fairfax).
Mark has a record of crafting progressive legislation at the local, state, and federal level that spans three decades. Mark is dedicated to turning the progressive ideals of our community into laws that help people and advance justice for all Americans. Mark co-founded the bi-partisan, bi-cameral Virginia Transparency Caucus, to make committee and subcommittee meetings in the General Assembly accessible to the public.
Featured video: This interview was conducted by Kerrie Thompson at the Sherwood Community Center in Fairfax City during the LWV-Fairfax Redistricting Forum on Nov. 17, 2019. Original interview recording has not been edited in any way.
Twitter
About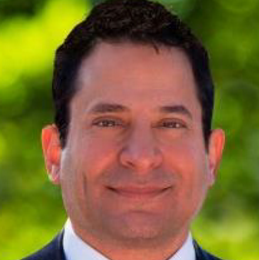 Source: Campaign page
A Long History of Progressive Activism and Legislation
Mark Levine was elected in 2015 to represent the 45th Delegate District of Virginia (Alexandria, Arlington, Fairfax).
Mark has a record of crafting progressive legislation at the local, state, and federal level that spans three decades. Mark is dedicated to turning the progressive ideals of our community into laws that help people and advance justice for all Americans.
Mark is a passionate advocate for all women and children, particularly those who are survivors of domestic violence and sexual assault.  Following the murder of his sister by her husband, Mark fought for 10 years to bring his ex-brother-in-law to justice and for his parents to obtain custody of his sister's two children so they would not grow up with the man who murdered their mother.
https://vimeo.com/381917129/e328c5595f
Mark is one of two openly gay members of the House of Delegates.
A Record of Legislative Accomplishment
Co-founded the bi-partisan, bi-cameral Virginia Transparency Caucus, to make committee and subcommittee meetings in the General Assembly accessible to the public
Passed HB 2127, extending the time period by which Physical Evidence Recovery Kits (PERKs) are saved from destruction (passed House & Senate unanimously)
Obtained 24/7 Sexual Assault Nurse Examination services at INOVA Fairfax for sexual assault victims throughout Northern Virginia (funded through a Federal grant)
HB 1941 (chief co-patron), protecting First Amendment rights of protesters and those who would publicly criticize businesses from frivolous lawsuits (pending in Senate)
HB 222 (chief co-patron), allowing Emergency Medical Services to cross state lines
Drafted and secured unanimous passage of a Tennessee law to protect victims of domestic violence and their children
Crafted D.C. marriage-equality law with Councilman Phil Mendelson and successfully defended the law in court
Took on Bush Administration to stop federal funding to charities that practice employment discrimination
Represented Congressional Black Caucus in their legal challenge to Bush v. Gore
Experience
Work Experience
Attorney
Hughes Hubbard & Reed LLP
2019 to present
Legislative Counsel
Democratic Congressman Barney Frank
2001 to 2003
Host
Inside Scoop, syndicated public policy radio program heard on 43 stations nationwide
2019 to present
Alexandria Democratic Committee Precinct Captain
Virginia Democratic Party Voter Protection
2019 to present
Attorney combating GOP voter suppression
Self
2019 to present
Education
A.B., Economics (magna cum laude)
Harvard College
2019 to 1988
Law degree
Yale Law School
2019 to present
Awards
Fulbright scholarship, Université de Neuchâtel, Switzerland (1989)
Personal
Birth Year: 1966
Place of Birth: Nashville, TN
Gender: Male
Race(s): Caucasian
Religion: Jewish
Membership & Affiliation
Truman National Security Project
Contact
Legislative Assistant: Jacob Weinberg
Administrative Assistant During Session: Alexandra O'Brian
Email:
Offices
Capitol Office
Pocahontas Building
900 E. Main St,
Richmond, Virginia 23219
Phone: (804) 698-1045
District Office
301 King Street
Alexandria, VA 22314
Phone: (571) 234-8481
Web
Government Page, Campaign Site, Twitter, YouTube, Facebook, Government Page
Politics
Source: Wikipedia
Mark H. Levine (born May 7, 1966) is the Democratic Delegate to the Virginia House of Delegates from Virginia's 45th District, which encompasses the eastern half of the City of Alexandria, some of the northern West End, parts of South Arlington, and the Alexandria portion of Fairfax County.[3] A Constitutional lawyer, Levine served as legislative counsel to Congressman Barney Frank (D-MA) from 2001 to 2003 and was an early advocate in the "Marriage Equality" movement. Since 2003, Levine has hosted a nationally syndicated progressive public policy radio program and worked as a TV pundit. In 2015, Levine was elected as a Democrat to the Virginia House of Delegates, where he currently serves.Committees.
Early life, education, and early career
Born in Nashville, Terned an economics degree
magna cum laude
from Harvard University, was a Fulbright scholar in Switzerland, and obtained a Juris Doctor from Yale Law School. Levine worked as a Nazi hunter, Jewish historian, and inner-city school teacher before becoming a trial attorney at Hughes Hubbard & Reed LLP in Los Angeles, California.
Murder of Levine's sister; domestic violence victims' advocate
In 1996, Levine's sister Janet Levine March was murdered by her husband Perry; her body has never been found and it took a decade to amass enough other evidence to convict him. In response, Levine drafted a Tennessee law to protect victims of domestic violence and their children. The law passed unanimously. A commentator wrote:
Rather than dwelling on his own misery, Mark turned the vision derived from his family's very personal tragedy into a political action that would protect other women from suffering as his sister did.
Washington Post
Levine flew to Mexico to track down his sister's killer and testified in court against him. March was sentenced to 56 years in prison for murdering Janet and conspiring to kill Levine's parents.According to the , the murder spawned "Levine's interest in lawmaking."
Gay-rights advocacy
In 1994, Levine helped organize a march on Hollywood and met personally with high-ranking studio executives to demand they depict gay and lesbian characters in a positive light.In 1999, Levine was one of the four original founders of Marriage Equality California. He "barnstormed across California to oppose Proposition 22 and then arranged America's first public "mass-marriage" protest for gay and lesbian couples. This modest attempt on February 14, 2000 to marry at a Beverly Hills courthouse became the first of the "Valentine's Day Marriage Protests" that would later sweep the country. Levine writes he:
promised the police and court officials that we would not be violent in any way. And court officials, in turn, graciously agreed to waive the marriage license fee, since we all knew they would reject our attempts to get married. I remember it was a beautiful day, and a joyful one: We all smiled ear-to-ear knowing we were attempting something that was then impossible but which every one of us thought would eventually become possible.
pro bono
Later that year, Levine drafted the first law introduced in the United States to give lesbian and gay couples equal rights to straight couples at both the state and federal levels. Levine's law, introduced in California in February 2001 as AB 1338 by Assemblyman Paul Koretz, went further than Vermont's civil unions law which only protected same-sex couples at the state level. Levine says local and nationwide gay and lesbian organizations opposed Levine's marriage equality law at the time as too "radical" and "politically impossible" and forced Koretz to withdraw it. At the time Levine's bill was introduced, no same-sex couples could get married anywhere in the world.Although Levine's first legislation to help same-sex couples did not become law, his second attempt was a success. In 2009, Levine worked with Councilman Phil Mendelson to draft the District of Columbia's marriage equality law which passed 11-2 and then represented the Gertrude Stein Democratic Club  in court to defeat the opponents of the new law who wanted to put it up for a referendum vote. Levine successfully argued in court that such a referendum would be a violation of D.C.'s Human Rights Act."
Challenge to Bush v. Gore
In 2001, Levine called President Bush's selection by the Supreme Court to be President "illegitimate" and argued: "If we can't have the right to vote than how can we start thinking about anything else?"
Michael Moore has called Levine's explanation of the Bush v. Gore opinion a "Simple Q&A that Every American Should Read" and "the best thing he's seen" on the issue.In December 2000, Levine was hired by the Congressional Black Caucus to appeal the United States Supreme Court decision in Bush v. Gore to the United States Congress. At the joint session of Congress, when it came time to count Florida's electoral votes, the Congressional Black Caucus presented the legal challenge Levine had drafted. If the action had succeeded, it would have prevented George W. Bushfrom becoming President of the United States. The legal appeal was rejected, and members of the Congressional Black Caucus and several other House Members walked out in protest.
Legislative counsel to Barney Frank
In January 2001, Levine moved from California to Alexandria, Virginia to serve three years as chief legislative counsel to Barney Frank, a high-ranking Democrat on the Judiciary, Homeland Security, and Financial Services Committees. In that capacity Levine says he learned how Washington really works: from the way bills become law to political negotiations, spin, administration secrets, and dangerous lapses in American security. While working for Frank, Levine used bipartisan back channels to ensure that LGBT 9/11 survivors were treated equally in distributions from the victims compensation fund. He also personally persuaded Hillary Clinton to withdraw her endorsement from President Bush's faith-based initiative, which would have allowed the federal government to discriminate on the basis of religion. Levine credits his one-on-one conversation with Clinton as what "killed" the initiative.
Talk-radio and investigative journalism
In 2003, Levine began hosting the radio show
Mark Levine's Inside Scoop on WashingtonThe Inside ScoopThe American Dream
on WAGE in Leesburg, Virginia and began in 2005 his local Fairfax County, Virginia television show . Levine has also hosted The AM Alternative, co-hosted The Raucous Caucus and News Views, and served as a weekly guest host of The Leslie Marshall Show. Levine was the only non-African-American host on XM/Sirius The Power. Today, Levine's program is carried on 43 radio stations nationwide and locally on WPFW (89.3 FM)'s Pacifica Radio. From July to December 2007, Levine hosted the television show  on Press TV, until, he says, Press TV tried to censor him. Levine also has served as an investigative journalist, doing stories uncovering spies at the FBI and spreading the word in 2006 about the national government monitoring the telephone calls of the vast majority of ordinary American citizens. Levine has broken national stories such as "Why the FBI Squelched an Investigation of a Post-9/11 Meeting Between White Supremacist and Islamic Extremists" and the rape, torture, and abuse of American teenagers in lockup boot camps, wilderness camps, and reform schools. Levine often follows up his investigative stories with legislative action. For example, he worked with Congressman George Miller (D-CA) to craft legislation to protect American teenagers from this institutional abuse.Since 2009, Levine has frequently appeared as a pundit on FOX News, CNBC, MSNBC, Fox Business, RT, CNN Headline News, and many other television stations locally, nationally, and worldwide. Levine is well known and occasionally mocked for keeping a Constitution in his pocket when he debates on air.
Candidacy for US Congress
On February 18, 2014, Levine became one of ten candidates entering the June 10, 2014 Democratic primary to succeed retiring Representative Jim Moran.Levine said he would distinguish himself from the other candidates by being "an aggressive progressive who doesn't just cast one out of 435 votes." With his media savvy, Levine said, "we can go over the heads of the Republican Party to the American people."In their rating of the candidates in the race, BlueVirginia.us gave Levine its highest rating of A/A- .
Over the years, Mark Levine has been a tenacious, effective fighter against right wingnuts and for progressive values. Also worth pointing out is that Levine – unlike most of the other candidates running for this seat – has been focused on a wide range of national issues (as opposed to specific niches of national policy, or a focus on state/local issues) for many years. Basically, this guy is a disciple of Rep. Barney Frank (Levine calls Frank his "mentor") and would be very much in Frank's mold. So, basically, if you like Barney Frank, you're also likely to be a Mark Levine fan.
Recent Elections
2019 State Delegate
| | | |
| --- | --- | --- |
| Mark Levine (D) | 19,824 | 91.46% |
| Write-in (Write-in) | 1,852 | 8.54% |
| TOTAL | 21,676 | |
2017 State Delegate
| | | |
| --- | --- | --- |
| Mark Levine (D) | 31,417 | 95.16% |
| Write In (Write-in) | 1,599 | 4.84% |
| TOTAL | 33,016 | |
2015 State Delegate
| | | |
| --- | --- | --- |
| Mark Levine (D) | 16,055 | 95.1% |
| Write-in (Write-in) | 832 | 4.9% |
| TOTAL | 16,887 | |
Source: Virginia Legislative Information System
Finances
LEVINE, MARK H has run in 4 races for public office, winning 3 of them. The candidate has raised a total of$584,928
Source: Follow the Money
Committees
Committees
Health, Welfare and Institutions
Militia, Police and Public Safety
Subcommittees
Health, Welfare and Institutions – Subcommittee #3
Health, Welfare and Institutions – Subcommittee #4
Appointments
House Health Welfare and Institutions
House Militia Police and Public Safety
Voting Record
See: Follow the Money
New Legislation
Source: Virginia Legislative Information System
Issues
Governance
Ethics Reform
While the recent ethics reform in Richmond was a start, there is much more work to be done to mitigate the influence of corporate and special interests in our Commonwealth. Mark is on the record as saying our current system, in which campaign contributions are unlimited, allows for "legal bribery."
Mark also supports public financing for campaigns, so candidates and elected officials can focus on talking to constituents, not donors.
Civil Rights
Protect Women's Rights
Mark has a record of taking on right-wing extremists to protect women's reproductive freedom, and will champion legislation to guarantee equal pay for equal work. He supports the Equal Rights Amendment. Mark has written bills to protect survivors of domestic violence and their children (click here for details) and he will continue his work to end the scourge of violence against women.
​As Legislative Counsel to Congressman Barney Frank, Mark fought to make Plan B (the "morning-after" pill) available over the counter, and to challenged Republican attempts to outlaw late-term abortions – even when the mother's life or health was in jeopardy.
Support Unions
Mark knows that union jobs pay better and are safer and can be counted on to stand in solidarity with workers trying to organize. Mark will always defend the right of workers to organize for better pay and working conditions.
Take on the NRA
Mark wants to require universal criminal and mental-health background checks and to ban high-capacity magazines and assault weapons. He supports re-instituting the limit of private gun purchases to one per month.
Advance Civil Liberties for All Virginians
Mark wrote the law that brought marriage equality to Washington, D.C. in 2010, and then defended that law in court to stop a referendum on the civil rights of same-sex partners. Mark is a long-standing champion for the Employment Non-Discrimination Act to make sure that LGBT Virginians are not discriminated against for whom they love.  Click here for information about Mark's bill, the Virginia Human Rights Act.
He fights to reverse GOP voter suppression that disproportionately effects poor, young, elderly, and minority voters. Mark believes we should make it as easy to vote as possible, with same-day registration, extended, no-fault absentee voting, and automatic registration when citizens sign up for driver's licenses.
Economy
Help Struggling Families
No full-time worker should be living in poverty. Mark believes it is time to raise Virginia's $7.25 minimum wage and increase the $2.13 minimum wage for tipped workers. He wants to expand access to affordable housing, and fight to shut down predatory pay-day lenders, click here for his bill details.
Education
Improve Education
As the son of a first-grade public school teacher, Mark believes that universal Pre-K is the foundation for all education. He believes in reforming Standards of Learning tests to emphasize critical thinking instead of teaching to the test. Mark thinks college must be more affordable by incentivizing institutions of higher education to stop runaway tuition increases.  Mark also thinks it is important to expand broadband internet access in rural Virginia, click here for the details.
Environment
Take Action Against Climate Change
Mark supports investment in clean energy and green jobs. He knows our dependence on fossil fuels is bad for both the environment and, ultimately, our economy, and supports off-shore wind farms. He demands transparency and accountability from Dominion Power to protect the public interest.
Health Care
Expand Affordable Health Care
Mark believes it is right to expand Medicaid, require mental health parity, and institute paid family leave (click here to learn about Mark's Paid Family Leave Bill). Every Virginian deserves affordable health care.
Infrastructure
Fund Transportation
Mark advocates for Northern Virginia transportation dollars remain here to improve our roads, bridges, and mass transit.  Click here to learn more about Mark's bill to protect transportation funding.
Body Cameras for Police
Mark supports requiring Virginia police to wear body cameras to assist in gathering evidence, protect the public interest, and ensure the safety of citizens.  Mark's body camera bill was supported by the Sheriff's Association, the Fraternal Order of Police and the NAACP (click here for details).
Reforming our Criminal Justice System
Considering our underfunded school system and the disastrous futility of the drug war (especially in minority communities) Mark strongly believes it is time for a re-thinking of our priorities. Mark supports the legalization, commercialization, and taxation of marijuana, so Virginia will stop spending millions of dollars locking up non-violent adults for smoking marijuana.  Mark sought to compromise this year and introduced a bill legalizing medical marijuana, click here for more information.