Summary
Current Position: Retired, Business Executive
Affiliation: Democrat
Candidate: 2019 State Delegate
Mary Margaret is running to fight for:
– Fiscal responsibility and budget discipline
– Transparency and simplicity in both education and healthcare
– The return to civility and kindness in our public discourse
Twitter
About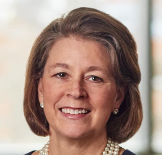 Source: Campaign page
Mary Margaret Kastelberg was born on the Fourth of July in 1963, in Richmond, Virginia to Bill and Dorothy Smithers, an attorney and former school teacher. As the third of four children, she grew up in an active household in Henrico. Her family was involved in St. Mary's parish, often volunteering at bingo nights, spaghetti suppers and basketball games.

Mary Margaret graduated as valedictorian from St. Catherine's School in Richmond in 1981, and headed to Princeton University that fall.
While at Princeton, Mary Margaret had a full schedule of studies, sports, work and interest groups. Having never before "rowed", with grit and sheer determination she worked her way into the "first boat" of the Freshman Crew. She later joined the rugby team where she finished her senior year as captain. In addition to making time for sports, Mary Margaret worked in food services and the Alumni Council all four years before graduating in 1985.
After college, Mary Margaret headed directly to the University of Virginia's Darden School of Business where she graduated in 1987, with an MBA concentrating in Finance.

Following UVA, she accepted a position at Ryland Acceptance Corporation as a financial analyst in Richmond. She worked in various roles during her tenure and eventually left the company as a Senior Vice President. Her financial experience led her to accept a position at a small and growing investment banking firm in Richmond, Ewing Monroe & Co., where she expanded her knowledge of finance and capital structures as well as business management.
Though she had always been active in alumni activities, in 1989 Mary Margaret began what would become an expanding list of community outreach by first partnering with Richmond's Big Brother Big Sister Program.

Mary Margaret (Smithers) married Eugene Kastelberg at Richmond's Cathedral of the Sacred Heart in 1995. In four years, the family doubled with the arrival of Bridget in 1997 and of Gene III 1999.

Mary Margaret stepped back from the corporate world and balanced working part-time and the demands of caring for family, both young and old.​

Like many moms, she could be found volunteering at her children's school, coaching soccer games and volunteering at St. Bridget Church.

Mary Margaret joined the board of Commonwealth Catholic Charities in 2006, serving as the chair from November 2015-March 2018. She was drawn to the mission of the organization to serve the most vulnerable in our community, regardless of faith. The entire family has supported the Little Sisters of the Poor over many decades and especially looks forward to prepping for and working at the annual French Food Festival.
After years of car-pool, football and softball games, and many recitals, Mary Margaret and Gene are excited to have two Hokies in the house. They continue to work in their respective fields (business and medicine), but look forward to visits to Blacksburg.

Web
Campaign Site, Twitter, Facebook
Issues
Economy
Improve Quality of Life
Henrico is one of the best places to live in Virginia, and Mary Margaret believes there are opportunities to continue improving the quality of life for our citizens. To accomplish this, Mary Margaret believes:
1. Henrico must remain "open for business" and sustain an environment that is welcoming to entrepreneurs and businesses of all sizes. This business-friendly environment will spur job opportunities across all fields.
2. State and local leaders must work together to manage growth and ensure proper planning continues in Henrico. Mary Margaret will work with leaders across the aisle to manage growth and ensure common concerns such as school overcrowding and transportation safety are addressed as we continue to grow.
3. Our children should never feel unsafe in our community whether on the playground or online. As a mother of two, Mary Margaret is committed to ensuring our law enforcement agencies are given all of the tools that they need to protect families.
Education
Improve Henrico Schools
Henrico County schools are one of our region's greatest resources, and our state universities are consistently ranked among the best in the nation.  Mary Margaret is committed to working with local schools, colleges and businesses so students graduate from high school and either enter the workforce skills-ready or continue their education without accumulating crippling student debt.
To keep our schools strong, we need to invest in recruiting and retaining high-quality teachers. Our assessments of students, teachers, and schools should be relevant and measure progress against appropriate benchmarks. Mary Margaret will look at opportunities for schools to partner with non-profit organizations to support students in a variety of areas including mentoring and reading.
A cookie-cutter approach to education does not work. Mary Margaret recognizes that different students have different needs and having an array of educational options enhances our ability to meet those needs.
In addition, Mary Margaret feels we must avoid adding more burdensome mandates, which often result in unintended and undesirable consequences. Trusting local school districts with greater discretion in scheduling and staffing, with appropriate oversight, can relieve budget pressures while maintaining adherence to approved and uniform standards.
Mary Margaret believes that by bringing educators, families, businesses and community groups together, we can create the best outcomes for students.
Health Care
Increase Access to Quality Healthcare
For many Henrico families, having access to affordable and top-quality healthcare is difficult or unattainable. Other Henrico families may have coverage, but they face rising costs each year.
Mary Margaret believes we need to preserve what is working in our healthcare system, while also pushing for policies that expand access and reduce costs without requiring a complete government takeover of our health insurance system.
We can do this, and Mary Margaret's guiding principles on healthcare are:
1. Protect patients with preexisting conditions.
2. Support measures to increase access to care, while working to reduce costs to patients and taxpayers. Medicaid is the fastest growing item in the Virginia Budget, and for individuals, the cost of prescription drugs is skyrocketing. Mary Margaret is focused on finding innovative ways to address these and other cost issues.
3. Oppose "Single Payer," "Medicare for All," or any other complete government takeover of healthcare proposals for Virginia as it will result in the inevitable elimination of private insurance coverage, restrict access to the doctor of your choice, and weaken the top-quality healthcare available in Henrico.