Summary
Current Position: Policy division of Department of Labor
Affiliation: Republican
Candidate: 2021 State Delegate
Overview: N/A
Twitter
About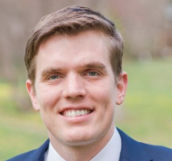 Source: Campaign page
Nick started his career serving as a missionary and never really stopped.
After college, Nick went to the Dominican Republic to work with impoverished children. This powerful experience was his introduction to the Spanish language, which led him to Spain for three years. In Madrid, he taught English to first and second graders and played semi-pro basketball.
Because of a desire to help his own country and to be closer to family, Nick came back to America in 2014 to serve as grassroots director in the U.S. Senate campaign of his father, Jeff Bell. As a fluent Spanish speaker, he conducted outreach to the Hispanic community.
After helping to run his father's Senate campaign, Nick decided to serve the country with the federal government. Most recently, this was in the policy division of the U.S. Department of Labor and prior to that in the Capitol Hill office of U.S. Senator Thom Tillis.
Nick grew up in the 39th district where he attended Holy Spirit School and W.T. Woodson High School. He graduated from the college of William and Mary in 2009 with a B.S. in biology.
In his spare time, Nick enjoys sports of all kinds, mostly basketball, and volunteering at a local nursing home.
Experience
Work Experience
Education
Web
Campaign Site, LinkedIn, YouTube, Twitter, Facebook
Issues
Civil Rights
I was content at my job and honored to serve the country in a position with the federal government. But in late January I learned of a bill in the Virginia General Assembly championed by some Fairfax County delegates rolling back every meaningful restriction on the gruesome practice of late-term abortion. I listened with astonishment and disgust as Gov. Ralph Northam endorsed infanticide. According to the governor, as long as infant survivors of abortion are kept "comfortable," abortionists have the right to execute born babies.
My opponent Vivian Watts cosponsored this infanticide bill with Delegate Kathy Tran. On the same day she introduced the bill, Tran also introduced legislation protecting butterflies. Do we want our representatives to prioritize insects over human beings? If we can't prevail upon our elected officials to save born babies, crying and struggling for life after a failed abortion, then we need new elected officials.
I believe in the dignity of human life. As your delegate, I will be an unrelenting opponent of extreme efforts to normalize infanticide and abortion up until the moment of dilation.
I understand abortion is controversial. However we can all agree that ending the lives of fully developed babies capable of feeling intense pain (whether pre or post-birth) is wrong. If our politicians cannot be trusted to protect our most sacred right – life – how can we expect them to protect anything else that we hold dear?
The pro-infanticide forces in the General Assembly hold 49 out of 100 seats and 19 out of 40 seats in the Virginia Senate. If they gain two seats in each chamber, then Governor Northam´s extreme abortion bill will become law. They must be stopped. That's why I ask for your support on November 5, 2019.