Summary
Current Position: Pharmacist
Affiliation: Republican
Candidate: 2019 State Delegate
Overview: N/A
Twitter
About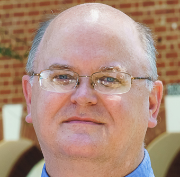 Source: Facebook
Otto Wachsmann is passionate about his sense of community and his strong desire to see his community move forward. This value has been instilled in him from his early days spending as much time in the summer as he could on his grandfather's farm, standing on a soda fountain stool so he could reach the keys on his father's cash register at their family owned store, serving for sixteen years as a member of the Stony Creek Volunteer Fire Department, maintaining his efforts as a member of the Joyner Gray Yale Ruritan Club and his decades working as a pharmacist at Stony Creek Pharmacy.
After graduating from high school, Otto attended the College of William and Mary in Williamsburg for two years to fulfill his entrance requirements into the Medical College of Virginia-VCU School of Pharmacy where he earned his BS degree in Pharmacy in 1986. Immediately following graduation, he started working as a staff pharmacist for Peoples Drug briefly in Richmond before being transferred closer to home at their Emporia, Virginia location. It wasn't long before he left corporate pharmacy and began a career working for a collection of independent pharmacies in Sussex, Petersburg, Prince George and Crewe, Virginia. ​
In 1989 Otto took a brief absence from community pharmacy and took a home office manager positions at the A. H. Robins Company in Richmond as their first Manager of Managed Health Care/Technical Information and later as their Manager of New Product Planning/Technical Information. While those two roles only lasted for one year before the company was purchased by American Home Products, it provided him with an inside view of what has now developed into how prescription drug prices are created and further manipulated.​
After returning to his previous work with independent pharmacies, in 1996 Otto stepped out again and accepted the position as Director of Experiential Education at the newly created Bernard J. Dunn School of Pharmacy at Shenandoah University in Winchester, Virginia. While pioneering this position, Otto travelled throughout the state and became quite aware of the concerns of many people in our rural areas including the opioid crisis which was just developing in Southwest Virginia at that time. It was also during this time that he earned his Doctor of Pharmacy degree at Shenandoah University and served as President of the Virginia Pharmacists Association.
​
Although Otto found the Winchester region in Virginia quite appealing, in 2003 he returned home to the 75th District and purchased his father's pharmacy that he still owns and continues to help those in our community with their prescription needs. He is quite fortunate to have some outstanding and friendly staff to assist with serving their patients who need and deserve assistance with understanding their healthcare needs. It is this position, from behind and in front of the pharmacy counter that Otto has gained his sense of passion for his community. As portions of our economy according to the experts seem to have improved the past few years, it is apparent in rural areas such as most of the 75th District this move to prosperity appears to have stalled. While we hear of programs to help improve the economy from a statewide level, with very few exceptions, Otto has not seen those benefits translate well to those in our community. Instead he sees many areas of decline for his patients and as a small business owner he watches as hardware stores, grocery stores and other pharmacies close leaving those in the community with a loss of valuable resources. These reasons are what have prompted Otto to make a bid for the office of Delegate for the 75th District in Virginia.
Today Otto and his wife Judy have their roots in Sussex County to stay. In addition to their pharmacy, he enjoys living in the house that he and Judy had built on that very same farm that Otto enjoyed spending so much time on with his grandfather. They have two daughters, Katherine (Kate) and Kirsten that have recently moved off the farm and into their own. Kate works at Southern Virginia Regional Medical Center in Emporia as an X-ray/CT technician and their youngest daughter Kirsten is in graduate school at Longwood University in Farmville, Virginia. When Judy isn't maintaining her efforts with managing the dual enrollment high school student program at Paul D Community College in Franklin, VA in their free time, she and Otto enjoy their farmhouse with their chocolate Labrador Celexa who is probably at this very moment adding to her collection of sticks, rocks and weeds she keeps in the family room.
​
​
Web
Facebook, Campaign Site, Twitter
Issues
Source: Campaign page
Increase Access to Quality Care
Too many families in Southside suffer from an incomplete healthcare system. Access to quality care is limited, providers lack necessary resources, prescription drug costs are too high, and it's nearly impossible to navigate the health insurance maze. We need patient centered solutions that will allow those in our community to have access to the quality and affordable care they deserve, regardless of location. We also need to protect patients with preexisting conditions and ensure they get the care they need.
Additionally, we need to confront the opioid epidemic head on. We are losing too many young, talented individuals to this tragic disease while wasting valuable resources which can be used elsewhere. There has to be a better way. We must find a solution. We have to find a different approach.
Bringing Jobs Back to Southside
We are told the economy is improving and unemployment is low, but it's hard to see the effects of that in our region. Over the years countless businesses have been forced to close taking good paying jobs with them. We need to show that Southside is open for business and that starts with a favorable tax climate and eliminating burdensome regulations that hurt businesses. Jobs are not a partisan issue. We need to work with everyone, regardless of party, to make sure Southside is an attractive place to open a business. We need to offer our local governments a hand in identifying and bringing new business into the region. We need to discover how we can assist new small businesses to open and operate.
Agriculture is critical to our economy. We need to ensure preservation of farmland, reduce unnecessary and unfounded regulation on farmers and the farming industry, and create a business climate where agriculture in all forms can thrive.
Quality Education for All Students
Our children deserve the best education from the best teachers. We must make it a priority to keep great teachers in the classroom and that starts with making sure they are fairly compensated. If we are going to attract jobs to our region then we need to prepare our children for the jobs of tomorrow. Finally, a cookie-cutter approach to education does not work. Different students have different needs and we owe it to them and our teachers to have a flexible system that can accommodate these students and best prepare them for success.
Additionally, rural areas of the state like ours are being left behind as we struggle to try and keep our facilities from falling apart. It's important to take steps forward to modernize and improve our crumbling school infrastructure.