Summary
Current Position: Lawyer
Affiliation: Democrat
Candidate: 2020 US Representative for US House District 1
Qasim believes in service, leadership, and compassion. He is an immigrant, a proud American Muslim, and above all a devoted father and husband. His wife, Ayesha, is a small business owner and volunteers with interfaith outreach in the community. Together, they have three beautiful children and live in Stafford. Qasim is running as a Democrat to transform his advocacy into policy for the working families of Virginia's 1st District.
Qasim earned his law degree from the University of Richmond School of Law and has a long track record of serving diverse communities in Virginia. This includes his work to combat domestic and sexual violence against women, uplift the incarcerated through prison chaplaincy, serve his neighbors through blood drives and highway cleanups, and advocate for children's education.
Source: Campaign page
About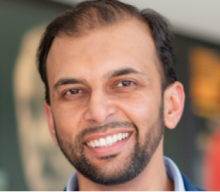 Qasim believes in service, leadership, and compassion. He is an immigrant, a proud American Muslim, and above all a devoted father and husband. His wife, Ayesha, is a small business owner and volunteers with interfaith outreach in the community. Together, they have three beautiful children and live in Stafford. Qasim is running as a Democrat to transform his advocacy into policy for the working families of Virginia's 1st District.
Qasim earned his law degree from the University of Richmond School of Law and has a long track record of serving diverse communities in Virginia. This includes his work to combat domestic and sexual violence against women, uplift the incarcerated through prison chaplaincy, serve his neighbors through blood drives and highway cleanups, and advocate for children's education.
Qasim channels his passion to serve the marginalized by working with national and international non-profit organizations that advance women's rights, improve water, food, shelter, healthcare, and education access for children living in poverty, and fight to protect the religious freedom for all people. To that end Qasim has written numerous books, given hundreds of interviews, and testified before the US Commission on International Religious Freedom to protect the rights of persecuted religious minorities around the world. Likewise, Qasim has worked with the US Government to improve national security here at home, while upholding the United States Constitution as the supreme law of the land.
In addition to his humanitarian commitments, Qasim works as a consultant to help major organizations, small businesses, and non-profits improve their corporate strategies, messaging, and innovation. He loves interfaith dialogue, running marathons, reading, and spending time with his wife and children. Qasim and his family attend worship services at the Masroor Mosque in Manassas.
Qasim aspires for a campaign built on transparency and trust, and invites you to reach out to him directly. Together, you and Qasim can make Virginia an even better place to call home.
Contact
Email:
Offices
Campaign office
PO Box 489
524 Garrisonville Road
Garrisonville, VA, 22643
Web
Campaign Site, Twitter, Facebook
Issues
Governance
Qasim Rashid believes in policy based on the public good, not personal gain. This is why he is running a grassroots campaign with zero donations from corporations or corporate PACS. Qasim knows that the reason behind bad policy, dysfunction, and political gridlock  can often be found by asking one question: where is the money coming from? This is why Qasim has signed the American Promise pledge to enact campaign finance reform. Qasim believes:
Politicians must sell their stocks before taking office, This is the only way to ensure that stock interests don't influence policy decisions. Even if the stocks are kept in a blind trust this can still lead to conflicts of interest and politicians making decisions that benefit the stock market rather than everyday Americans.
We must end Citizens United, and we need to go even further than that, by banning campaign contributions from corporations and corporate PACS entirely.
Politicians must only be beholden to the will of the people, not to wealthy donors or corporations. Elected officials and candidates spend too much of their time in fundraising for election or reelection when they should be spent legislating on behalf of their constituents' interests.
As Congressman, Qasim will act in the interest of the people, not corporations and wealthy donors. He will fight to remove the undue influence of money in politics by overturning Citizens United. When we eliminate the ease with which politicians can serve themselves and the interests of their wealthy donors, we will then be able to expect congress to truly serve the public's interests.
Democracy
Qasim Rashid believes that Virginia's election districts should be fair and free of partisan gerrymandering. Gerrymandered districts have long plagued the Commonwealth of Virginia, allowing power to be taken away from citizens at the ballot box. Instead of letting voters pick their representatives, the powerful pick their voters by designing districts that keep them in power. This must change.
Gerrymandering hurts our democracy. Communities that have similar interests and concerns are carved up, leading to split precincts and mis-assigned voters. Many voters don't know which district they are in, which leads to lower voter turnout.
Legislators are less responsive to their constituents when they know their seats were built to be safe. Candidates often face no real competition in the general election and voters end up with no choice at all. This contributes to voter frustration and apathy, depressing voter turnout.
Gerrymandering is pushing representatives toward partisan extremes, contributing to partisan gridlock in the General Assembly and U.S. Congress.
According to a December 2018 poll by the Wason Center for Public Policy at Christopher Newport University, 78% of Virginia voters support changing the way redistricting is done.
With computer technology making gerrymandering efforts more precise, the issue will only get worse if we don't make a change now.
As your Congressman, Qasim will support legislation that keep our communities together and prohibit partisan gerrymandering.
Economy
Qasim Rashid believes in the rights of workers to unionize and collectively bargain. Qasim spent part of his career working in employment law protecting the rights of workers, and believes a living wage is a human right. He believes it is appropriate to raise the minimum wage to $15/hour, to protect workers with the prevailing wage requirement on government contracts, and to remove bad actors who undermine the integrity of Union and non-Union contractors.
Qasim believes in ensuring gender pay equity and paid family and medical leave. These policies are not only economically smart but have the benefit of also being just and moral. They increase worker output, grow the economy, and help to foster a healthy family-work-life balance.
Additionally, Qasim believes in repealing Corporate Intrusion (generally known as 'right to work'). Corporate Intrusion prevents unionizing and limits bargaining power, resulting in preventing blue collar workers from protecting their labor and employment rights. Corporate Intrusion prevents workers from demanding a living wage without risk or fear of being fired. Corporate Intrusion likewise lets the uber wealthy consolidate wealth and power against honest and hardworking Virginians. To protect Virginians, we must repeal Corporate Intrusion.
Repealing Corporate Intrusion ultimately means a stronger economy, more secure small businesses, and a growing middle class. Non-partisan think tanks have shown that even a, "10-percentage-point increase in the unionization rate would boost the average annual income for middle-class households—unionized or not—by $1,501 a year." If Virginia's unionization rate went from its current ~5% to 15%, it would mean an average gain for middle-class households of over $1800 per year.
Qasim supports the Jobs Guarantee the Green New Deal promises, and supports following the steps laid out in The Climate Mobilization Victory Plan that will help us achieve:
Guaranteed re-employment and training in the green jobs sector for coal miners and other fossil fuel workers
The opportunity for everyone to have work which helps build a better society free from the threats of the climate crisis
The right to unionize, the right to paid sick leave, family leave, and parental leave, safety and dignity on the job, and a livable wage
As Congressman, Qasim commits to combatting Corporate Intrusion, removing bad actors from undermining Union and non-Union contractors, striving to ensure more wealth equality, eliminating wage theft, and will work, through legislation, to protect workers' rights, and support apprenticeship programs.
In 2018 the rate of food insecurity in rural areas was 12.7%. Many rural areas are considered food deserts, where people lack accessibility to fresh and affordable food. Adding to this tragedy is that some of these rural food deserts are in the same communities where agriculture is key to the local economy. A key solution to this problem is we must ensure that food can be enjoyed in the same communities where it is grown. This creates healthier communities, reduces costs associated with transportation, lowers the carbon footprint, and helps working families by strengthening the local economy. We can achieve these goals by:
Promoting Food-Cooperatives: grocery stores in which consumers or workers are also owners, and which focus on sourcing from local farmers. Traditional grocery stores often do not come to rural areas because they don't anticipate high enough profits.
Promoting Community Supported Agricultural programs (CSAs): local residents pay local farmer's at the beginning of the year and receive a portion of whatever is produced at the time of harvest. Having this money up front helps farmers with operational costs.
Promoting Farm to School Initiatives: local farmers sell fresh produce directly to public schools or incorporate school gardens into meal programs, ensuring healthy food is served to students and teachers. This also provides further opportunity for education about local farms, gardening, and nutrition.
Establish a Farmers' Land Army (based on the Women's Land Army of WWI and WWII) to quickly train new farmers in environmentally beneficial farming practices. Recruits to the FLA should receive student loan forgiveness.
Support antitrust protections that safeguard small business farmers from agriculture monopolies.
We need a US food policy focused on helping farming families, economic equality, creating a healthier population, fighting climate change, and preserving our environment.
We must improve access to healthcare and mental health care in rural areas. We can do this by guaranteeing healthcare for every American. This will remove many of the financial barriers that keep medical facilities from opening in rural areas, and help remove many of the financial barriers that force currently operating facilities to close.
As Congressman, Qasim will work to pass legislation that ensures that broadband access is treated as a utility and that the federal government makes the necessary investments to provide high speed broadband to rural and underserved communities.
Education
Qasim Rashid believes a quality education is a human right. Qasim's parents were teachers who instilled in him a deep sense of commitment to education, educators, schools, and public libraries. He and his wife Ayesha have two children in the Virginia public school system, so he observes first-hand the frustration and struggles of Virginian school children, teachers, and parents—as well as sees the growth opportunities.
As a human rights lawyer, Qasim has worked with non-profit organizations to improve education for children nationwide and worldwide—to build schools, to increase Internet access, and to close the existing achievement gap.
As Congressman, Qasim will bring the same commitment to our children in Virginia. Virginia's education system has dedicated teachers and administrators, however we must provide them more support than we are giving currently. A strong public education system is the foundation to Virginia's success, yet today:
Virginia is America's 9th wealthiest state, but we are 35th in spending per pupil. This means we are not adequately spending on our next generation.
Children of color in general and white children from lower income backgrounds are too often ignored, provided substandard resources, and less funding. This means we are not equally spending on our children.
Virginia suffers from roughly 1000 teacher vacancies unfilled due to the lack of funding for these positions. We commend the current administration for securing a 5% increase in teacher pay, but we must not stop here and instead continue to seek additional funding.
Qasim supports Universal Pre-K. Our children do not start out with the same advantages, this is a way to close the divide. Childcare is a huge barrier to many parents remaining in the workforce. According to the Economic Policy Institute Virginians spend an average of $10,867 a year on childcare for a four-year-old. Removing this cost burden not only allows parents to provide greater economic security for their children but also helps address the opportunity gap many children face.
Qasim believes that there are many paths to success after school aside from a standard four-year university. We need to do more to make students aware of, and prepared for, these other paths. This is why we need clean energy vocational training in all public high schools and community colleges.
Clean energy jobs are growing 17x faster than the U.S. economy. Many of the jobs within this field do not require a four-year university degree, and provide stable, well-paying work. Additionally, there are opportunities to advance in this field at the Bachelor, Masters, and PhD level for those who may wish to do so.
Qasim also supports federal financial assistance to states and students so that we can achieve a national goal of zero-debt education at all public universities and colleges in America.
As Congressman, Qasim is committed to ensuring every child in Virginia regardless of race, gender, or economic background has a fair, safe, and promising path to success.
Environment
Qasim Rashid believes in the crucial need to recognize that harmful climate change is real, it is due to human activity, that we need to invest in protecting our environment, our air, water, and land. He knows that we must listen to scientists when they tell us that the current timelines and steps on the table are not enough to save us, and that we need to take emergency action. Qasim also understands that this means prioritizing the protection of the many over the profit of the few.
The US gives approximately $20 billion in direct subsidies to the fossil fuel industry every year. We need to end these subsidies and say NO to bailing out fossil fuels. It's time to return the money to the people through:
Mandatory LED lights in all publicly funded buildings, streetlights, and traffic lights, with the money and support provided by the federal government for implementation. LED lights reduce energy consumption by approximately 75% and last 25x longer. Every city that has installed LED lights has saved money. An example, Valparaiso, Indiana, a small city of 31,000 is saving approximately $80,000 a year due to the switch to LED lights in their buildings.
Mandatory solar panels and other green energy measures on all schools and publicly funded buildings, with the money and support provided by the federal government for implementation. Middlesex County, VA is saving $50,000 a year initially from the solar panels that power the district's elementary and middle schools. Those savings are expected to increase over time. Discovery Elementary School in Arlington, VA  has solar panels and a geothermal-well system that heats and cools water. The building produces even more energy than it needs, allowing it to share power with nearby schools.
Current proposals and actions do not match the scientific timelines.
According to the most recent IPCC Emissions Gap Report we need to reduce emissions globally by a minimum of 76% by 2030 to prevent a temperature increase of over 1.5 C. If we don't achieve this, we will hit 2 degrees Celsius between 2035-2055
If we pass 1.5 C we will start hitting tipping points, causing a cascading effect of exponentially increasing dangers beyond our control.
As America is the second largest polluter in the world and the wealthiest nation, we hold a greater responsibility to far exceed 76% emissions reductions by 2030, and get as close to 100% as possible.
We need a holistic approach that addresses the intersection of the climate crisis, economic inequality, and environmental racism and we need to take action at emergency speeds. The Green New Deal is the only piece of legislation put forth making this commitment, and The Climate Mobilization Victory Plan presents the most detailed set of steps on how to achieve the Green New Deal's goals. Together they will:
Repair and upgrade infrastructure while eliminating greenhouse gas emissions and guaranteeing access to clean water.
Create millions of good paying jobs while protecting our current energy workforce by training fossil-fuel workers in renewable energy jobs. These clean energy jobs will offer competitive benefits, income support, and retirement benefits.
Require project labor agreements to provide a prevailing wage for clean energy jobs; and protect the right of workers to join a union without employer interference.
Provide assistance and incentives to farmers transitioning to environmental agriculture practices, and provide more support to small and mid size farms.
End new fossil fuel exploration, infrastructure, and exportation
Stop the pollution faced disproportionately by minority and low-income communities, and stop the exploitation and destruction of indigenous lands. Cap and Trade is not the solution, it simply allows a "pay to pollute" system that doesn't protect front line communities, as well as doesn't reduce emissions enough to save us in time. The U.S. needs to institute a fair energy rationing system similar to rationing systems used during WWII. Those with higher needs can apply for higher rations, but rations cannot be bought and there will be no loopholes for the rich or well-connected.
We also must act quickly to save the Chesapeake Bay while there is still time.
As Congressman, Qasim will work to ensure we leave a livable world and a healthy environment  for our children. (See also Education, Labor And Employment, Transportation, National Security, and Prioritizing Rural America )
Health Care
Qasim Rashid believes healthcare is a human right.
America is the world's wealthiest nation;  we must guarantee healthcare to all our citizens. Yet, by some estimates, over 60% of Americans who declare bankruptcy do so due to suffocating medical bills.
Currently 1.2 million working Virginians struggle to cope without paid sick leave, forced to choose between staying home without pay, or going to work sick. Or, parents must choose to stay home with a sick child foregoing their pay, or alternatively, sending a sick child to school possibly infecting their teachers and classmates. The lack of a guaranteed sick leave policy harms our children, our workers, and exposes everyone to the risk of spreading disease—this must change with the implementation of policies, as a rule of law, guaranteeing paid sick leave for all Virginians.
As our families age, Virginia must support our caregivers and ensure our elderly citizens have the support they need to age with dignity.
Qasim believes in working towards a single-payer healthcare system, and supports Medicare for All because healthcare is a human right. It is unacceptable that in the world's wealthiest nation we spend more per capita on healthcare than any developed nation, yet have substandard healthcare as evidenced by the highest maternal mortality rate and lowest life expectancy among developed nations. Medicare for All would:-Return choice to the Americans people by allowing us to choose our doctors anywhere in the country-Make sure everyone is covered with high quality and affordable care-Decrease the cost of prescription medications-Provide comprehensive medical, vision, dental, reproductive, and mental healthcare for all, even with a preexisting condition
Qasim Rashid believes that the War on Drugs has failed. America requires a better approach. One that treats addiction as a disease and treats the root causes behind drug abuse. Life expectancy in the United States continues to drop, and a big factor behind that is drug overdoses and the opioid epidemic. Across the nation and here in the First District, it is imperative that we move swiftly to address this crisis that is taking so many lives.
In 2017, 70,000 people died from a drug overdose, the highest year on record — and the majority of those deaths were due to opioids.
While local communities must be empowered to take necessary action, the federal government must lead the way with compassion and not criminalization.
In 2018, nearly 1200 Virginians died from drug overdoses involving opioids. This actually represents progress, a decrease of roughly 5%, but we cannot be content with such slow and incremental progress. We must act decisively.
Health experts are clear that a key component to combating opioid addiction is healthcare access. Medicaid expansion in Virginia has afforded healthcare access to over 20,000 Virginians suffering from addiction.
As Congressman, Qasim will support the CARE Act from Senator Elizabeth Warren and Representative Elijah Cummings — a comprehensive plan to end the opioid crisis by providing the resources needed to begin treating this epidemic like the public health crisis that it is. The CARE Act will provide resources directly to first responders, public health departments, and communities on the front lines of this crisis. This will ensure that they have the resources to provide prevention, treatment, and recovery services for those who need it most.
Immigration
Qasim Rashid believes that Virginia's success is closely tied to a successful immigration policy. Qasim recognizes the need to work in a bipartisan manner. Accordingly, on the topic of undocumented immigration, Qasim largely agrees with Republican President Ronald Reagan and Republican President George H.W. Bush, who sought an immigration policy built on compassion, justice, and fairness. President Ronald Reagan declared in 1984, "I believe in the idea of amnesty for those who have put down roots and lived here, even though some time back they may have entered illegally."
Qasim is an immigrant and a proud United States citizen. Qasim and his family immigrated to the United States 32 years ago—first to Virginia. Since that time, Qasim and his siblings have attained higher education, remained active in the democratic process, and sought to build that more perfect union envisioned by the Founders. Qasim is proud that his brother, Tayyib M. Rashid, served in the United States Marine Corps from 1997 to his honorable discharge in 2003.
A strong immigration policy attracts innovators, strengthens our economy, and generates major revenue from taxes which helps build new schools, provides better resources for our children, contributes to improving our crumbling infrastructure, and helps fund healthcare for Virginians.
President Reagan went on to say when asked if children of undocumented immigrants deserve to attend public schools, i.e. use of American tax dollars, "I think the time has come that the United States and our neighbors, particularly our neighbor to the south, should have a better understanding and a better relationship than we've ever had. I think we haven't been sensitive enough to our size and our power. They have a problem with 40-50% unemployment. This cannot continue without the possibility rising of trouble below the border. Rather than talking about putting up a fence, why don't we work out some recognition of our mutual problems, make it possible for them to come here legally with a work permit, and then while they're working and earning here, they pay taxes here, and when they want to go back they go back, and they can cross, and open the border both ways by understanding their problems. I think we could have a fine relationship."
President Bush, similarly, declared when asked if the children of undocumented immigrants should be allowed to attend public schools, i.e. use American tax dollars, "I'd like to see something done about the illegal alien problem that would be so sensitive and so understanding about labor needs and human needs where that problem wouldn't come up. But today if those people are here I would reluctantly say I think they would get whatever it is that society is giving their neighbors. But the problem has to be solved. As we have made illegal, some kinds of labor that I would like to see legal. We're doing two things. We're creating a whole society of really honorable, decent, family loving people that are in violation of the law, and secondly, we're exacerbating relations with Mexico. I don't want to see…six and eight-year-old kids being made totally uneducated and made to feel they're living outside the law. Let's address the fundamentals. These are good people, strong people."
The facts show that undocumented immigrants contribute major revenue in taxes to our economy, commit fewer crimes than our own citizens, and as President Bush stated, are good, strong people. We should not demonize undocumented immigrants. Instead, Virginia should seek a sensitive policy that is grounded in America's founding principles of fairness and justice.
As Congressman, Qasim will work to protect the rights of immigrants while ensuring a documented legal path to citizenship, like what was advocated by both Presidents Reagan and Bush.
Infrastructure
Qasim Rashid believes in making extensive transportation investments to upgrade Virginia's crumbling infrastructure, improve public transportation, and in responding to the specific transportation needs of Virginia's residents.
Virginia currently ranks an abysmal 39th nationally in infrastructure. This directly impacts transportation and reflects a legislature funded by, and for, major corporations, not a legislature focused on the needs of all Virginians – white and blue collar.
The 1st District is a large district that demands strict attention to a variety of transportation needs. Stafford County has seen immense development over the past several years due to an aggressive development campaign by those in power. Unfortunately, due to irresponsible planning this has resulted in horrendous traffic. Solutions that emphasize a reduction in number of cars on the road should be prioritized. These include ride-sharing services such as van-pooling, slugging, commuter shuttles, incentivizing telecommuting when possible, and overall improvement in our public transportation infrastructure.
Data from a recent survey shows that residents of the Northern Neck aspire to maintain a rural character while enhancing public transportation access, which is not to standard.
Transportation funding needs to go to: maintaining already existing infrastructure for personal vehicle use; expanding affordable public transportation.
Traffic congestion leads to negative physical and mental health outcomes, lower quality of life, and monetary losses. The estimated cost from lost time and fuel waste is over $100 billion a year. Public transportation investments will reduce this crippling issue. Lack of public transportation helps is also a barrier to low-income individuals with many not having the transportation needed to fully participate in our economy and society.
Electrifying America's Rail System & Develop a Continental High-Speed Rail Network.
As Congressman, Qasim will repair our crumbling infrastructure and create modern transportation solutions in coordination with the Green New Deal and The Climate Mobilization Victory Plan. Qasim knows we must begin these projects immediately and complete them at emergency speeds to prevent destruction brought by the climate crisis, improve the physical and mental health of our residents, and give back both time and money to Virginia's working families.
Qasim Rashid believes that in 2020, broadband internet access is essential to claiming opportunity and for that reason, broadband should be treated as a utility. President Obama was right when he called for internet service to be reclassified as a public utility. We should make that into federal law.
70 percent of the world's internet traffic passes through the 10 million square feet of data centers situated in Northern Virginia. However, significant parts of the 1st district lack reliable internet access. Folks in Rappahannock, Caroline, Mathews, New Kent, and more do not have the access they need to access education, telecommute, run their business, and access healthcare.
We must bring broadband internet access to every underserved community in America. This will create jobs, help families, and help provide our children with the opportunity to attain success in a 21st century America.
We must restore net neutrality to protect innovation and rein in corporations.
Bringing true broadband internet access to the 21.3 million Americans without it would cost between $50 and $350 million. Right now the Federal government spends about $4.5 billion annually through more than 40 programs run by 14 different agencies. This creates inefficiency and waste, and Rob Wittman continues to  make this worse with yet another drop-in-the-bucket program. It's time to consolidate these programs in a focused effort to apply national resources in support of local innovation, empower local communities, and solve this problem through regional public utilities and partnerships.
As Congressman, Qasim will work to pass legislation that ensures that broadband access is treated as a utility and that the federal government makes the necessary investments to provide high speed broadband to rural and underserved communities.
Safety
Qasim Rashid believes that criminal justice should be built on rehabilitation, not revenge. He has invested much of his career as a lawyer towards this goal.
Today, Virginia spends over $29,000 a year per inmate, but only about $11,000 per student. This harms our students, strengthens a school to prison pipeline, and grows the prison industrial complex. This must change.
Qasim served as a Virginia state prison chaplain for four years, during which time he mentored inmates on self-reform, peaceful conflict resolution, and on how to remain as positive and productive members of society upon release.
Published articles written by Qasim Rashid address the racial and economic biases in our criminal justice system, including the need to abolish the private prison industry.
Qasim supports voter re-enfranchisement, especially for those who have served their time in prison, because a higher number of voters results in a stronger Commonwealth of Virginia.
Qasim supports reforming the bail system. We must make sure that those who pose major safety threats cannot simply pay to walk free while those who have committed nonviolent offenses sit in jail because they don't have the money.
Companies should not be allowed to exploit prison labor. As long as there are those that benefit from workers that can be paid below minimum wage, policies that lead to mass incarceration will continue to be incentivized.
As Congressman, Qasim will work hard for the safety and security of all Virginians through a criminal justice system built on rehabilitation, reduced recidivism, and voter re-enfranchisement.
Qasim Rashid's experience with guns began in his childhood when his parents taught him responsible gun ownership. He believes in protecting the Second Amendment but ensuring violent felons, domestic abusers, and otherwise dangerous individuals do not have easy access to guns.
Gun violence is an epidemic in America, causing over 40,000 annual deaths, far surpassing every other developed nation and western democracy. Meaningful gun laws work, in which responsible citizens have access to firearms for self-defense and hunting needs, however our citizens and schoolchildren protected from mass shooters and terrorists.
We can look to the rest of the world for evidence that responsible gun laws work:
After the 1987 Hungerford mass shooting left 16 dead, England enacted meaningful gun reform. England has experienced one mass shooting since.
After the 1995 Port Arther mass shooting left 35 dead, Australia enacted responsible gun legislation. Australia has experienced zero mass shootings since.
After the Dunblane Primary School mass shooting left 18 dead, Scotland enacted meaningful gun reform. Scotland has experienced zero mass shootings since.
After the 2009 Winnenden school shooting left 16 dead, Germany enacted responsible gun legislation. Germany has experienced only one mass shooting since.
Data from GunViolenceArchive.org, which documents every shooting and mass shooting in America, shows that, since the 1999 Columbine shooting that left 14 dead, America has enacted insufficient meaningful pieces of gun reform legislation. America has since experienced over 5,000 mass shootings, including hundreds of school shootings in which innocent school children were killed.
Responsible gun laws don't curtail freedom, happiness, safety, and/or national peace — they support freedom, happiness, safety, and national peace. We can see how by looking at  just four representative democracies as examples—Australia, United Kingdom, Germany, and New Zealand. Each are developed western societies with comparable economies, living standards, and demographics to the United States. Here's what we learn by looking at these nations:
Each of these countries rank well ahead of America in the freedoms, happiness, safety, and peace that its citizens enjoy.
The conservative leaning Cato Institute's annual human freedom index reports that on personal freedoms, New Zealand ranks 1st, Australia ranks 4th, the United Kingdom ranks 8th, Germany ranks 13th, and the United States is 17th.
The World Happiness Report states that New Zealand ranks 8th, Australians rank 10th in happiness, Germans rank 15th, Americans rank 18th, and the British rank 19th.
When it comes to the World Safety Index, New Zealand ranks 3rd, Australians are the 12th safest worldwide, Germans are 13th safest, the British are 35th safest, and Americans are only 49th safest.
Finally, looking at the Global Peace Index, New Zealand ranks 2nd, Australia ranks 13th, Germany ranks 17th, the British rank 57th, and the United States ranks an astounding 121st — ahead of only 42 countries.
If more unregulated guns truly meant more freedom, safety, happiness, and peace, America would lead each of these categories. Instead we lag far behind. Each of these vital components to a thriving democracy are stifled when guns fall into the hands of terrorists and extremists. However, democracy, freedom, safety, happiness, and peace thrive when people petition their governments to enact responsible gun laws. Qasim supports:
Universal background checks.
Ban on automatic and military style semi-automatic weapons.
Ban on possession or production of high capacity magazines.
Close the Charleston loophole which allows the sale of a firearm if a background check is not completed within three days.
Institute of a seven day waiting period for gun purchases.
Red Flag Laws (extreme risk protection orders) that, when approved by a judge, grant law enforcement the ability to temporarily confiscate someone's firearms. These laws have bipartisan support across the country. As Indiana Governor, Mike Pence passed a red flag law to protect Indiana's residents. As Vice President Mike Pence praised Indiana's red flag law as a "blueprint for the entire nation."
As Congressman, Qasim will work to assure the empowerment of Virginians to use guns responsibly, while enjoying the freedoms, happiness, safety, and peace that comes with that ownership.
Veterans
Qasim understands we must serve and support our Veterans, not just with lip service, but with actual progress. As the younger brother of a US Marine Veteran, he's seen first hand the struggles of former service-members, and is committed to use that experience to fight for change. Virginia's First District is home both to the Marine Corps Base Quantico and the Dahlgren Naval Base, so change is more critical than ever for our District. That change includes but is not limited to:
Expanding funding for the VA to make sure our veterans get accessible, effective medical treatment whenever they need it.
Funding affordable housing for our veterans. As of January 2019, there are over 30,000 homeless veterans in the United States. No one who has served our country should be without a roof over their head.
In 2011, 1.3 million veterans relied on the VA for mental health-related issues, yet on average, 22 veterans commit suicide a day. We must give our veterans the access to mental health treatment they need.
Supporting low income veterans who are on Medicaid and SNAP.
Expanding support for military families who want to further their education, re-enter the civilian workforce, and start small businesses.
Corona Virus
The global coronavirus (COVID-19) pandemic has showcased a lack of leadership at the federal level—which has cost tens of thousands of lives, and thrown our local economies into upheaval. At a time when our leaders in congress and in the White House should've been warning us and following established and proven guidelines to protect public health, they were instead waving away the oncoming crisis and labeling the pandemic a hoax. We need honest, accountable leadership to help navigate us out of this public health crisis and to help recover and restart our economy.
We need a robust posture on healthcare, with the scaling up of testing being of utmost importance. It is wide scale testing that will effectively restart the economy, short of a COVID-19 vaccine. We must also use regular testing to ensure that front line essential workers are safe and not contagious. By using testing scientifically in the rest of the population, we can effectively trace the spread of the virus to kill off transmission lines. We must utilize the Defense Production Act to manufacture the equipment we desperately need, we have got to protect medical professionals and patients. Congress must step in and address this crisis.
We must also ensure that essential supply chains continue to flow—food, medicine, health care, masks, protective equipment, etc. The federal government must be able to step in to assist with these vital chains if the states are unable to.
The federal government must also ensure that workers and small businesses are protected. That means continuing to pass legislation that will protect paychecks and ensure that workers are not forced to go into workplaces where they may be at risk of spreading or contracting the virus.
Only once we have mass testing and scaled contact tracing, can we begin to relax lock down measures. This will ensure that those being released into labor markets are safe and healthy.
It is imperative that we support workers on the frontline of this crisis, in hospitals and grocery stores and warehouses all across America. They need a living wage, hazard pay, and paid sick time off. They need personal protective equipment. They need the federal government to do its job.
Equal Protection Under the Law
Qasim Rashid believes in the inherent dignity and equality of all human beings—regardless of faith, color, creed, sexual orientation or gender identity.
As a human rights attorney, Qasim stands firmly against all forms of violence, discrimination, and hate directed at the LGBTQ+ community.
Qasim advocates for protections against anti-LGBTQ+ discrimination, bullying in the work place, in housing, and in our education system, among others.
We need to pass the Equality Act. Passing this bill would prohibit discrimination based on sex, sexual orientation, and gender identity in a wide variety of areas including public accommodations and facilities, education, federal funding, employment, housing, credit, and the jury system. The bill defines and includes sex, sexual orientation, and gender identity among the prohibited categories of discrimination or segregation.
As Congressman, Qasim will continue to work to ensure equal protection under the law for all Virginians.
Equal Rights Amendment
Qasim Rashid believes we must ratify the Equal Rights Amendment ("ERA"). The ERA guarantees gender equality within our US  Constitution. While Virginia has ratified the ERA, Qasim will fight in Congress to make sure it is added to the Constitution.
Qasim has championed women's rights from his earliest days as a law student at the University of Richmond School of Law. As a student, and since graduating, he volunteered pro bono with the Virginia Poverty Law Center's office of domestic and sexual violence to support survivors of domestic and sexual violence.
Today, a decade later, Qasim continues to offer pro bono legal aid to help abused women. Earlier in his career Qasim was employed as the Director of Civil Rights for KARAMAH, a national women's rights non-profit in Washington D.C.;  he supported women's healthcare and education through the international NGO Humanity First, and advanced education for girls and girls of color through the Silicon Valley Education Foundation.
Government should not be able to make medical decisions for people.
Qasim's life's work demonstrates his commitment to gender equality.
People with Disabilities
In 1990, President George H.W. Bush signed the Americans with Disabilities Act (ADA) with the objective of ending "the unjustified segregation and exclusion of persons with disabilities from the mainstream of American life." Three decades later, the goal set forth by this landmark civil rights legislation remains unfinished.
Across the country, one in five Americans and one in six voters has some degree of disability. Also, according to the CDC 23.6% of Virginian adults have some degree of disability.
Today's Republican Party, exemplified by President Trump's infamous mocking of a disabled reporter, has written off people with disabilities. According to FiveThirtyEight, Rob Wittman has voted with Trump 92.8% of the time.
Qasim knows that the people of Virginia's 1st District need better. He supports fully funding the Individuals with Disabilities Education Act (IDEA), eliminating the sub-minimum wage, and ensuring that the disability community is treated with dignity under the law.
Dad-Jokes
Qasim Rashid loves to laugh and believes dad jokes are one important key to building bridges across race, religion, nationality, and political party. Qasim also loves dogs and plans to get a unique breed that gets sad when you feed it cantaloupe—known as a melon collie.
Women's Issues
Qasim believes in the indisputable truth that women's rights are human rights. Qasim has spent his career as a human rights attorney fighting for survivors of domestic violence and sexual assault, which are disproportionately women. When in office Qasim will continue to fight for women, and for equality and justice for all genders. 
Qasim believes in ensuring gender pay equity, paid family leave, including equal parental leave, and medical leave. These policies are not only economic drivers but are also just and moral. They increase worker output, grow the economy, and help to foster a healthy family-work-life balance.
Qasim believes that reproductive health decisions should be between a woman and their doctor—and not include a politician in Washington. Qasim supports access to safe and legal abortion, to birth control and emergency contraception, to reproductive health services and education.
Qasim supports ratifying the Equal Rights Amendment and codifying a constitutional guarantee of equality for all women. 
It is unacceptable that in the world's wealthiest nation we spend more per capita on healthcare than any developed nation, yet have substandard healthcare as evidenced by the highest maternal and infant mortality rates and lowest life expectancy among developed nations. Too many Black women are dying in pregnancy and childbirth. Black women in the United States are more likely to die from pregnancy or childbirth than women in any other race group. Black women are also three to four times more likely to experience a pregnancy-related death than white women. Black women's heightened risk of pregnancy-related death spans income and education levels. We need to address this urgent crisis with federal action.
Though domestic violence affects people of all genders including men, it disproportionately affects women. Qasim will take actions to end this epidemic such as: closing the "Boyfriend Loophole" of the Lautenberg Amendment which allows for stalkers and current or former dating partners to still buy and own a gun even if they've been convicted of a domestic violence crime; passing Relinquishment Laws which not only prohibit a domestic abuser from purchasing firearms, but also require abusers to turn over the guns they already own and provide proof of compliance. 
As Congressman, Qasim will work to ensure equal opportunities for women, equal pay for equal work, and policies that allow all Americans to achieve work-life-balance and make choices on what is right for their family. Qasim will fight for a women's right to choose, right to healthcare, and right to safety. 
Decriminalizing Marijuana
After years of experimentation in several states we now know that legalization generates tax revenue, reduces crime, limits use by minors, and creates economic activity without the harms predicted by opponents. Cannabis prohibition laws target Black and Brown communities and support the for-profit prison industry. It's time to legalize and regulate recreational cannabis use at the Federal level.
Legalization will reduce dependence on more dangerous drugs like opioids and alcohol.
Legalization will help keep cannabis out of the hands of minors.
The additional tax revenue will help struggling schools and pay for infrastructure repair and maintenance.
Creating a legal market for cannabis will shrink the black market for drugs and reduce drug crime.
Legalization of cannabis must come with broader criminal justice reform surrounding the history of prosecuting drug crimes disproportionately against Black and Brown communities.
Expunge any criminal records for people convicted of simple possession of cannabis.
Make sure no drug conviction makes people ineligible for social services of any kind.
News
Twitter