Summary
Current Position: Retired Air Force
Affiliation: Republican
Candidate: 2019 State Delegate
Former Position(s): State Delegate from 2010 – 2018
Overview: N/A
About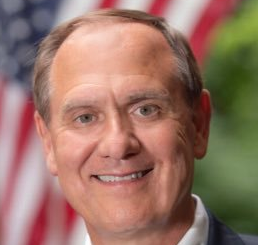 Source: Campaign page
"I'm a born-and-bred Virginian, and I'll be a Virginian for the rest of my days. I'm a husband, father, grandfather, and your neighbor, and my #1 priority is looking out for you and your family. After 30 years as an Air Force officer and eight years in the Virginia House of Delegates, I'm totally committed to making life better for working families in Prince William County and across Virginia."
Rich Anderson is a native Virginian who retired from the Pentagon in 2009 as a highly-decorated 30-year Air Force colonel. That same year, he was elected to represent the 51st House District in the Virginia General Assembly for eight years (2010-2018). While there, he chaired the House Science and Technology Committee and the General Assembly Military and Veterans Caucus. He also sat as a member of the House Appropriations Committee, House Finance Committee, House General Laws Committee, and House Transportation Committee. Over the course of his legislative service, his fingerprints were on almost all groundbreaking legislation for military veterans and Virginia's science and technology community. Rich is a graduate of Virginia Tech and is married to Occoquan District Supervisor (Prince William County) Ruth Anderson, also a retired Air Force officer. They are the parents of three children, have seven grandchildren, and have lived in Woodbridge for nearly 20 years
Experience
Education
Offices
Campaign Office
P.O. Box 7926
Woodbridge, VA 22195
Phone: 571-264-9983
Web
Government Page, Twitter, YouTube, Facebook, Wikipedia
Politics
Committees
Committees
Appropriations Committee
General Laws Committee
Science and Technology Committee
Transportation Committee
Issues
Economy
As a member of the House Appropriations Committee, Rich helped write eight balanced budgets, opposed tax increases, and focused on responsible spending. He also worked across the aisle with his colleagues to add billions of dollars to the Virginia rainy day fund. Making sure your taxes stay as low as possible was and always will be one of his top priorities.
While serving as your Delegate, Rich voted to help small businesses and job creators with tax credits, easier online paperwork for new businesses, and protections for home-based businesses. He worked hard to keep taxes low, help small businesses grow, and keep Virginia among the best places in the nation to do business. For eight years, he received top scores of 100% from the Chamber of Commerce. The National Federation of Independent Business (NFIB) rated him as A+ on behalf of 6,000+ Virginia small businesses. When elected, he will continue this pathway of progress for Virginia businesses and working families.
Education
Compensation Packages for educators
Rich believes competitive compensation packages will attract and retain quality educators. He helped raise teacher pay, put more dollars in the classroom, and restored control of schools to parents, teachers, and local leaders. Rich is committed to making sure every student in Virginia has an education that prepares them for success in college, in their careers, and in life.
Infrastructure
Rich sat for eight years on the House Transportation Committee. Rich will continue his fight to get our fair share of state transportation dollars to Northern Virginia, leverage smart transportation technologies to relieve congestion, and give local communities more control of transportation decisions. Rich will work hard to achieve real solutions to the traffic problems we face daily and get you back to your families sooner.
Veterans
Chaired the General Assembly Military and Veterans Caucus
A 30-year Air Force colonel, Rich chaired the General Assembly Military and Veterans Caucus that oversaw all legislative programs for 800,000 Virginia veterans. In partnership with House Speaker Kirk Cox, he patroned the bill that created the Northern Virginia Veterans Care Center, now under construction to provide quality healthcare to military veterans. He also patroned the bill that created the Virginia Values Veterans (V3) program that has put 45,000 veterans to work with competitive salaries and full benefits. Rich will continue to work for Virginia veterans by aggressively fighting for legislation that protects veteran benefits and broadens employment opportunities for men and women who have served our nation.
News
In the News
Guns, minimum wage, right-to-work law at issue in delegate forum
By: Daniel Berti
Prince William Times – October 15, 2019
Candidates running for state delegate in the 31st and 51st districts faced off on gun reform, increasing the minimum wage and Virginia's right-to-work laws during a recent forum at Dar Al-Noor mosque.
Del. Elizabeth Guzman, D-31st, and Del. Hala Ayala, D-51st, the first Latinas ever elected to Virginia's General Assembly, are aiming to hold on to newly won districts after being elected in 2017, when Democrats made sweeping gains in the state legislature.  Republican D.J. Jordan is challenging Guzman in the 31st District. Richard Anderson, who held the 51st District seat from 2009 until his defeat by Ayala in 2017, is hoping to win his seat back this November.
Republican candidates in tight state races say they back Medicaid expansion
By: Daniel Berti
Prince William Times – October 2, 2019
Virginia lawmakers voted to expand Medicaid in 2018 after years of resistance from the GOP-controlled House and Senate. Now, several Republicans running in competitive House districts in Northern Virginia say they'll vote to include Medicaid expansion in the 2020 budget if elected.
Del. Tim Hugo, R-40th, who is facing a challenge from Democrat Dan Helmer, said he will vote to continue funding the state's Medicaid expansion, as did Republican challengers Richard Anderson, running against Del. Hala Ayala, D-51st; Kelly McGinn, running against Del. Danica Roem, D-13th; Ian Lovejoy, running against Del. Lee Carter, D-50th; and D.J. Jordan, running against Del. Elizabeth Guzman, D-31st.
2019 Virginia election guide: Key races to watch
By: Max Smith
WTOP – October 22, 2019
Virginia votes Nov. 5 in crucial races that will determine the direction of the state's government in Richmond and install new leaders in local governments across Northern Virginia.
In Prince William County, Democratic Del. Hala Ayala faces a challenge in District 51 from former Del. Rich Anderson. Also in part of Prince William County, Democratic Del. Danica Roem, the state's first openly transgender delegate, is running for reelection in District 13. Del. Elizabeth Guzman faces a challenge from Republican D.J. Jordan in the 31st District.
Twitter
Videos
Other Videos
I'm All In
Published on February 27, 2019