Summary
Current Position: State Senator for District 28 since 2008
Affiliation: Republican
Former Position(s): Commonwealth's Attorney, Westmoreland County from 2004 – 2005
"One of my priorities as your Senator is to improve our local economies. People are hurting and family budgets are tightening. That is why I will continue to support legislation and initiatives that put less of a burden on small businesses and families when it comes to paying taxes."
Twitter
About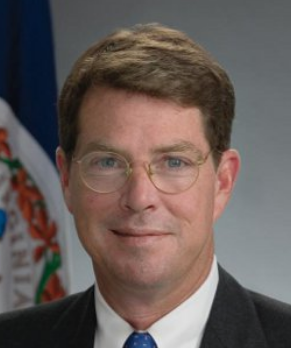 Source: Campaign page
Since being elected in 2007, I have worked hard for common sense solutions to fix our roads, clean up the Chesapeake Bay, improve our children's education, and ensure a better quality of life for our citizens.
One of my priorities as your Senator is to improve our local economies. People are hurting and family budgets are tightening. That is why I will continue to support legislation and initiatives that put less of a burden on small businesses and families when it comes to paying taxes. This will help businesses expand or locate to our area, and will provide more job opportunity and increase our revenue. Likewise, our quality of life will improve so we can spend more time with our families and less time commuting to work.
Experience
Work Experience
Attorney
Commonwealth's Attorney
Westmoreland County
2004 to 2005
Awards
2010 Virginia Sheriffs' Association Legislator of the Year
2011 Chesapeake Bay Foundation Legislator of the Year
2013 ACU Conservative Award
2013 Virginia Chamber Advocate in Legal Reform
2013 Virginia League of Conservation Voters
Legislative Leadership Award (SB1291)
Personal
Membership & Affiliation
Woodland Academy 2002 – 2007 (past Board Chairman)
Trustee, Westmoreland County Volunteer Fire Dept. 1999 – present
Board of Directors, George Washington National Memorial Foundation
Bay Trust Company
Westmoreland Advisory Board, Bank of Lancaster
Board of Directors, Riverside Tappahannock Hospital
Northern Neck Land Conservancy
Contact
Legislative Assistants: Taylor B. Stephens, Devon Gooch
Email:
Offices
Capitol Office
Pocahontas Building
Room No: E611
Senate of Virginia
P. O. Box 396
Richmond, VA 23218
Phone: (804) 698-7528
Fax: (804) 698-7651
District Office
P.O. Box 1146
Montross, VA 22520
Phone: (804) 493-8892
Fax: (804) 493-8897
Web
Government Page, Campaign Site, Twitter
Politics
Source: Wikipedia
Richard Henry Stuart (born January 6, 1964) is an American politician. A Republican, he was elected to the Senate of Virginia in November 2007. He currently represents the 28th district, made up of six counties and parts of two others in the Northern Neck, Middle Peninsula, and northern Piedmont, plus part of the city of Fredericksburg.
In February 2018, Stuart gave a speech praising Robert E. Lee, provoking Lieutenant Governor Justin Fairfax, who normally presides over the Virginia Senate, to walk off the podium rather than preside over the Senate during the speech.
Recent Elections
2019 State Senator
| | | |
| --- | --- | --- |
| Richard H. Stuart (R) | 40,193 | 57.44% |
| Qasim Rashid (D) | 29,696 | 42.44% |
| Write-In (Write-in) | 80 | 0.11% |
| TOTAL | 69,969 | |
2015 State Senator
| | | |
| --- | --- | --- |
| Richard Stuart (R) | 30,187 | 95.4% |
| Write in (Write-in) | 1,446 | 4.6% |
| TOTAL | 31,633 | |
Source: Virginia Legislative Information System
Finances
STUART, RICHARD H has run in 4 races for public office, winning 3 of them. The candidate has raised a total of $2,017,805.
Source: Follow the Money
Committees
Committees
Agriculture, Conservation and Natural Resources (Chair)
Commerce and Labor
Courts of Justice
Finance
Rules
Appointments
District Courts, Committee on
Freedom of Information Advisory Council
Indigent Defense Commission, Virginia
Public Private Partnership Advisory Commission
Rappahannock River Basin Commission
Unemployment Compensation, Commission on
Virginia Alcohol Safety Action Program, Commission on
Water Commission, State
OTHER COMMISSIONS, BOARDS, ETC:
NCSL Communications, Financial Services and Interstate Commerce Committee
NCSL Environment Committee
NCSL Human Services and Welfare Committee
SLC Agriculture and Rural Development Committee
Atlantic States Marine Fisheries Commission (2011 Governor's Appointment)
Governor's Climate Change and Resiliency Update Commission
Voting Record
See: Vote Smart
New Legislation
Source: Ballotpedia
Issues
Governance
Protecting Taxpayers
As a member of the Senate Finance Committee, Richard Stuart has been one of the strongest voices for fiscal responsibility in Richmond. He has consistently put forth recommendations in balancing the state budget without raising taxes, and is willing to stand up to reckless policies from either party. Richard was a key player in the 2019 Virginia tax reform giving back $1 billion to taxpayers.
Civil Rights
2nd Amendment
Having served in the United States Marine Corps and as an avid hunter, Richard is strong supporter of the our 2nd Amendment rights. As our state senator, Richard will continue to ensure these rights are upheld by the Virginia General Assembly. Richard has continuously fought for the rights of law abiding concealed carry permit holders.
Education
Coming from a family full of teachers including his wife, mother, and sister-in-law, Richard Stuart understands that a great teacher can make a lifetime of difference in every child's life. Public education is the backbone of the community, and  Richard is committed to recruiting and retaining the best teachers so that our children can excel. As our State Senator, Richard Stuart has advocated for teacher pay increases and ensuring the legislature does not pass unfunded mandates to the schools. Richard also understands the importance of higher education.  In the Senate, he has continuously been a supporter of the Virginia Tuition Assistance Grant and has fought for greater transparency in tuition rates.
Environment
Conservation
As Chairman of the Senate Agriculture, Conservation, and Natural Resources Committee, Richard has been a strong voice for conservation and keeping the Chesapeake Bay and other waterways clean. Richard has fought to prevent certain areas of Virginia from further polluting the Potomac River. Furthermore, he has put forth legislation to protect the sustainability of groundwater and control fracking.
Infrastructure
Transportation
Families should not have to plan their day to day lives around congestion. Time spent sitting in traffic means time away from our families, diminished productivity for businesses, and loss of the quality of life that makes living in Virginia so great. As our State Senator, Richard Stuart has recognized the unjust method of the state's  prioritization of transportation project. This is why he has fought to revise the system so that more funding is given to the Stafford and Fredericksburg regions. Richard has also been a strong advocate to allow shoulder access on I-95 during rush hour, with a change expected soon. Finally, Richard has stood for finding new ways to dedicate funding to transportation without raising taxes.
Smart Growth
As our State Senator, Richard Stuart will continue to use his experience as a land use attorney to reduce sprawl and maintain the character of our communities and quality of life. Transportation and infrastructure needs must be addressed as we grow – not after we have out grown them! This is why he has put forth legislation allowing greater flexibility in the process for determining impacts to be addressed when counties are considering an application for development. Richard has also fought for expanding broadband access to rural areas of the Commonwealth.
Safety
Safe Communities
As a former prosecutor, Richard Stuart has worked hard as our State Senator to strengthen our judicial system, and enact laws to keep our streets and communities safe. He has worked to try to strengthen Virginia's protective orders and help those who have been domestically abused. Richard understands the growing concerns of our children in schools. This is why he has worked on legislation to ensure there is a school security officer and school nurse at every Virginia public school.
Veterans
Active Duty Military and Veterans
Richard Stuart values the sacrifices of our active duty military personnel, veterans, and their families. As Virginia has one of the largest active duty and veteran populations in the country and having served in the Marine Corps himself, Richard remains focus on providing employment and educational opportunities for service members and their families.
Defending Virginia Values
As a husband and father, Richard Stuart believes family and faith set the foundations of our community, state, and country. Richard has consistently fought for measures protecting religious liberties and right to life.