Summary
Current Position: Chief Deputy of the Virginia Beach Sheriff's Office
Affiliation: Republican
Candidate: 2019 State Delegate
Overview: N/A
About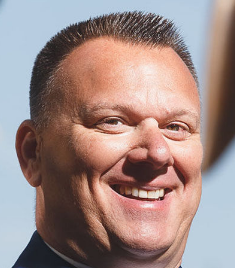 Source: Campaign page
Rocky Holcomb is the Chief Deputy of the Virginia Beach Sheriff's Office, where he has served since 1991, following his time in the United States Marine Corps. He is a graduate of Regent University, with a bachelor's degree in Organizational Leadership and Management, and he is a distinguished graduate of the West Point Leadership Course.
Rocky represented the 85th House of Delegates District from 2017-2018 as the first ever full time law enforcement member to be Elected to the Virginia General Assembly. He has proven to be able to work across the aisle to pass common sense legislation that best represents his constituents.
Rocky and his wife of 25 years, Tracie, live in Kempsville with their two children who are attending Old Dominion University and Mary Washington University.
Web
Campaign Site, Twitter, Facebook
Twitter
Issues
Governance
Protecting the Middle Class
As a member of the middle class, I understand how heavy taxation can strangle a household. I will not vote to raise taxes as a member of the General Assembly. Small business is the cornerstone of the economy, and small business owners should be able to conduct their business without burdensome regulations. My goal is to make sure my fellow neighbors and community members get to keep their hard earned money in the own pockets.
Education
All students deserve the right to a quality education, and parents deserve to have a say in that education based on their child's needs. Taxpayer's dollars need to be spent to increase teacher pay, and increase the resources available to students in the classroom. Tuition freezes and expanding vocational training will help young adults get the education they need to transition into a career following high school.
Infrastructure
Transportation
I will work in a bi-partisan manner to find common sense solutions to the Hampton Roads traffic congestion issue, and make sure tax dollars towards transportation is spent wisely. I will also work towards reducing tolls for residents who have to travel through the Norfolk tunnel on a daily basis. It should not cost the residents of Hampton Roads money out of their pocket just to get to work.
Safety
Criminal Justice Reform
As a law enforcement officer, I have the knowledge and experience to pass legislation that improves our criminal justice system. Improving rehabilitation programs for those who are incarcerated will help with their reintegration into society, and help ensure they do not re-offend, improving public safety. Those who are incarcerated based on circumstances caused by drug addiction or mental illness need to get help, not sit in jail untreated. Taking more time to evaluate those who are arrested and get them the help they need will save lives, and prevent more tragic incidents.