Summary
Current Position: State Senator for VA Senate District 16 since 2014
Affiliation: Democrat
Mission Statement: N/A
About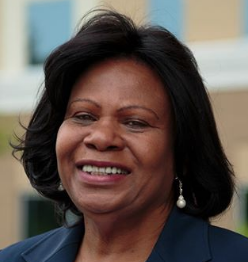 Source: Facebook page
Rosalyn Dance was born the daughter of a preacher and a nurse's aide in Chesterfield and raised in Petersburg in a family that barely had enough to get by. Rosalyn and her husband of over 50 years had their first child when Rosalyn was still young. While raising their children, Rosalyn became the first in her family to go to college. She served 34 years at Southside VA Training Center (SVTC), where she rose from a nurse's aide to a nurse to an administrator.
Rosalyn is a graduate of John Tyler Community College where she received an Associate's in Nursing. She then attended Virginia State University and received a Bachelor's in Nursing. Later, Rosalyn obtained a Master's in Public Administration from Virginia Commonwealth University. In 1992, Rosalyn was elected as Mayor of the City of Petersburg, Virginia and she retained that office for 12 years. In April 2005, Senator Dance was elected to the Virginia House of Delegates. Immediately upon taking office, she helped Governor Warner obtain millions of dollars to fund education and public safety.
As a member of the House of Delegates she sat on three distinguished committees within the House of Delegates – Appropriations, General Laws, and Health, Welfare and Institutions. Rosalyn also served on numerous government related boards such as: Chairwoman of the Brown vs. Board of Education Scholarship Committee, member of the Virginia Bicentennial of the American War of 1812 Commission, member of the Local Government Policy Transition Committee, member of the Maximum Employment Incentive Project Approval Commission, the Virginia Commission on Intergovernmental Cooperation, the Justice Reinvestment Initiative Work Group, the Federal Action Contingency Trust (FACT) Fund Approval Commission, member of the Virginia Center for Health Innovation's Health Care Integration Advisory Subcommittee and served as Vice Chair of Operations and Policy for the House Democratic Caucus.
On November 4, 2014, Senator Dance was elected to the Senate of Virginia in a Special Election to fill the vacant seat of Senator Henry Marsh, III. In the Senate, she serves on the Senate Finance Committee, Senate Commerce and Labor Committee, Senate Agriculture, Conservation, and Natural Resources Committee, and the Senate Privileges and Elections Committee. Additionally, Rosalyn has the honor of serving on the following commissions: Chairwoman, Joint Commission on Health Care; the Health Insurance Reform Commission; the Commission on Unemployment Compensation, and the Joint Committee on Local Government Fiscal Stress.
Her public service and civic commitments include: Co-Chair of the Virginia State University Agriculture Council Advisory Board, past member of United Way Board of Directors for the Greater Richmond and Petersburg areas, member of the John Tyler Community College Foundation Board, honorary regional chair of the Virginia Sexual and Domestic Violence Action Alliance, and member of the Board of Directors of the Southside area Y.M.C.A. She is also a member of Gillfield Baptist Church, and the Petersburg Alumnae Chapter of Delta Sigma Theta Sorority, Inc.
Most importantly, she is the wife of Nathaniel (Nat) Dance Jr., the mother of Tanya DanceKelly (Raphael) and Nathaniel (Nat III) Dance III, grandmother to DeVon, Jarratt, Liam, Jaden and Rico, great grandmother to Briana, Desani and Denajha.
Experience
Work Experience
Health Care Administrator And Registered Nurse
2019 to present
Education
M.P.A
Virginia Commonwealth University
1994 to present
B.S., Nursing
Virginia State University
1986 to present
A.D., Nursing
John Tyler Community College
1975 to present
Personal
Born in Chesterfield, VA on February 10, 1948.
Contact
Legislative Assistants: Sven Philipsen, Gwendolyn Carney
Email:
Offices
Capitol Office
Pocahontas Building
Room No: E615
Senate of Virginia
P. O. Box 396
Richmond, VA 23218
Phone: (804) 698-7516
Fax: (804) 698-7651
District Office
P. O. Box 2584
Petersburg, VA 23804
Phone: (804) 862-2922
Web
Politics
Recent Elections
2015 State Senator for VA Senate District 16
| | | |
| --- | --- | --- |
| Roz Dance (D) | 17,331 | 72.7% |
| Joseph D. Morrissey () | 6,090 | 25.5% |
| Write In (Write-in) | 428 | 1.8% |
| TOTAL | 23,849 | |
Source: Virginia Legislative Information System
Finances
DANCE, ROSALYN has run in 8 races for public office, winning 7 of them. The candidate has raised a total of $939,451.
Source: Follow the Money
Committees
Committees
Agriculture, Conservation and Natural Resources
Commerce and Labor
Finance
Privileges and Elections
Appointments
Studies and Commissions
Coal Ash Special Subcommittee
Emancipation Proclamation and Freedom Monument Subcommittee Work Group #1 Virginians on the Monument
Health Care, Joint Commission on
Health Insurance Reform Commission
King in Virginia Subcommittee
King, Jr., Dr. Martin Luther, Memorial Commission
Local Government Fiscal Stress, Joint Subcommittee on
Online Virginia Network Authority
Tax Preferences, Joint Subcommittee to Evaluate
Unemployment Compensation, Commission on
Virginia Indian Commemorative Commission
Wireless Communications Infrastructure Group – Joint Subcommittees of House Commerce & Labor, Senate Commerce & Labor, and Senate General Laws & Technology
Voting Record
See: Vote Smart
New Legislation
Source: Virginia Legislative Information System