Summary
Current Position: State Senator for District 36 since 2016
Affiliation: Democrat
Scott is a co-founding partner and owner of Surovell Isaacs & Levy PLC, an 18-attorney law firm in Fairfax dedicated to helping Northern Virginia's people and small businesses solve their legal problems.
Surovell has been a leader in the Virginia General Assembly on government transparency, criminal justice reform, consumer protection and environmental protection. In 2016, Surovell passed legislation requiring government officials to redact public documents instead of withholding entire records  and passed similar legislation applying to homeowner, condo and cooperative associations the following year.
Twitter
About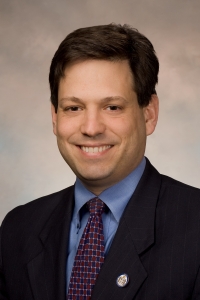 Source: Campaign page
Scott Surovell is a 12th-generation Virginian and life-long resident of the Mount Vernon Community. He lives two doors down from his parents' homes in Tauxemont with his wife Erinn Madden and their four children, Eva, Leia, Mara, and Colin. All four children attend Fairfax County Public Schools and are alumni of Tauxemont Cooperative Preschool as is Scott. Scott's grandparents, Sam and Flossie Surovell, were among the first twenty families who founded the Tauxemont Community and Cooperative Preschool in the early 1940s. Scott's maternal grandparents, William and Mildred Booth, were natives of Franklin County, Virginia. Scott and Erinn have been married since 1999.
Education
Scott attended Hollin Hall Elementary School, Waynewood Elementary School, Stephen Foster Intermediate School, and graduated from West Potomac High School in 1989 in the first class to attend all four years at West Potomac. He graduated magna cum laude from James Madison University in 1993 where he received a B.A. with a Major in Political Science and a Minor in American Studies. At JMU, Scott served as the Student Body Vice-President and in the Student Senate. In 1996, Scott received his law degree from University of Virginia School of Law and was Executive Editor of The Virginia Journal of Environmental Law.
Professional
Scott is a co-founding partner and owner of Surovell Isaacs & Levy PLC, an 18-attorney law firm in Fairfax dedicated to helping Northern Virginia's people and small businesses solve their legal problems. His areas of practice include family law, personal injury, criminal defense, small business litigation and consumer matters. Scott achieved the highest possible peer rating of "AV" from Martindale Hubble at age 31, has been recognized as a "Superlawyer" by Virginia Superlawyer Magazine, in The Best Lawyers in America in the fields of family law and personal injury, and in Washingtonian magazine as one of the top personal injury attorneys in the Washington, D.C. Metropolitan Area.
Scott has also been recognized as a leader in the legal community in numerous capacities. He was recognized as a Leader in the Law by Virginia Lawyer's Weekly in 2016. From 2005-2010, he was selected to serve on the Fifth District Attorney Discipline Committee which adjudicates ethical complaints against Virginia attorneys. In 1998-1999, Scott was an ex parte member of the Fairfax Bar Association Board of Directors. Scott has served as the Chairman of the Virginia Trial Lawyers Family Law Section, has lectured continuing legal education classes on numerous topics, and been published in numerous legal journals on various topics.
Other Work Experience
One of Scott's first job was as a waiter at the Beacon Mall Bob's Big Boy and the Belle Haven Country Club Tennis Pro Shop. During college, Scott worked in the JMU Dining Hall doing everything from making fast food, working a short order grill to working the dish line.
Scott interned in the Office of Records and Registration for the Clerk of the House of Representatives, as Congressman Jim Moran's first constituent service intern in 1991, also in Congressman Ron Wyden's Washington, D.C. Office, and with the Natural Resources Defense Council tracking the appropriations process.
In 1993, Scott was appointed to a Governors' Fellowship with Gov. L. Douglas Wilder focusing on the operation of state government where Scott developed and interest in state policy.
Community
Scott served as Director, Secretary, and Treasurer of the Tauxemont Community Association for seven years. Scott has been a member of the Lee-Mount Vernon Chamber of Commerce since 2006. He also served as a Board Member of the Lee-Mount Vernon Chamber of Commerce Education Partnership from 2007-2008.
Scott has coached girls' soccer for Lee-Mount Vernon Soccer League since 2007. Scott served as a member of the Fairfax County Public Schools Community Leadership Council from 2008-2009, and the Community Advisory Council starting in 2009.
Scott has been a member of the Mount Vernon Democratic Committee since 2001, serving both as Co-Chair from 2004-2005 and as District Chair from 2006-2008. He stepped down after being elected Chairman of the Fairfax County Democratic Committee in early 2008 where he led the Party's efforts during the 2008 Obama-McCain election until June, 2009 when he resigned to run for delegate.
Interests
Scott participated in the Fort Hunt Youth Athletic Association leagues in baseball, basketball and football, played soccer in the Lee-Mount Vernon Soccer Association and played men's tennis against numerous clubs throughout Mount Vernon. Scott played varsity golf at West Potomac High School and still plays when he can. He also captained a men's softball team from 1996 until 2001 and misses the baseball field.
Scott cycled 4,200 miles across the United States. He has hiked all 46 of the 46 "High Peaks" in the Adirondack Mountains in New York and has summitted over 100 mountains.
Scott played the French horn in the West Potomac High School band where he won several awards and honors, and in the nationally-recognized JMU Marching Band. He still plays piano and guitar, and can still make noises on his french horn that amuses preschoolers.
Experience
Work Experience
Co-founding partner and owner
Surovell Isaacs & Levy PLC
2019 to present
Volunteer Experience
Director, Secretary, and Treasurer
Tauxemont Community Association
2019 to present
Coach
Lee-Mount Vernon Soccer League
2007 to present
Education
B.A. with a Major in Political Science and a Minor in American Studies
James Madison University
2019 to 1993
JD
University of Virginia School of Law
2019 to present
Awards
"Superlawyer" by Virginia Superlawyer Magazine (2019)
Personal
Membership & Affiliation
Lee-Mount Vernon Chamber of Commerce
Contact
Legislative Assistant: Philip Scranage
Legislative Assistant : Ben Cermak
Legislative Assistant : Celia Lane
Email:
Offices
Capitol Office
Pocahontas Building
Room No: E617
Senate of Virginia
P. O. Box 396
Richmond, VA 23218
Phone: (804) 698-7536
District Office
P. O. Box 289
Mount Vernon, VA 22121
Phone: (571) 249-4484
Fax: (571) 542-3741
Web
Government Page, Campaign Site, Twitter, YouTube, Facebook, Flickr
Politics
Source: Wikipedia
In 2003, Surovell was elected Chairman of the Mount Vernon District Democratic Committee of the Fairfax County Democratic Committee. In 2008, he was elected Chairman of the Fairfax County Democratic Committee where he organized and led local grassroots campaign activities for the Obama-Biden, Warner, Moran, Connolly and Federal campaigns.
In 2009, Surovell resigned as Chairman of the Fairfax County Democratic Committee in order to run for the House of Delegates.
Surovell has served on the Counties, Cities and Towns Committee (2010-2015), the Science & Technology Committee (2010-2015), and the Militia, Police & Public Safety Committee (2012-2015). In 2014, the Speaker appointed Delegate Surovell to the Virginia Broadband Commission. In 2014, Surovell was elected Caucus Chairman by the Virginia House Democratic Caucus.
For several years Surovell has written a blog, entitled The Dixie Pig, named after a now-defunct restaurant on U.S. Route 1 in his district that was his grandmother's favorite.
In January 2015 Surovell announced a run for the Virginia Senate, District 36, hoping to fill the seat of retiring Senator Toddy Puller. He won election to the State Senate by a margin of 60.52% to 39.28%.
Surovell was appointed to the General Laws and Technology Committee, Rehabilitation and Social Services Committee and Local Government Committee. In 2016, Surovell was also appointed to the Virginia High Speed Rail Commission.
Surovell has been a leader in the Virginia General Assembly on government transparency, criminal justice reform, consumer protection and environmental protection. In 2016, Surovell passed legislation requiring government officials to redact public documents instead of withholding entire records  and passed similar legislation applying to homeowner, condo and cooperative associations the following year.
Starting in 2016, Surovell has pushed and passed various legislative initiatives to clean up coal ash ponds in Virginia one of which is in Dumfries, Virginia.
In 2018, Surovell carried legislation that authorized $3.4 million of payments from the Commonwealth of Virginia to pay for the wrongful incarceration of The Norfolk Four if the monies were matched by the City of Norfolk. That same year he also carried legislation he had introduced nine times which raised Virginia's threshold between misdemeanors and felonies to $500 .
Recent Elections
2019 State Senator
| | | |
| --- | --- | --- |
| Scott A. Surovell (D) | 37,518 | 91.72% |
| Write-In (Write-in) | 3,385 | 8.28% |
| TOTAL | 40,903 | |
2015 State Senator
| | | |
| --- | --- | --- |
| Scott A. Surovell (D) | 18,320 | 60.5% |
| Gerald Moodrow Foreman, II (R) | 11,890 | 39.3% |
| Write In (Write-in) | 62 | 0.2% |
| TOTAL | 30,272 | |
2013 State Delegate
| | | |
| --- | --- | --- |
| Scott A. Surovell (D) | 13,438 | 71.0% |
| Joseph Anastacio Glean () | 5,321 | 28.1% |
| Write In (Write-in) | 177 | 0.9% |
| TOTAL | 18,936 | |
2011 State Delegate
| | | |
| --- | --- | --- |
| Scott A. Surovell (D) | 8,738 | 59.4% |
| John David Barsa (R) | 5,742 | 39.0% |
| Joseph Anastacio Glean () | 223 | 1.5% |
| Write In (Write-in) | 10 | 0.1% |
| TOTAL | 14,713 | |
2007 State Delegate
| | | |
| --- | --- | --- |
| Scott A. Surovell (D) | 9,961 | 53.4% |
| James Jay E. McConville (R) | 8,387 | 44.9% |
| Glenda Gail Parker () | 306 | 1.6% |
| Write In (Write-in) | 12 | 0.1% |
| TOTAL | 18,666 | |
Finances
Surovell, Scott A has run in 5 races for public office, winning 4 of them. The candidate has raised a total of $2,095, 103.
Source: Follow the Money
Committees
Committees
General Laws and Technology
Local Government
Rehabilitation and Social Services
Appointments
High Speed Rail Compact Commission, Virginia-North Carolina
School Facility Modernization
New Legislation
Source: Virginia Legislative Information System
Issues
Governance
PROTECT TAXPAYER DOLLARS WITH TRANSPARENCY AND INNOVATION
The government is the steward of taxpayers' money. Justice Louis Brandeis once said that a streetlight was the most effective policeman and sunlight was the best disinfectant.  Transparency is critical to achieving the most efficient use of taxpayer dollars.
Unfortunately, the Freedom of Information Act is very limited.  Consequences for violations are minimal.  Virginia has no laws prohibiting the destruction of documents and significant parts of the government such as the State Corporation Commission are completely exempt.
We also must ensure that we are collecting all taxpayer dollars.  Tax fraud costs Virginia billions of dollars per year.  The Virginia Department of Taxation collects $20 for every $1 it spends.  Common sense suggests that if any part of our government was fully funded, it would be our tax collection system so we can ensure that all Virginians and paying their fair share of taxes.
Also, over a decade ago, Virginia adopted a mechanism to allow private actions to recover contracting fraud, but tax fraud was specifically excepted.  President George W. Bush enacted reforms that allowed people who blew the whistle on tax fraud to receive rewards from successful tax collections. However, the state has no such program so that there is no incentive to blow the whistle on taxpayers who fail to pay state or local taxes such as sales taxes, gas taxes, or personal property taxes.
Virginia's procurement system is also very deficient.  The individuals running procurement often have close relationships with bidders, steer work to friendly companies which limits opportunities for other businesses, reduces bids and increases costs.  Virginia's procurement system needs better transparency, accountability, and significant reform.
All too often, government at every level does not innovate or manage its programs in a cost-conscious way that minimizes taxpayer burdens.  There are several things we could do to reduce costs to taxpayers.  For example:
Require all court filing be done electronically. One-third of all courthouse space is used to store paper.  Electronic court filing has been used in the federal system for over 10 years and would alleviate the need to expand courthouses across the Commonwealth for decades and improve efficiency.
Support Seniors At Home – Most seniors would like to age in place and live independently in their homes with dignity. Studies have repeatedly shown that there are cost savings to taxpayers approaching 40 percent when people are cared for in their homes instead of moving to a residential facility like a nursing home. Nursing homes can cost up to $70,000 per year. Private insurance and Medicare provide minimal coverage of long-term care and people all too often must "spend down" and deplete their savings to get help paying for nursing home care. Medicaid, a state-federal insurance program, pays for 43 percent of all nursing home care in the U.S. Virginia should also license home healthcare workers.
Rethinking Highway Medians – The Virginia Department of Transportation must explore planting our medians with native species that require less maintenance. In 1976, Virginia implemented its Wildflower Program at the behest of Lady Byrd Johnson partly as an effort to reduce mowing expenses. Maryland is looking at planting more wildflowers, trees and meadows in an effort to reduce mowing expenses. Colorado, Delaware, Nebraska, Oregon, South Carolina, Tennessee, Texas, Vermont and Washington are also exploring this as well. There is no reason Virginia cannot lead.
In addition to promote transparency and accountability, the Commonwealth should:
Ensure a robust Freedom of Information Act with minimal exceptions
Apply the Freedom of Information Act to all levels of government including the State Corporation Commission and Court system
Create a whistleblower program for individuals who commit state tax fraud
Reform procurement to increase predictability, transparency, and limit governments' discretion to steer projects to favored bidders based on highly subjective criteria.
Civil Rights
HUMAN RIGHTS AND REPRODUCTIVE FREEDOM
All Virginians deserve the right to live their lives in peace without government prying into their personal lives or personal decisions.  Likewise, Virginians deserve to be respected and treated fairly by others in going about their daily life.
Our Commonwealth has a troubling history of restricting the rights, privileges, incomes, housing, and reproductive choices of many people.  The legacy of Jim Crow lives on in the Constitution of Virginia and in our Code.
The decision to have a child can be life altering for a woman.  The ability to freely access contraception is critical for Virginia's women and thus their families to fully achieve their potential.
A woman has a constitutional right to make reproductive choices without government interference and a woman's right to end a pregnancy should be a decision between a woman, her doctor, and her conscience.  Abortion should also be safe, legal and rare.  While some have heartfelt beliefs that unborn fetuses also have rights, that is not the law of the United States, and would inject other people's moral judgments upon others or tell doctors how to practice medicine.
Likewise, the government has no role in telling people who they should love and who they can marry.  While this is now the law of the land in the United States, Virginia still has outdated laws on its books.  Moreover, private discrimination against lesbian, gay, bisexual and transsexual persons (LGBT) in employment, housing or daily living is still not prohibited in the Commonwealth.
Virginia also stands in a position to be the 38th and final state to ratify the Equal Rights Amendment and truly complete the Bill of Rights.  The right to nondiscrimination on the basis of sex was added to the Constitution of Virginia in 1971 and adding it to the U.S. Constitution is necessary to give men and women adequate ability to challenge discriminatory government actions.
Finally, once a Virginian has served their jail sentence, they deserve to have their civil rights restored.  Virginia's constitutional prohibition on felon voting and the cumbersome restoration process was adopted as part of Virginia's 1903 Jim Crow Constitution which virtually eliminated voting by all African Americans.  We must free ourselves from our racist legacy and remove the stain of Jim Crow from our Constitution.
To achieve complete human rights in Virginia we must:
Protect access to contraception
Protect a woman's reproductive freedom
Ensure nondiscrimination in housing, employment, and private transactions for Lesbian, Gay, Bixsexual and Transexual Virginians
Ratify the Equal Rights Amendment
Remove the felon voter restrictions from the Constitution of Virginia and adopt measures to allow automatic restoration of rights upon completion of one's sentence.
CRIMINAL JUSTICE REFORM
For the past four decades, the focus of criminal justice has been on criminalizing more behavior, increasing punishments, reducing the discretion of judges and juries, eliminating procedural safeguards to eliminate trials, and a focus on offenses and individuals that pose less of a risk to the personal safety of others such as drug offenses.  That system has been a failure and resulted in the United States incarcerating more citizens than any country other than China and destroyed millions of families.
We can be both tough on crime and smart at the same time.
We must start with fair laws.  While Virginia's misdemeanor-felony threshold was raised to $500 in 2017, it still remains the lowest in the entire United States of America.  Felony theft should involve serious property crimes and not the theft of mobile phones or fancy vacuum cleaners.
Virginia needs to begin the process of moving towards the decriminalization of marijuana and a system which takes distribution from the shadows and into an environment where the Commonwealth can tax it, earn revenue, and turn marijuana from a cost to taxpayers to a positive.
Virginia once led the world by requiring juries to render judgments on citizens instead of agents of the government such as judges.  Virginia's Declaration of Rights which was the foundation for the U.S. Bill of Rights and inspired constitutions around the world refers to the right to trial by jury as being "sacred."  The discretion of our judges and juries to determine built and innocence and render fair sentences has been taken away by legislators looking to substitute their judgment for that of the community after taking into account the circumstances of a crime, the history and circumstances of the accused, and the affects on the victim.  This runs counter to Virginia traditions.  Mandatory minimum sentences destroy the flexibility of our justice system to render justice for the accused, the victim, and all citizens of the Commonwealth.
Our Juvenile Justice system likewise requires reform.  Virginians should be outraged that the Commonwealth leads the country in the School to Prison Pipeline.  School Resource Offices (SRO) should be involved in detecting and investigating actual crimes – not enforcing school discipline.
Our forensic laboratories are currently overwhelmed with drug investigations and narcotics, opiate, and other analyses are backlogged by months due to lack of funding.  Virginia's Director of the Department of Forensic Science has testified before the United States Congress that there has been a lack of resources (money, staff, training, and equipment) necessary to promote and maintain strong forensic science laboratory systems. . . . As a State Crime Lab Director, I know that this has in fact been the situation for many of us for some time."
The lack of funding has also resulted in significant turnover in law enforcement personnel.  Virginia's State Troopers are some of the lowest paid in the nation.  Many complete their three year minimum after being trained by taxpayers and move on to other states or federal law enforcement jobs so they can support their families.
Many Virginia prosecutors' offices have no or limited paralegal support limiting their ability to comply with required discovery obligations or court filing obligations.
Also, to maintain trust in law enforcement, we need to invest in technology.  In-car video and body cameras are essential in protecting our law enforcement and our public from the occasional bad apple on the force.
Finally, Virginia's cash bail system has resulted many people being incarcerated for being poor instead of protecting the public.  Most studies show that reminders and keeping accused persons informed of the court dates reduces failures to appear in court more than cash bonds.  Cash bonds have a place, but they should be reserved for violent criminals, not the poor or homeless with a record of missing court dates.
To reform our criminal justice system, we must:
Raise the misdemeanor-felony threshold to $2,500
Allow the expungement of old charges upon a showing of rehabilitation
Allow for the restoration of all civil rights, including hundreds of miscellaneous civil restrictions upon a showing of rehabilitation and the consent of a judge
Eliminate mandatory minimum sentences and restore judges and jury's ability to render fair sentences
Allow judges to dismiss charges in appropriate cases
Provide full and complete discovery to accused persons
Pay our court personnel living wages.
Invest in funding sufficient prosecutor and prosecutor support positions to allow Commonwealth's Attorneys to invest time is fairly rendering justice
Install body cameras on all police officers
Adequately fund first-class forensic laboratory services
Reform cash bail, invest in supervised release, and use bail for violent criminals
Prohibit School Resource Officers from involvement in school discipline
REFORM CIVIL JUSTICE AND END PREDATORY LENDING
The Virginia Declaration of Rights was written by George Mason who lived in Mason Neck on the Fairfax and Prince William County border.  George Mason was a Virginia Delegate to the Constitutional Convention, but refused to sign the U.S. Constitution because it did not contain a bill of rights similar to what he had written and Virginia had enacted in 1776.  Article I, Section 11 of the Constitution of Virginia provides "[t]hat in controversies respecting property, and in suits between man and man, trial by jury is preferable to any other, and ought to be held sacred."
Civil jury trials rarely occur in Virginia for a variety of reasons.  First, boilerplate arbitration clauses contained in "Terms and Conditions" robotically agreed to by consumers or long fine print provisions on written contracts frequently waive jury trial rights.
Next, Virginia has continued to adhere to ancient concepts rejected in 48 other states such as contributory negligence and assumption of risk which say that if someone is 1% to blame for their injuries, they can recover nothing instead of reducing their recovery by the amount they are to blame.
Also, Virginia also adheres to an auto insurance policy minimum of $25,000 for liability and $50,000 for property damage that was adopted in the 1970's.  While today's cars have become safer, they have also become much more expensive and people survive crashes more often.  Virginia's old policy limits severely limit innocent Virginia's ability to be compensated for their injuries or even replace their car when they are hurt through no fault of their own.
Virginia's punitive damage cap of $350,000 is pocket change to most corporations and not a deterrent.  Virginia is also the only state in the country that does not allow class action law suits.
It is then no surprise, that Virginia has also become a fertile playground for predatory lenders.  The U.S. 1 Corridor is littered with lenders who make loans at 267% interest rates – blessed by the Code of Virginia.  Internet lenders pick up the slack and charge interest rates north of 400% using Indian Tribes who are rented out for their ability to claim tribal sovereignty and use contractual provisions requiring the application of tribal law and tribal arbitration.
Other lenders have used loopholes in Virginia laws like restructuring payday loans and open end credit arrangements which do not have interest rate caps.
These types of laws were common nationwide in the 1920's but are not appropriate in today's world.
To reform our civil justice system, we should:
Restrict the use of mandatory arbitration
Raise Virginia's punitive damage cap to $10 million
Adopt comparative negligence
Raise Virginia auto insurance minimums
Apply consumer protections to open end credit arrangements
Prohibit all loans over 36%
Allow class action lawsuits
PRESERVING VIRGINIA'S RIGHT TO HUNT AND FISH
Millions of Virginians enjoy the challenge of hunting, target shooting, and fishing. As a child, I spent much of my summers on Smith Mountain Lake and Schroon Lake in the Adirondacks of New York fishing for Perch, Blue Gill, Crappie, Carp, Catfish (see picture at left) and if I was lucky, Striped Bass or up north for Perch, Bass, and, if I was lucky, Pike, Pickerel, and Trout.
My mother's family comes from a long rural tradition from Franklin County in Southwest Virginia. In many families hunting and gun ownership is a family tradition and very much a way of life. The Right to Hunt is enshrined Article XI, Sect. 4 of the Constitution of Virginia.
Virginia's natural assets also provide tourist dollars with national bass fishing competitions occurring on our lakes and rivers and our ban on Sunday hunting limits Virginia's ability to leverage our resources.
We must respect the values, activities, and way of life of all of Virginia's residents. Keeping our rivers, streams, and lakes clean allows Virginians to enjoy the same activities that I did as a child. Preserving open space is critical to ensuring opportunities to hunt. However, as with all things, there is a time and place for everything, and while the vast majority of gun owners use them responsibly, there are a small number of people who do not. I believe in the right to bear arms to hunt and protect one's family, but I do not believe that felons, terrorists, or troubled teenagers have a right bear arms that threaten our children.
The 36th Senate District is home to the Potomac River – the top bass and snakehead fishery in the United States.
Preserving the quality of our streams, rivers and lakes and open space are critical state government functions that preserve our quality of life, promote tourism, and our environment for generations to come.
I will continue to:
Work to end the ban on Sunday hunting in Virginia.
Fight to encourage the preservation of open space for hunting.
Fight to keep our lakes, rivers and streams clean ensuring Virginians right to fish.
Continuing Virginia's membership in the Interstate Commission on the Potomac River Basin.
Properly fund programs to track and control invasive species such as the Northern Snakehead.
Education
Northern Virginia's public schools are one of its most valuable assets for attracting jobs and creating future talent.  In fact, many families move to live along the Potomac River because of our quality schools. Eastern Northern Virginia's property values are significantly stabilized by having some of the best schools in the County. However, our schools are stressed by the recession's impact on government.
High Quality & Accessible Preschool
In the early 1940's, my grandparents helped create one of Fairfax County's oldest operating preschools – the Tauxemont Cooperative Preschool on Fort Hunt Road. Three generations of my family have thrived at this community institution.
Science tells us that 90 percent of a child's brain development occurs before age five. We must expand voluntary pre-kindergarten programs for more four-year-olds. Children who get a strong start in life are more likely to have a productive, responsible life. All of Virginia's children deserve the same opportunities that I was able to enjoy.  If families cannot afford private preschool, our local governments should provide it for them.
Better Teacher Salaries & Less Trailers
Virginia has the tenth highest per capita wealth in the United States, but its teacher salaries now rank in the bottom quartile of salaries across the United States.  That is unacceptable.
Fairfax, Prince William and Stafford County Public Schools are losing the competition for teaching talent to Arlington, Montgomery, and Prince George's Counties Schools.
Moreover, the resurgence of families in older neighborhoods and population growth along the I-95 Corridor has created a plague of trailers in schools along U.S. 1.  Children should attend school in a brick and mortar building and not a mobile trailer.
Stop Micromanaging Teachers
Teachers are licensed professionals and should be treated as such just as doctors, lawyers, and other licensed professions.  The Standards of Learning have straight jacketed teachers and curriculum that fail to allow each student to learn in their own way and to their maximum potential.  The Commonwealth should reduce SOL tests to the federally required minimum.
Fair State Funding
State school funding formulas favor rural localities whose elected officials currently control the House of Delegates. The existing formulas give too much weight to income and property values and do not adequately take into consideration the increased cost of running schools due to populations with English language challenges or disabilities.  While local funding has lagged the most, state funding lags and has still not recovered completely from the 2009 Recession.  Secondary education needs more dollars.
Digital Divide
Finally, Northern Virginia's localities and others around the Commonwealth continue to design an education that largely prioritizes the students who need the least help – especially when it comes to Digital Learning.  Northern Virginia's localities lag other – even less wealthy – jurisdictions around the Commonwealth in deploying digital devices to all students and still charge tuition for online classes notwithstanding state prohibitions.
Secondary education must be free for everyone.  Our school systems must provide digital learning opportunities to all students at no cost and regardless of their circumstances.
Senator Surovell will work for:
More state and federal funds to provide opportunities for every child to reach his or her full potential.
Teacher salaries to the top quartile in the Country
Expanded access to early childhood education – preschool and high-quality childcare
Smaller class sizes
Free digital devices for all students
Rules to require no child should have to pay for online public learning
Reducing Standards of Learning tests to the federally-required minimum
Environment
PROTECT VIRGINIA'S ENVIRONMENT
Virginia is blessed with natural resources, from the Blue Ridge Mountains to the Atlantic Ocean. We are fortunate the 36th District to live near the "nation's river" and have:
Three State Parks: Mason Neck, Leesylvania & Widewater
Two National Parks: the George Washington Memorial Parkway (including Fort Hunt Park) and Prince William Forest Park
Three National Wildlife Refuges: Mason Neck, Occoquan, & Featherstone
Bureau of Land Management Units: Mason Neck
One Regional Park: Pohick Bay Regional Park
Dozens of Local Parks Including: Huntley Meadows, Veteran's Park, and Patawomek Park.
We must invest in these assets to ensure they are first class assets for the public's enjoyment.
Our community also depends on clean air and water and our country has some of the strongest public health measures in the world.
Greenhouse gases, such as carbon dioxide from vehicles and carbon-fired power plants, threaten not only our Commonwealth, but the entire planet. While the solutions are multiple and require action across the globe, Virginia has a role.
American's cheapest energy resource is energy efficiency and Virginia ranks in the bottom tiers of states.  We could meet 20 percent of our energy needs through measures like tougher building codes, weather stripping and more conserving commercial lighting and heating.
Virginia has been growing solar at a rapid pace since 2015, but most of it is owned by incumbent electrical monopolies.  Our neighboring jurisdictions have grown solar by using consumer, business and independent owned facilities while other jurisdictions require a home energy audit before the transfer of dwellings so that energy upgrades can be negotiated by the buyer and seller during the sale process if they choose to consider it. Virginians deserve the same benefits.
Virginia's environment faces several challenges today:
Northern Virginia does not meet federal air quality standards. The parent of every asthmatic child understands how serious this is on "bad air" days.
At least 80 percent of Fairfax, Prince William and Stafford County's streams are in fair to poor condition.
The Potomac River got a grade of D for its health.
Fairfax, Prince William and Stafford Counties' tree cover has plummeted from 75 percent in the 1970s to 40 percent today.
Greenhouse gas emissions from our vehicles, buildings, electricity use and manufacturing facilities are leading to sea level rise, more respiratory and vector-borne diseases and more extreme weather events.
Eastern Prince William County is home to one of the largest coal ash repositories in the Commonwealth – holding over 4 million cubic yards – that is leaking toxic heavy metals into our waters.
Commuters in the I-95 Corridor are too automobile dependent, remain stuck in traffic and do not have sufficient transit options for commuting
In order to remedy these problems
Focus development around public transit stations and on walkable communities.
Require local governments to adopt meaningful tree ordinances.
Mandate energy and water-conserving and low-impact development techniques.
Continue incentives for consumers to purchase energy efficient appliances.
Provide state tax credits for installation of solar panels, geothermal heat pump systems, wind, and other energy saving home improvements.
Encourage informational home energy audits (similar to a home inspection) upon the transfer of a dwellings between parties;
Expand the use of public transit and alternate modes of transportation.
Create incentives to transition to a clean energy economy and use more of Virginia's resources such as offshore wind and solar.
Explore more natural landscaping and native plants along Virginia's roads to reduce taxpayers' mowing and maintenance expenses.
Clean up coal ash by using recycling techniques or at worst, clean closure to eliminate the possibility of pollution
Create incentives for Virginians to purchase electric vehicles (EV) and incentivize the development of EV charging infrastructure throughout the Commonwealth
Health Care
PROVIDE QUALITY, AFFORDABLE HEALTHCARE
In a country as rich in resources as ours, every American should have health insurance and access to regular health care. Health insurance should truly insure. We should have policies that support the basic principle of insurance, to spread risk across a large, diverse group in a way that provides security to people and keeps rates affordable.
I am the owner of a small business. We have over 40 employees and we provide health insurance for our employees because we believe it is our responsibilities as an employer to provide good benefits to our workers. We pay over $200,000 in insurance costs for our employees and routinely see double digit premium increases each year.
Health care costs are squeezing small businesses and pushing many to drop insurance for their employees, leaving workers to pay for health insurance with after-tax dollars or forego insurance. Having more uninsured and under-insured people means that the rest of us lucky enough to have insurance have to pay more to provide services to others through, for example, more emergency room visits.
Virginia's health insurance costs continue to explode even after medical malpractice liability reforms which have been negotiated and agreed to by lawyer and doctor organizations.  Virginia has one of the most restrictive damage caps and pre-filing expert certification rules in the country to prevent unnecessary litigation.  Malpractice reform is not a healthcare issue in Virginia.
We also must ensure that Virginia's Bureau of Insurance is properly vetting insurance rate increases.  Health insurance companies are permitted to keep reserves, but those reserves must be reasonable.
Medicaid is our federal-state health insurance program for low-income persons and we fortunately expanded it to 400,000 Virginians on January 1, 2019.  Most of Virginia's Medicaid recipients are children, the elderly, blind or disabled persons, and now lower income working Virginians.  Despite being a relatively wealthy state, Virginia has one of the most restrictive Medicaid programs in the United States ranking 48th of 51.
However, Medicaid must also pay medical providers reasonable rates.  Virginia has also repeatedly cut Medicaid reimbursements to the point where most doctors will not accept Medicaid and hospitals are forced to push unfunded costs back on to private insurance patients.  Virginia must do better.
I will push for fair insurance practices:
Insurers should not be allowed to "cherry pick" their subscribers.
Insurers should not dictate medical decisions.
Properly fund Medicaid commensurate with our ability to pay
A serious illness can bankrupt a family. We should make sure that any lifetime insurance limits reflect today's realities and prices.
Infrastructure
FIX I-95 AND INVEST IN TRANSIT
Time spent stuck in traffic is time that could be spent more productively, being with family, coaching kids' sports or working. When I grew up in Mount Vernon, congestion in Northern Virginia was virtually non-existent. You could get from A to B without encountering gridlock. In July, 2009, the Washington Post reported that Northern Virginia has the second-worst congestion in the United States and it is getting worse. Studies say that congestion costs the average Virginia driver $1,000 per year in lost productivity due to lost fuel, accidents, vehicle maintenance, and most importantly – lost time.
U.S. 1 from Woodlawn to Beacon Mall is congested every weekend and backed up north and south of Fort Belvoir every weekday.  Doing something about U.S. 1 is my number one priority and I have dedicated an entirely separate page to that here:
My Vision for Route 1
The Federal and State Government have spent over $10 billion on the Woodrow Wilson Bridge, Mixing Bowl and I-495 and traffic conditions are virtually the same as before improvements were made.  Investments in I-95 have shifted bottlenecks south while generating more exurban development.  The I-95 Occoquan Bottleneck still remains the worst chokepoint in Northern Virginia.
More than 2 million new people are coming to the D.C. Metropolitan Area in the next 20 years and we cannot continue to invest in transportation the same way.  It is time to focus investments on rail and transit.
Additionally, correcting these issues will require money.  While in 2013, the General Assembly raised taxes for transportation for the first time since 1987, the new funds were only about a quarter of the documented infrastructure need which is why our Governors have continued to rely upon private toll road operators to fund major projects.
We also must innovate on tolling so that Virginia residents who made the initial investment in these roads receive some credit in tolling agreements relative to out-of-state users.
Moreover, gasoline taxes were originally designed as use taxes, taxes to measure one's use of the highway — the more you drive, the more you pay. But with increased automobile efficiency and electric cars, new ways to pay for roads are needed.
Finally, traffic considerations are not adequately considered when local officials make land use decisions. This means that local governments can authorize more shopping centers, office buildings and other development without considering whether the transportation networks are adequate for these new developments. Zoning for jobs and retail without housing effectively pushes congestion further and further down the interstates, creating more sprawl and adding to demands for schools, sewers, drinking water and other public services, and creating more vehicle trips through our area instead of within it. All of these problems must be addressed before progress in Northern Virginia is strangled.
We must —
Renegotiate the Commonwealth's contract with Transurban so we can fix the I-95 Occoquan Bottleneck at reasonable cost
Complete U.S. 1 bus rapid transit from the Huntington Metro to Prince William County
Begin the process of extending the Yellow Line to Hybla Valley and the Blue Line to Prince William County
Fund two new rails over the Potomac River at the Long Bridge to make high speed rail in the DC-Richmond-Norfolk-Raliegh-Atlanta Corridor truly possible
Implement a toll discount program for heavy Virginia toll users
Complete widening U.S. 1 to six lanes its entire length
Provide dedicated funding to mass transit
Provide dedicated funding to bicycle and pedestrian improvements
Focus development around nodes of transit
Safety
FIREARM VIOLENCE PREVENTION
Virginia has a long tradition of firearm ownership and hunting dating back to the founding of the Virginia Colony.  Virginia also became the source for most firearms recovered in criminal activity in New York City.  Because of this, Virginia led the way in developing instant background checks and instituting Virginia's One-Gun-A-Month rule that was signed by Governor Wilder in the early 1990's, but was repealed in 2011 by Governor McDonnell.
While the United States Supreme Court recently abandoned 200 years of predecent and held that Virginians have a Constitutional Right to gun ownership, it left open the question of how to balance the rights of owners and public safety.
The United States continues to have a higher firearm death rate than any other country in the world.  Firearms kill more Virginians than automobile accidents and are the leading cause of death for children.  Mass gun murders now occur with regularity in America with one of the worst occurring at our own Virginia Tech. While mental health and the federal and state government's failure to fully fund a robust mental health treatment system plays a role in these crimes, so do the easy availability of military grade weapons online, at gun shows, or in private sales.
Over 90% of Virginians support background checks for firearms transfers.  While transfers between family members, pursuant to bequests, or the use of a weapon by someone in an emergency are acceptable, no person should have access to a firearm if there are a risk to the public.
While every Virginians has a right to hunt and protect themselves, their family and their home, the right to individual protection does not require military style weapons, bump stocks, undetectable 3D printed plastic guns, or large ammunition magazines.
Therefore, we must:
Ban bump stocks
Require background checks for all firearms transfers with reasonable exceptions such as family transfers, bequests, or gun shows.
Prohibit the sale and ownership of assault weapons
Prohibit the sale or possession of ammunition magazines that will hold more than 20 rounds
Reinstate Virginia's "One-Gun-A-Month" Rule
Prohibit concealed carry in restaurants, while consuming or under the influence of alcohol or drugs
Social Security
SUPPORT VIRGINIA'S SENIORS
Everyone deserves a safe, secure retirement and the chance to age in their home if that is their choice. Many people who moved to the 36th District years ago still live in the community. My grandparents moved to Mount Vernon in 1941 and both had the good fortune to live in their home until they passed away because of the support provided by our family. However, with many families dispersed today, not everyone enjoys the same support.
In response to this need, community organizations such as Mount Vernon At Home have sprung up. These organizations minimize taxpayer burdens and provide flexible community-based support for our elderly. Virginia should help facilitate the start up of these organizations through targeted grants.
Additionally, skyrocketing property values and real estate taxes have caused some seniors on fixed income to be taxed out of their homes. While there are some tax abatement plans available, our local governments should be given more taxing authority so that revenue can be derived from other sources besides real estate.
Seniors are also subject to predatory practices from contractors and trusted ones.  Law enforcement needs robust tools to address criminal behavior and victims need effective remedies to seek justice in court.
Finally, home health care workers also provide care functions to our elderly in their homes. Many are compensated by Medicaid at extremely low reimbursement rates and work as independent contractors with no benefits. Also, unlike other professions such as plumbers, HVAC technicians, or barbers, home health care workers are completely unregulated. This means there are no minimum standards in their profession. We should raise the quality of home health care by providing increasing Medicaid reimbursement rates, creating minimum standards for licensing, and creating a benefits pools so that home health care workers can obtain medical, dental, and workers compensation insurance at reasonable rates. All of these measures would improve the quality of workers and the care given to our elderly in their homes.
We must –
Support services by providing block grants that help seniors live independently with dignity.
Continue real estate tax exemptions and discounts for seniors.
Broaden local taxing authority so localities can derive revenue from sources other than real estate
Support caregivers, adult day care and respite care.
Ensure financial abuse of vulnerable seniors may be remedied by a full suite of remedies in civil court
Expand seniors' housing options in the community.
Work to establish licensing, standards, and benefit pools for home health care workers who are currently completely unregulated, underpaid, and poorly monitored.