Summary
Current Position: State Delegate for District 79 since 2016
Affiliation: Democrat
Former Position(s): Portsmouth City Council from 2004 – 2012
Politicians are often on the wrong side of history; whether it be a failure to protect us against predatory tolls on our tunnels, cuts in state funding for our local schools, blocking working-class families from accessing healthcare, or eroding the voting rights of our elderly and disabled…enough
About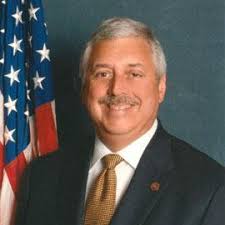 Source: Campaign page
Stephen E. ("Steve") Heretick was born in Hopewell, Virginia, on May 29, 1960. Steve served on the Portsmouth City Council from 2005-2012. During his tenure, Steve served as Chair of the Hampton Roads Regional Jail Authority, on the Hampton Roads Planning District Commission, and many other boards and commissions. On City Council he fought to keep taxes low, while investing in public education, public safety, and bringing much needed economic development to Portsmouth.  He is married to Stephanie von Schaaf of Walton, New York, and they have one son, Stephenson Ford von Schaaf-Heretick. Steve and his family live in the Glensheallah neighborhood with their Labradors O'Malley and Forrest.
Steve attended the College of William & Mary in Williamsburg, Virginia, graduating with a Bachelor's degree in Philosophy and Psychology in 1982. Steve was accepted into a dual doctoral (J.D./Ph.D.) program sponsored jointly by Hahnemann University Medical School and Villanova University Law School in Philadelphia, Pennsylvania, graduating with the Juris Doctor (J.D.) degree in 1988. Steve served clerkships with the Clerk of the United States District Court for the Eastern District of Pennsylvania, and with the Criminal Division of the United States Department of Justice in Washington, D.C. and in Philadelphia, Pennsylvania. Steve was subsequently selected to serve as a law clerk for the Honorable Edmund V. Ludwig, Judge of the United States District Court for the Eastern District of Pennsylvania in Philadelphia.
Following his federal judicial clerkship, Steve was selected to serve in the Criminal Division of the United States Department of Justice, Federal Bureau of Prisons, serving first as Assistant Regional Counsel for the Northeastern United States from 1988 through 1990, and as Chief Counsel for the United States Penitentiary, Lewisburg, Pennsylvania, serving from 1990 through 1992. During this time Steve was awarded the Regional Counsel's Medal for Meritorious Service in 1989, and a Special Act Award from the Justice Department in 1991. Steve was nominated as the Federal Bureau of Prisons Attorney of the Year in 1991 and as United States Department of Justice Attorney of the Year in 1992. Steve was awarded the Justice Department Award for Public Service in 1992.
In 1992 Steve joined the firm of Moody, Strople & Kloeppel, Ltd., in Portsmouth, where he remained until 1996. As lead counsel in a series of landmark transportation cases, Steve was personally featured on "How Safe The Rails?", a segment of Investigative Reports by Bill Kurtis Productions, and on the ABC Evening News with Peter Jennings. Steve was subsequently associated with the Norfolk firm of Payne, Gates, Farthing & Radd, P.C., from 1996 through 2000. In 2000 Steve established his present firm, Stephen E. Heretick, P.C., which is located in Portsmouth. Steve concentrates in corporate and commercial litigation, secured transactions, and labor litigation, representing regional, national, and international clients in state and federal courts throughout Virginia.
In July 2003 Steve was appointed to the Virginia Board of Medicine by Governor Mark Warner. Upon his reappointment to the Board in July 2007 by Governor Tim Kaine, Steve was elected President of the Virginia Board of Medicine in July 2007, the first non-physician in Virginia history to serve as President of the Board, which regulates over 40,000 physicians and health care providers throughout Virginia. Steve was reelected as President of the Virginia Board of Medicine in July 2008. He continued to serve until 2014 when his term expired.  Steve still serves today as a Fellow of the Federation of State Medical Boards.
Steve won the Democratic Primary on June 9, 2015 and was elected by the citizens of Portsmouth and Norfolk to represent the 79th District of the Virginia House of Delegates on November 3, 2015.  He was sworn into office January 13, 2016. He was re-elected on November 7, 2017.
Experience
Work Experience
Education
Ph.D/ABD
Hahnemann University Medical School, PA
JD
Villanova University Law School, PA
1988
BA
The College of William & Mary in Virginia
1982
Awards
U.S. Department of Justice, Special Act Award (1991), Award for Public Service (1992)
Personal
Birth Year: 1960
Place of Birth: Hopewell, VA
Gender: Male
Race(s): Caucasian
Religion: Catholic
Spouse: Stephanie von Schaaf-Heretick
Children: Stephenson
Membership & Affiliation
Virginia Board of Medicine (former member, former president)
Federation of State Medical Boards (fellow, director; Committees: Executive, Strategic Planning, Investment, International Medical Practice, Workgroup on the Regulation of Telemedicine)
U.S. Medical Licensing Examination/National Board of Medical Examiners, Committee on Individualized Review
Foundation of the Federation of State Medical Boards (director, former president)
Norfolk Collegiate School (trustee)
Horizons Hampton Roads (director)
Virginia Supportive Housing (director)
Contact
Legislative Assistant: Joseph Waymack, Chief of Staff
Administrative Assistant During Session: Karen Bobbitt
Email:
Offices
Capitol Office
Pocahontas Building
900 E. Main St,
Richmond, Virginia 23219
Phone: (804) 698-1079
District Office
715 Loudoun Avenue
Phone: (757) 397-9923
Web
Government Page, Campaign Site, Facebook, YouTube
Politics
Recent Elections
2019 State Delegate
| | | |
| --- | --- | --- |
| Steve E. Heretick (D) | 9,209 | 87.42% |
| Write-In (Write-in) | 1,325 | 12.58% |
| TOTAL | 10,534 | |
2017 US Senator
Stephen Heretick (D)
0
Write In (Write-in)
0
TOTAL
0
Finances
HERETICK, STEPHEN E has run in 4 races for public office, winning 2 of them. The candidate has raised a total of $606,852.
Source: Follow the Money
Committees
Committees
Counties Cities and Towns
Finance
Commerce and Labor
Subcommittees
Counties Cities and Towns – Subcommittee #1
Finance – Subcommittee #1
Commerce and Labor – Subcommittee #3
Appointments
Voting Record
See: Vote Smart
New Legislation
Source: Virginia Legislative Information System
Issues
Source: Campaign page
"I was humbled at the outpouring of support I received during my candidacy for the 79th district seat of  the Virginia House of Delegates. Politicians are often on the wrong side of history; whether it be a failure to protect us against predatory tolls on our tunnels, cuts in state funding for our local schools, blocking working-class families from accessing healthcare, or eroding the voting rights of our elderly and disabled…enough is enough!  I am here to stand up and fight for the residents of Portsmouth and Norfolk who deserve a voice in Richmond.  I'm here to serve YOU." 
Democracy
Independent Non-Partisan Redistricting Reform
Citizens should pick their legislators and not the other way around. I ran for office on a promise to support non-partisan redistricting reform. In 2018, I introduced a constitutional amendment to do just that. I have stood up against both the Republicans and members of my own party who want to keep the corrupt practice of gerrymandering alive. In 2019, I have already pre-filed HJ582 that would ban this corruption once and for all!
Economy
he 2016 General Assembly session saw progress on broad-ranging economic development and revitalization efforts.  I was proud to co-sponsor HB834 and HB846, the Growth Opportunity "GO" Virginia bills, which will create new economic incentives to stimulate more development and to bring more jobs to our communities. As you know, our ports continue to be an economic engine for our region and for the Commonwealth. I am particularly proud that the budget included $350,000,000.00 in new investments to expand the Port of Virginia's operations in Norfolk.  This long-overdue investment will ensure that our region benefits from significant new trade opportunities, economic development, and new career opportunities, all of which are tied to our ports.
In 2016, I was appointed to the Counties, Cities, and Towns Committee, which hears numerous development and zoning issues. I have worked to eliminate government red tape and make it easier for those who want to invest and strengthen our economy to do so.
In 2017, I was appointed to the Finance Committee. During my time on that committee, I have sought to reduce tax burdens on working families and businesses alike. We have created incentives for additional economic development as it is essential that we keep Virginia competitive and able to attract new business investment to our state.
In 2018, I was appointed to the powerful Commerce and Labor Committee. On this committee, I work to balance the need to reduce burdensome regulations with the need to protect consumers from predatory companies.
Infrastructure
Toll Relief
No meaningful effort to achieve regional toll relief can occur without a sound fiscal plan. Recognizing this fact, I was proud to introduce HJ73 during the 2016 General Assembly session. This resolution requested that the Joint Legislative Audit and Review Commission (JLARC) conduct a study to devise a financial plan that would eliminate tolling on the Downtown and Midtown Tunnels. HJ73 received bipartisan support, resulting in the powerful House Rules Committee requesting that the study be conducted by the Virginia Department of Transportation (VDOT) instead of JLARC. Unfortunately, no report was ever issued.
In the 2018 session, I have introduced HJ25, once again asking for a JLARC study of this issue.
Abusive Tolling Practices
As you know, collection of tolls on our tunnels is managed by a private, for-profit corporation which generally operates free from governmental oversight. We have all heard of abusive collection practices against commuters, particularly when significant administrative and other fees are stacked on top of the base tolls of drivers who do not have E-Z Pass transponders in their vehicles. With strong bipartisan support, particularly from delegates in Northern Virginia whose communities are also facing new tolls, my legislation was ultimately incorporated into HB1079, an omnibus bill that I was proud to co-patron with Delegate Chris Jones of Suffolk, whose leadership on this issue has been critical for the entire region.
This bill places limits on the fees that can be added to base tolls, caps the total amount of tolls that can be assessed, and, very importantly, this bill would ban any future tolling on existing roads without specific approval by the General Assembly.  Unfortunately, the Senate stripped this last vital provision from HB1079, which I opposed when the bill was returned to the House with Senate changes.  While we were unsuccessful in restoring this significant protection to the bill, we were ultimately able to save the remaining protections to commuters it provided.  HB1079 was enacted by the Governor, and since July 1, 2016 there are wide-ranging new laws in place in Virginia to provide commuters with more time to pay tolls, to protect commuters when E-Z Pass payments are declined in error, and to provide new legal protections for commuters limiting how quickly and how much the tolling companies can collect in court.
In the 2017 session, I again introduced legislation to prohibit the imposition of new tolls on our roadways without the permission of the General Assembly, thus checking the authority of unelected state bureaucrats to give away our roads to for-profit, private companies and impose tolls with no accountability to us, the public.
In the 2018 session, I brought this issue to the General Assembly once again; HB1070 would help protect localities against bad public-private transportation deals. I also introduced HB1069 which allows vehicle registrations to be extended for one month for citizens, whose registrations have been blocked due to toll debt, allowing them time to resolve the matter.
Laying the Foundation for Wireless Communications for the Future
Widely inconsistent land-use rules and regulations are governing the development of wireless communications in Virginia's localities; these policies are limiting our ability to develop a reliable communications network throughout the Commonwealth. Wireless communications have become the primary means of communication, public safety, and economic development, particularly in rural areas where advances in communications infrastructure are not economically feasible.  To address this, I introduced HB1347 in 2016, which is designed to put Virginia at the cutting edge of the nation by preparing us for the 5G wireless infrastructure statewide.
With the support of the House Commerce and Labor Committee, my HB1347 was carried over to the 2017 session so that a work group comprised of senior members of the House, stakeholders in the wireless industry and local governments, and the Commonwealth's Secretary of Technology could fine-tune this vital legislation.
In 2017, we once again worked on this issue but were unable to get the bill passed on the House floor due to opposition from special interest groups who didn't want to lose the ability to charge wireless companies exorbitant fees. We established a new work group to work on the issue during the summer of 2017 with all the stakeholders at the table.
In 2018, Delegate Kilgore and I have introduced bi-partisan legislation to prevent Virginia from missing out on critical infrastructure investment from the wireless companies. I am working hard this session to ensure that Virginia can continue to have the wireless infrastructure that supports public safety, increases economic development, and serves our citizens and visitors with cutting-edge, high-quality technology.
Virginia has already missed out on significant investment in the wireless and broadband sectors, but I am truly optimistic that with the support of many members of the legislature, the executive branch, local government, and private industry, this year's bill will finally become successful legislation, expanding the future of wireless communications in Virginia.
Safety
Criminal Justice Reform
Meaningful criminal justice reform is a key issue in our urban areas, where community safety must be balanced with fairness in our justice process. To address several of these issues, and at the express request of the cities I represent, I introduced several bills this session to address needed reform.  These efforts include bills that would make it easier for innocent people to have their arrest records expunged, and that make it possible for juvenile offenders who are now on the right track in life to have prior, non-violent misdemeanor convictions removed from their records.  We cannot afford to create roadblocks for truly reformed young people who get their lives back on track after learning from their mistakes the hard way. While I was able to gain bipartisan co-sponsorship for these bills, they were summarily killed by the Courts of Justice Committee.  With the encouragement and support of so many in our communities, I will continue toward these common sense reforms as long as I am your representative.
In 2016, 2017, and 2018, I introduced bills to decriminalize the simple possession of marijuana for personal use by adults, and to eliminate jail time for those who possess small amounts of marijuana in their homes for personal use. Currently, millions of dollars of your money is wasted every year to incarcerate otherwise law-abiding and productive adults who use marijuana for medical or recreational purposes.  Many more resources are wasted when these same adults lose their jobs and livelihoods, and face other problems because of minor, non-violent drug records for offenses which are fully legal in the District of Columbia and a growing number of other states.  Under my legislation, as an alternative to conviction, jail, and a lifelong criminal record, adults committing no drug offense other than simple possession would receive a civil fine if apprehended. These bills have unfortunately been killed every year by the Criminal Law Subcommittee of the Courts of Justice Committee.
Social Security
Restoration of Port Host Impact Fees to Our Communities
Among the greatest frustrations I experienced while serving on the City Council was the Commonwealth's failure to fund a long-standing budget line item that would provide the cities of Norfolk, Portsmouth, and Newport News state funds to help pay for the extra costs associated with managing port-related traffic in our communities.  While the ports of Virginia, most of which are in my House district, serve as a key economic driver for the entire Commonwealth, we, the taxpayers of Norfolk and Portsmouth, have been unfairly required to pay for the vital roadway maintenance needed to support port-related traffic out of our own pockets. For years, our repeated requests to the General Assembly for these critically-needed funds went unanswered.
In the 2016 session, the General Assembly passed a responsible, two-year balanced budget.  That budget fully funded public safety and increased funding for our education system without raising taxes. During this process, I fought for a budget amendment to restore full state funding to Norfolk, Portsmouth, and Newport News for the long-ignored port host impact fees. I am pleased that, with the support of the House Appropriations Committee, I was able to fully restore payment of these fees to Norfolk and Portsmouth– where every dollar counts.
We are currently working on a new budget in the 2018 session which will cover the next two years of state operations.