Summary
Current Position: State Delegate for VA House District 83 since 2022
Affiliation: Republican
Former Position: attorney and small business owner
Tim Anderson is a highly respected attorney and small business owner who has called Virginia Beach home for over 25 years. During his law career, he has been awarded Pro-Bono Attorney of the Year and is a two-time winner of the Legal Elite Award from Virginia Business Weekly.
Tim serves as a Board Member of the Tidewater Bankruptcy Bar, a member of the Davis Corner Rescue Squad, and is a former Cub Scout Den Leader. Tim has always prioritized community service having been part of the UpCenter mentor program and has been an active participant in the grassroots community.
Source: Campaign page
Twitter
About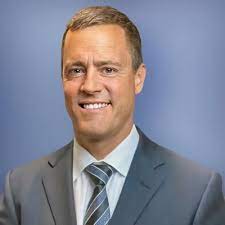 Tim is happily married to his wife Amy and is the father of three children, James, Alex, and Mayzie. He graduated from the University of Tampa with a degree in economics and obtained his law degree from Regent University and has been practicing law since 1999. He has been a licensed pilot for 20 years and enjoys flying planes in his spare time.
Tim felt called to run after the radical Democratic takeover of the General Assembly in 2019. He believes there must be a check on the one-party rule in Richmond and his seat is crucial to regaining the majority.
Contact
Legislative Assistant : Chadwick Brown
Administrative Assistant During Session: Brenda Short
Email:
Offices
Capitol Office
W437
Phone: (804) 698-1083
District Office
249 Central Park Ave #300-73
Virginia Beach, VA 23462
Phone: (757) 572-4427
Web
Twitter, Campaign Site, Government Page
Politics
Source: none
Committee Membership
Subcommittee Membership
Issues
Pro Business Policies
As a businessman, Tim Anderson believes in American capitalism and free enterprise policies. As your Delegate, Tim will fight against higher taxes, burdensome regulations, and forced unionization of Virginia businesses as Tim supports Virginia's Right-to-Work law. Tim opposes the job-killing Green New Deal that will raise energy prices and liberal efforts to raise the minimum wage to $15 an hour. Tim supports the recruitment and retention of American manufacturing. Now, more than ever, Tim knows we must fight against these forced shutdowns and re-open Virginia, safely.
Reforming Our Schools
As a teacher's husband, Tim proudly supports a parent's ability to chart the course of their children's education based on their child's specific needs. Tim knows that Virginia's public schools must encourage innovation and free thought while maintaining a strong focus on math, science, and technology. Tim will be a strong supporter of technical education and trade schools.
Virginia's teachers are appreciated and are being asked to accommodate to a pandemic like never before. Teachers have adapted and have strived to accommodate all students. As your Delegate, Tim will support the retention of our best educators and the safe re-opening of schools.
However, the time has come to have a conversation about Parent Choice/Empowerment Scholarships that allow parents to receive the taxes paid to a public school system on behalf of their child to use those funds for private education.
Covid-19
Governor Northam continues to unfairly intimidate and shut down Virginia businesses. Tim knows we must re-open Virginia safely and help those who are most vulnerable by enacting changes at the Virginia Employment Commission – which is ranked near the bottom for states tasked with getting assistance to workers on time. We cannot have the Government picking winners and losers.
Supporting Law Enforcement
As a constitutional conservative attorney, Tim will continue to fight attempts to defund law enforcement officers. He will continue to support members of the law enforcement community that put their life on the line to keep us safe. Tim has and will continue to Back the Blue.
Healthcare
Tim opposes a government takeover of healthcare as ObamaCare clearly has not worked. Healthcare should be affordable and of high quality for Virginians. People with pre-existing conditions should be covered. He will continue to advocate for our most vulnerable, and Tim knows the best way to achieve these ends is through market reforms.
Pro-Life
I stand for life and hope we could create a culture where the demand for abortions would be non-existent. I strongly oppose the extreme liberal positions held by our Governor and extreme Democrat members of the General Assembly who believe a baby can be killed up until the moment of delivery and that if a baby should survive an abortion, that no medical lifesaving treatment should be offered. These positions are absolutely disgusting and as a Delegate I will fight against any proposed bill that allows the murder of a sustainable baby unless the life of the mother is in question. I believe we need more conservative Supreme Court Justices like recently appointed Justice Barrett to keep extreme ideas like abortions at any stage from becoming law in our society.