Summary
Current Position: Secretary of the Lunenburg County Chamber of Commerce
Affiliation: Democrat
Candidate: 2019 State Delegate
Overview: N/A
Twitter
About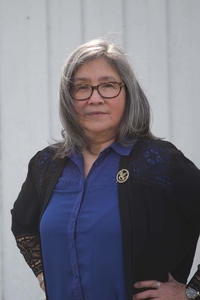 Source: Campaign page
I was born in Lansing, MI, and raised in Lansing, the small town of Dimondale, MI, and Los Angeles, CA. My late father, a Michigan native of Scots-Irish descent, and my mother, of Japanese ancestry, met when he was in the Navy and stationed in Hawaii. My mother was born and raised on Oahu and was eight years old when Pearl Harbor was bombed. Her father and brothers spent the war years in an internment camp in Arizona.
While studying at Holt Senior High School, in Holt, MI, I worked at a fast food restaurant and an office and school supply warehouse and was inducted into the National Honor Society and received the John & Elizabeth Whitely Business Award. After graduation, I joined the U.S. Air Force (USAF) and earned an Honor Graduate Certificate upon completion of the Administrative Specialist Course and then went on to complete the Legal Services Specialist Course. When my USAF enlistment ended, I accompanied my Air Force husband to the Philippines where I worked as a Civil Service employee at JUSMAG (Joint U.S. Military Advisory Group), in the USAF Legal Office at Clark Air Base, and for the State Department in the USAID Inspector General's Office. Upon returning stateside to MD, I worked for a DOD Contractor in northern VA, but after a reduction in force I moved to VA, first to Williamsburg in 1990, then Yorktown in 1991, and finally settled in Green Bay in Lunenburg County in 1998.
During my time in the USAF, in the Philippines, and later in Virginia, I enrolled in college courses whenever and wherever I could. In 2001, I earned a BS in Sociology with a Concentration in Criminal Justice from Longwood University in Farmville, VA, graduating Magna cum Laude, receiving two Citizen Leader Awards and induction into three Honor Societies. In 2002, I earned a Certificate in Social Policy and Administration, also from Longwood University.
As a mother of five children, with one son currently serving in the U.S. Army who has deployed twice to Afghanistan, and a grandmother of thirteen, I have always tried to stay active in both family and community affairs. This has included volunteering at church, with the kids' summer swim team, for a Little League team, and serving as a Cub Scout and Brownie Girl Scout Leader. I joined the Friends of the Victoria (VA) Public Library in 2011 and have served as Secretary since 2015 and also served as Secretary of the Lunenburg County Chamber of Commerce from 2014 to 2018, stepping down from that role to concentrate on my campaign for Delegate to the Virginia General Assembly. I am also an active member of the Lunenburg County Democratic Committee.
My service and justice oriented nature has guided me along life's path. I wish to be of service to a wider community and have put that desire into action as a candidate for House District 61.
Contact
Email:
Offices
Campaign Office
PO BOX 184
VIctoria, VA 23974-0184
Web
Campaign Site, Twitter, Facebook
Issues
Source: Campaign page
Healthcare
The mid-term elections are over, open enrollment has closed, and the cost of healthcare is on the rise. In 2019, insurance premiums are increasing, co-pays are increasing, and the cost of prescription drugs is increasing. We need to continue to work to lower healthcare costs and increase access to affordable healthcare.
We need to stop the opioid crises and include cannabis products on our list of acceptable medical treatment.
We need to let people choose their own doctors, hospitals, and treatment.
Environment
Our environment is being destroyed by energy and waste disposal companies with the express permission of our elected officials. Unsafe pipelines are being erected and landfills are unnecessarily being constructed and expanded throughout our state. Our land, air, and water are being polluted while these companies make money and make campaign contributions to our elected officials, while individual donations and efforts pay to clean up their mess
Education
Leave No Child Behind is a misnomer when we teach a large group of students in the same classroom who are at different levels of learning, do not allow children to enter kindergarten based on age rather than knowledge and ability, and do not challenge students to keep them interested in learning.
We need to decrease class sizes and provide instruction at the same level in each class. That means grouping students in below average, average, and above average classrooms. This allows students to get the instruction and attention they need to excel to the next level.
We need to allow children to enter kindergarten if they turn 5 on or before the first day of school — no matter when school starts (August or September) — and test those who turn 5 up to December 31 and allow them to enter kindergarten if they are academically ready.
We need to offer more skilled labor training classes in middle and high schools to allow students to discover their interests and passions and enhance their skills so they can enter a career path that will sustain their independence.
Economy
We need to encourage broadband and cell phone companies to provide communications to all Virginia residents. This means every household in rural Virginia should have access to the Internet and cell phone service, not just those living in cities and towns and not just in schools and government offices.
Communications access will encourage companies to set up their businesses in our small towns and countryside and provide jobs in our rural communities.
We need to support our local schools, colleges, and universities in providing a skilled workforce for these companies and encourage current business owners to offer internships, apprecenteships, and on-the-job training.
We need a living wage, equal pay for equal work, and paid benefits for every employee regardless of the number of hours worked per week. Employers can pro-rate vacation and sick days.
We need job security that unions and the abolishment of At Will policies will provide to a skilled workforce. Right to Work policies do not prohibit the establishment of unions, they merely state that a union cannot require that an employer refuse to hire someone who does not want to join an established company union and a newly established company union cannot require that an employer fire an employee who does not want to join the union. In other words: joining a union is optional and getting or keeping a job is not dependent on union membership.
We need to establish a fair income tax rate and abolish usury credit card interest rates.
The bottom line is that employed workers and living wages increase the tax base and decrease the need for government assistance.