Summary
The Students onAir @GMU chapter is where GMU students can come together to strengthen our democracy.  The onAir chapter is the lead student group overseeing the Virginia onAir governance and election Hub and the national hub at:  us.onair.cc/.
Students onAir @GMU is open to all Mason undergrad and graduate students.  It also sponsors a Registered Student Organization. This fall's Students onAir officer's are:  Ani Prakash, President, Frida Cervantes, Vice President, Devin Pieczynski, Secretary, and Gabriel Yu, Treasurer.
The chapter is currently sponsoring an outreach effort to Northern Virginia congressional candidates to inform and engage students and NoVA residents in the 2022 midterm elections.  The chapter is supporting interview aircasts with the candidates such as this highlight video of student interview with Congressman Don Beyer.
News
i
Speak Up for Impact 1-minute video contest
March 21, 2022
Speak Up for Impact!
US onAir is excited to announce its Spring 2022 Speak Up for Impact! Video Contest. The contest starts on March 21, 2022 and ends April 25, 2022.  Win cash!
Contest Aim
Speak Up contests promote university competitions to have the most impact on local, state, and federal government and elections – via informed, civil discussion among university communities and their elected officials.
A decade of studies showed that when constituents and their elected officials used a moderated platform to discuss their views (based on a set of issue-based facts) to find common ground, trust went up and people were more likely to vote – especially for those with whom they interacted.  That's impact!
US onAir is a non-profit, non-partisan network with a central US Hub and 50 state Hubs designed for citizens to learn, discuss, and impact their democracy.
LEARN the facts about issues on posts, curated by student volunteers
DISCUSS issues via live-streamed aircasts, moderated by student volunteers.
HAVE IMPACT on elected officials, governance, prospective voters, and elections.
What you do
Got a minute?  Want to influence 2022 politics?  In your short video, tell your US Senators and US House Representative what you'd like done about an issue that matters to you, and ask for their feedback. If you want to win up to $150, influence others to 'Speak Up' (submit their video) also.
What we do
To amplify your voice, we will spotlight selected videos on the US and state onAir Hubs, on our YouTube channel, and other social media. We will also invite you and the US Representatives you address to discuss your issue on an aircast.
Three Cash Awards
The individual or group that influences the most people to 'Speak Up' (submit their own short video) will win.  There will be one Individual and two Team awards (a student organization and a GMU class). Each wins $150.
In this first Speak Up contest, only those with a George Mason University email can join to win. There are 2 more 'Speak Up' video contests planned for 2022, 1 for summer and 1 for fall.
i
OnAir@GMU May 2022 to April 2023 officers
March 30, 2022
This is a Speak Up video with slides that outlines some of the reasons why the OnAir@GMU chapter is promoting the Speak Up contest and especially targeted to faculty.
i
Jim Lillard joins onAir Networks as a Director
January 20, 2022
Jim Lillard, current Vice President- OnAir@GMU chapter,  will serve as an onAir Networks Director this semester assisting our Arlington Fellows interns.
Fall 2021 GPF Internship Experience

There's a lot of really great ways that you can use technology to engage with the world and change things […]."

— Tim O'Shea, Government & International Politics Honors College alumnus
The average American tends to have more knowledge about how they are represented in the federal government than about their representation at the state level. While there are numerous reasons why this is the case, a group of George Mason students and alumni are working to close this informational gap through technology.
Democracy onAir, an online hub started by entrepreneur Scott Joy and now run by students, hopes to be the answer to all the questions people, particularly young adults, may have about who is representing them at the state-level.
"Our objective is to use technology in a way that makes it easier for people to engage in more civil [and educated] democratic processes," said Tim O'Shea, an Honors College alumnus who graduated from Mason last May. O'Shea studied Government & International Politics as an undergraduate and is currently a Juris Doctorate candidate at Georgetown University.
On October 25, O'Shea and current Honors College senior Adia McLaughlin hosted a colloquium introducing onAir to a group of first-year Honors College students. Both O'Shea and McLaughlin joined onAir when it was just a startup and have continued to contribute to the interactive information hub. O'Shea is now the Executive Director of onAir while McLaughlin serves as the Content Director.
O'Shea and McLaughlin's colloquium encouraged students to evaluate how they can be civically engaged on and off campus while informing them of the resources provided by onAir.
"Our hub is completely curated and managed by students," emphasized McLaughlin, who is double majoring in Communication and Government & International Politics. Students involved with onAir interview representatives, host town hall meetings, and keep the hub's pages up to date with current politics.
"We want to democratize the production of political information [in order to engage] young people in the process of creating that information," explained O'Shea. O'Shea believes that "political information is better" when it is "produced and curated by people who actually live in communities that are impacted by [policies]."
The Virginia onAir hub allows users to enter their residential address and easily identify who is representing them at all levels. Users can then click on a representative's name and read a complete background on that politician's affiliations, election results, voting records, positions on major issues, and much more.
Students working for onAir use a stock set of questions when interviewing representatives to create an even baseline with which users can evaluate politicians.
"The goal of our hub is to provide that same quality and availability of information that a lot of us have for our federal representatives, but on the state level," said O'Shea.
"All [policy] affects us. […] That's really the basis of onAir."

— Adia McLaughlin, Honors College senior; Communication and Government and International Politics double major; Student Government Vice President
Currently, Virginia is the first state to have a Democracy onAir hub, and Mason is the first onAir university chapter. McLaughlin is the president of Mason's onAir group, which connects with more than 20 representatives. However, McLaughlin has a different relationship to the organization than some others.
"I'm from North Carolina, and I vote in North Carolina," explained McLaughlin. "But by becoming closer to Fairfax representatives, […] I've been able to advocate for my fellow GMU students who do have stakes specifically here."
Democracy onAir intends to spread to more regions of Virginia by reaching out to students at universities across the state in hopes of creating new onAir chapters. The organization also hopes to expand to more states in the future.
"The reason Mason was such a great pick to start is because we have so much civic engagement already on this campus," said McLaughlin. "It wasn't hard to find students who were willing to put in the time [and effort] to collect all of this data."
At the end of the colloquium, O'Shea and McLaughlin encouraged all the students to leave their mark at Mason by creating their own unique paths to achieve their goals. The two hope that onAir shows students that there are always innovative and more effective ways to accomplish something than what may be traditional.
"There's a lot of really great ways that you can use technology to engage with the world and change things, and we hope we're an example of that for people," said O'Shea of his and McLaughlin's contributions to onAir.
"All [policy] affects us," said McLaughlin. "That's really the basis of onAir."
To explore the Virginia onAir hub, visit va.onair.cc. To explore GMU's onAir chapter, see this post.
Climate Change & US Governance

About
Since its founding in the fall of 2018, many members have taken advantage of the onAir internship opportunities especially interns in the Global Politics Fellows Program.
For the past 3 and 1/2 years, numerous Mason students, faculty, staff, and alumni have led the way in developing the US onAir network.
Some of the key contributors include:
Todd Gillette, GMU PhD  in Neuroscience 2015, Chair – Democracy onAir and lead developer of the onAir software;
Tim O'Shea, GMU BA Government and International Politics 2019 and Georgetown Law 2022, first US onAir Executive Director and Director – Democracy onAir;
Shuaib Ahmed, GMU BS IT 2019 and GMUMasters student in Cyber, former Director and manager- Democracy onAir;
Jim McLean, GMU BA CVPA 2001 and GMU instructional technologist, imaging and aircasting advisor;
Gary Kreps, GMU professor and former chair of communication, communication advisor;
Lourdes Fernandez, GMU English profess and PhD 2019, two significant focus groups with her classes;
Aram Zucker-Scharff, GMU BA English 2011 and BS IT 2011, lead developer and CTO  for onAir networks;
Meredith Cary, GMU adult education student, lead inspiration and sponsor for the Speak Up 1-minute videos and contest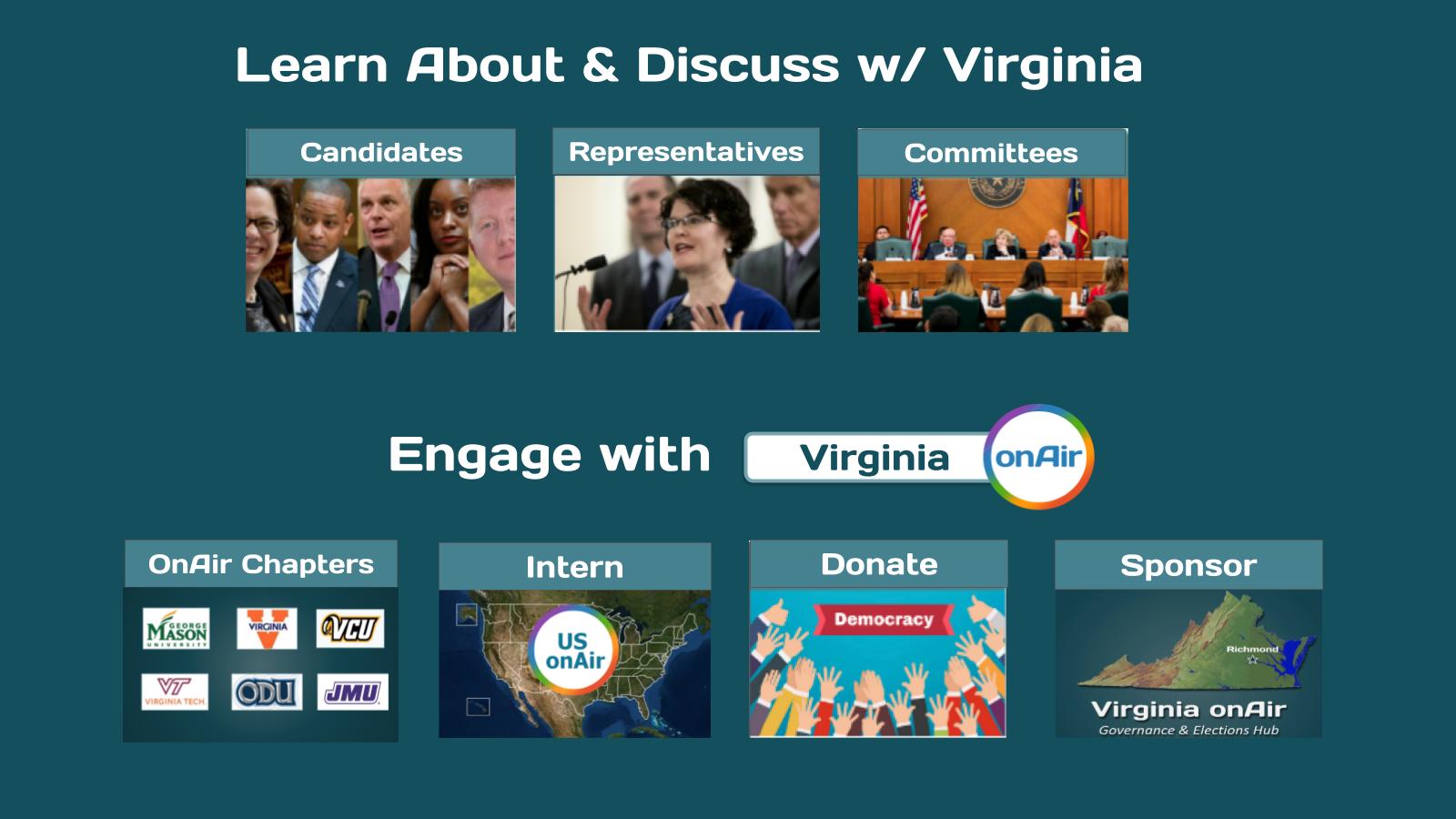 OnAir@GMU Charter
Contact
Email: Parvin Ghahremai
Locations
Fairfax Campus
4400 University Drive
Fairfax, VA 22030
Web
Virginia onAir, United States onAir, Ukraine onAir, Costa Rica onAir, Cyber onAir, Twitter
Activities
Students and other people in the Mason community who are not part an onAir internship program, can contribute to the chapter  in many ways including:
Curating posts on issues, representatives, candidates, and committees;
Aggregating content for a Hub's top news articles, commentary, videos, and livestreams;
Moderating a post's forum comments;
Being a producer, host, discussant/panelist, or zoom audience participant for an aircast;
Submitting a 1-minute Speak Up video;
Help promote the chapter and its activities;
Author an adovcate post
Donate to Democracy onAir or your organization become a sponsor
Most of the above ways to to contribute require less than an hour per week depending on the nature and extent of engagement.
For more information on how to participate in onAir activities, contact: gmu@onair.cc.
Benefits
Beyond helping to reinvigorate a more civil and vibrant democracy in their state, chapter members will:
Have the same benefits as people and organizations that purchase premium memberships including a full member profile post and the ability to author or co-author issue related posts
Be able to network Virginia elected officials and political organizations
Acquire and develop their political communication and media skills
Gain experience and credibility to pursue job opportunities including with Democracy onAir and other democracy promoting organizations
Internships
US onAir Internships
US onAir internships are sponsored and supervised by Democracy onAir, a nonpartisan, student-focused, 501c3 nonprofit providing trusted information on governance and elections and an online town square to facilitate more civil, collaborative democracies.  Over the past four years with the help of George Mason University faculty, staff, and alumni, Democracy onAir has been working with over 40 student interns to develop the US onAir network of 50 state governance and elections Hubs and national US onAir Hub.
The fall 2022 US onAir Internship program is designed to help US students and the public become more informed and engaged voters for the November 2022 elections. Many of our recent interns have continued working with Democracy onAir in management positions.
We encourage student interns to integrate their internship with their intern courses for credit, class projects, capstone projects, and research work.  All work is done online and unpaid.
Next semester our plan is to have some paid fellowships as well as new onAir networks in democracies throughout the world with a focus on Asian democracies such as South Korea, India, and Taiwan.
Contact valentina.autolino@onair.cc for more information.
Here is a 2 minute video about US onAir internship opportunities.
Global Politics Fellows
Source: Webpage
The internship is a key component of the Global Politics Fellows program.  The coursework is conveniently scheduled to allow students more time for a substantive internship.  Students will intern three days a week, for twenty to twenty-five hours a week.  This schedule increases the number of internships available to our Fellows and usually allows them to take on more responsibility.  This makes Global Politics Fellows more of an asset for their host organization and gives the student enhanced learning opportunities.  Internships are also great networking opportunities to learn more about a potential career field and gain contacts one can use when looking for a summer job and for their future job search after graduation.
Students will obtain their own internship with the help and support of the Fellows program and the Career Center.  Internship host sites will likely include local and federal government offices, foreign embassies, non-profit organizations, non-governmental organizations and think tanks.  Internship duties often focus on advocacy, program support, communications, research and community outreach.  Most internships will be unpaid, but students are also encouraged to pursue internships that offer a small stipend or a paid internship.
Global Politics Fellows will follow all of the current guidelines and requirements for internship credit set for George Mason University's GLOA 495 and GOVT 496 courses.
Clubs & Programs
GMU Student Government
George Mason University's Student Government is a permanent standing entity which receives its legitimacy and authority as representatives of the entire student body. We advocate for the interests of our fellow peers, educate the university community with regard to the state of the institution, and represent the interests of each student. Our mission is to do so through serving as a liaison to the administration, faculty, and community.
Student Government has undergone many, many changes throughout its history, but our mission has remained focused on advocated for each student. We have three main branches that help accomplish that goal.
Civic Engagement Programs
Roosevelt Institute
Roosevelt @ Mason seeks to empower students with the resources and environment to become effectively involved in the policy process at the campus, local, state, and national levels. The Roosevelt Institute engages in policy research, analysis, and writing to increase youth voices at all levels of the policy process. Roosevelt @ Mason promotes communication and coordination with community members, stakeholders, and policymakers in order to create real policy-oriented solutions. The ultimate goal of the organization is to facilitate progressive policy innovation in the local political process."
Roosevelt @ Mason is George Mason University's largest and most active nonpartisan student policy organization.