Summary
The nonprofit Virginia Public Access Project connects Virginians to nonpartisan information about Virginia politics in easily understood ways.
VPAP was founded in 1997 on one simple premise: Because Virginia's ethics laws rely on disclosure, it is imperative that citizens have easy access to public documents related to money in politics.
VPAP is fiercely nonpartisan. It has no dog in any political fight. Its singular focus is to give Virginians the information they need to make informed decisions.
VPAP's approach is grounded in facts taken directly from public documents such as campaign finance reports, election returns, conflicts disclosures and lobbyist registrations. VPAP breaks down the silos of government data and weaves in other information such as newspaper articles.
This integrated approach provides the public with unique and valuable insights on politicians and issues that impact their families and communities.
VPAP's excellence and nonpartisan approach have won awards from numerous organizations, including the Virginia Coalition for Open Government, the Wilder School of Public Policy at VCU and the Society of Professional Journalists.
About
The Virginia Public Access Project grew out of a joint effort by the state's five largest newspapers to track campaign contributions.
The effort was vital because Virginia is one of a handful of states with no contribution limits. Anything goes – as long as candidates identify donors who give more than $100. The system was built upon the premise that by making donor information public, candidates will police themselves to avoid the perception that they are beholden to one particular donor or to donors in general. The flaw, of course, was the public had no meaningful access to the information contained in disclosure reports, which at the time were crammed in file cabinets at the State Board of Elections.
In 1997, David Poole took a leave of absence from his job as a political reporter for The Roanoke Times to build a campaign finance database for the newspapers. Poole envisioned transforming the database into a public resource that would provide meaningful public access. Poole recruited a Board of Directors who shared his vision, and VPAP was incorporated in April 1997.
VPAP transformed campaign finance disclosure in Virginia. Over the years, VPAP has expanded its mission to connect Virginians with nonpartisan information about politics.
Twitter
Contact
Locations
Office
1209 E. Cary Street, Suite 200 Richmond, VA 23219
Phone: 804.353.4300
Fax:  804.331.0103
Web
Website, Twitter, YouTube, Facebook
Videos
Voter participation in Virginia
By: VPAP Updates
What if the region's were resized based on population?
Published on July 31, 2017
By: VPAP Updates
Election information
Source: Webpage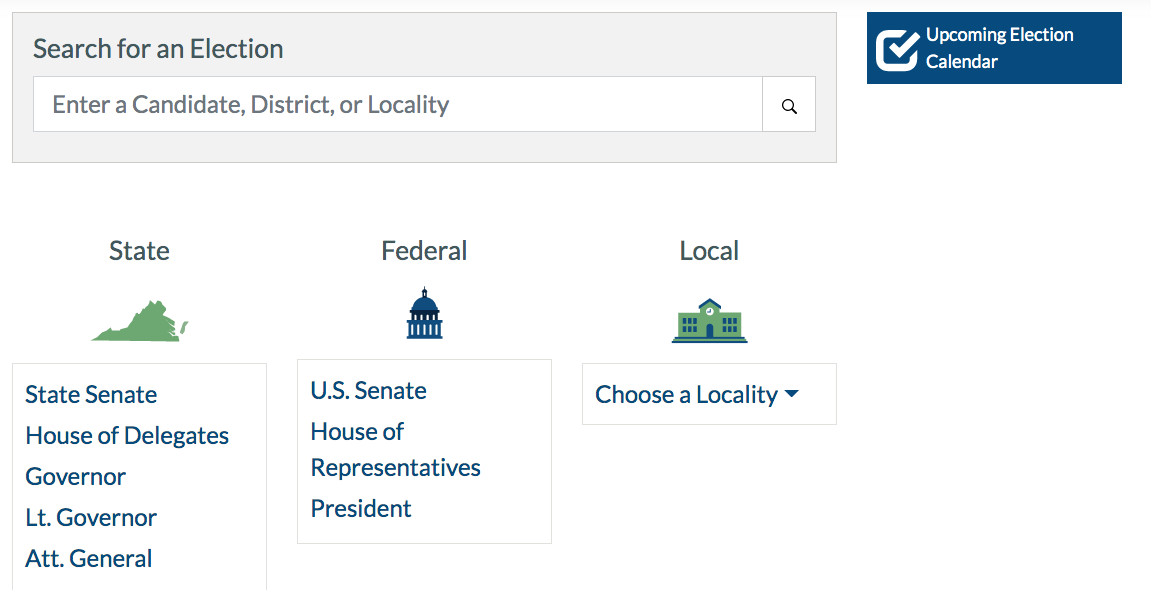 Money in VA Politics
Source: Webpage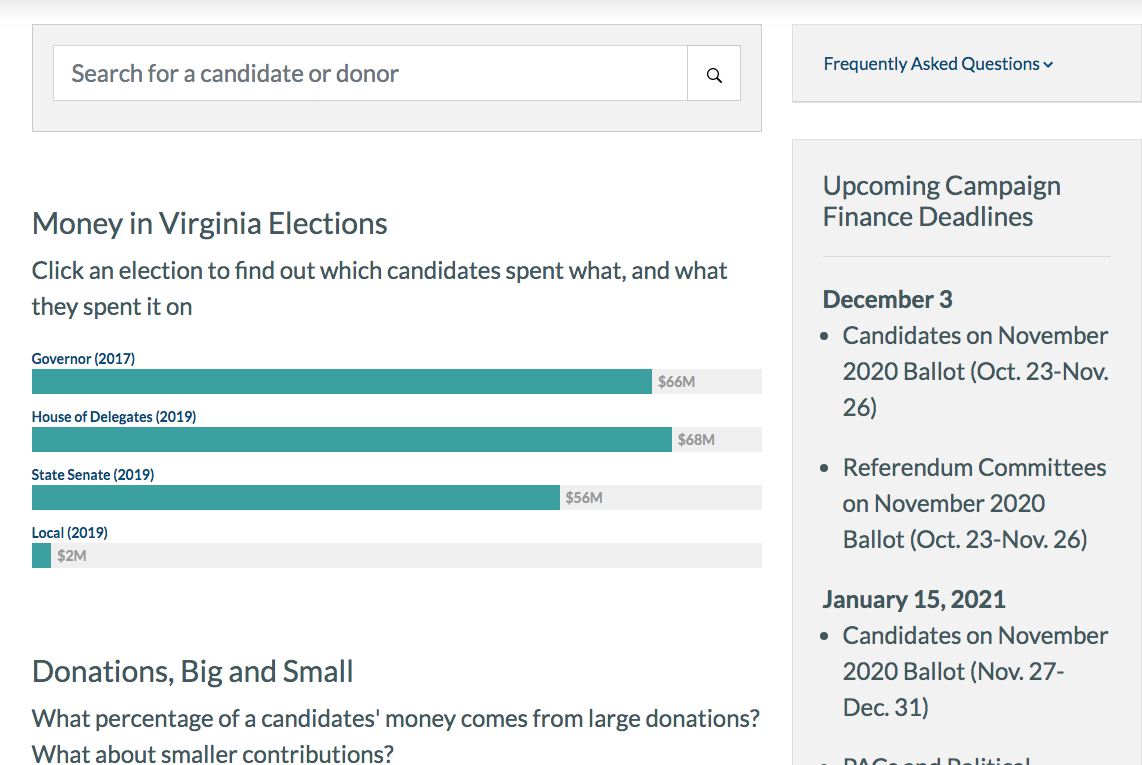 General Assembly
Source: Webpage
Lobbying
Source: Webpage
Lobbying in Virginia
Those who are paid more than $500 a year to influence legislative or executive actions, including procurement, are required to register annually with the state. Exceptions
Registrations expire each year on April 30. Each year, lobbyists fill out forms intended to disclose the matters they sought to influence, how much they were paid and how much they spent on things such as entertainment. Details
Who Hires Lobbyists?
Some 1,178 clients retained lobbyists in 2019-20.
A Typical Lobbyist's Portfolio
There were 2,865 individuals who registered to lobby in 2019-20.
Lobbyist Status
Visuals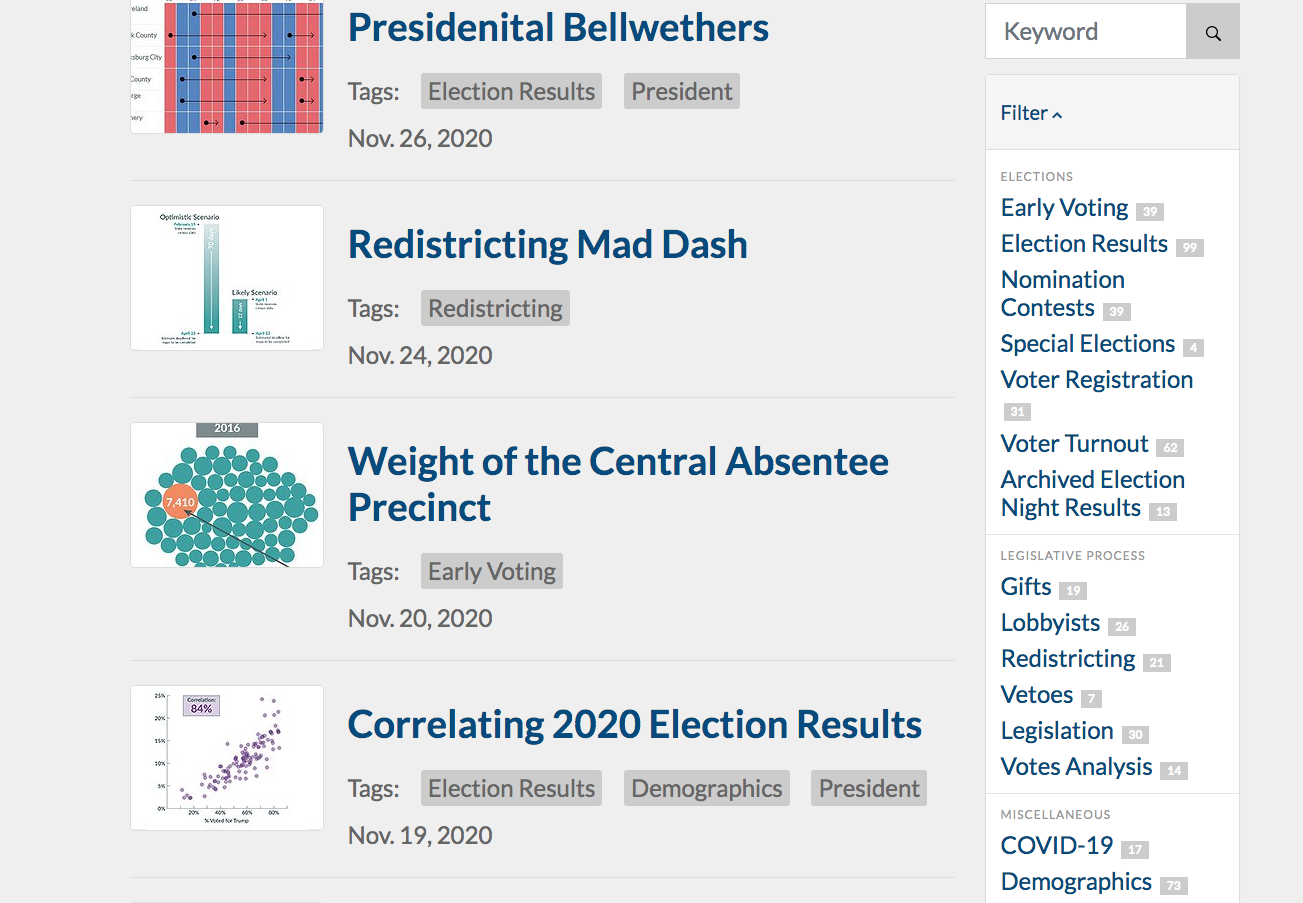 VA News