Summary
District Description: County of Fairfax (part)
Current Delegate: Tim Hugo since 2003 (D)
According to Ned Oliver of Virginia Mercury:
" Now the lone Republican representing Northern Virginia in the House, Hugo held onto his seat by just 100 votes in 2017. His challenger, Democrat Dan Helmer, has already raised more than $400,000 for his campaign. Hugo, whose represented the seat since 2003 is sitting on $796,000, and his party is bullish, arguing that if the seat was going to go Democratic, it would have happened in 2017."
VA House District 40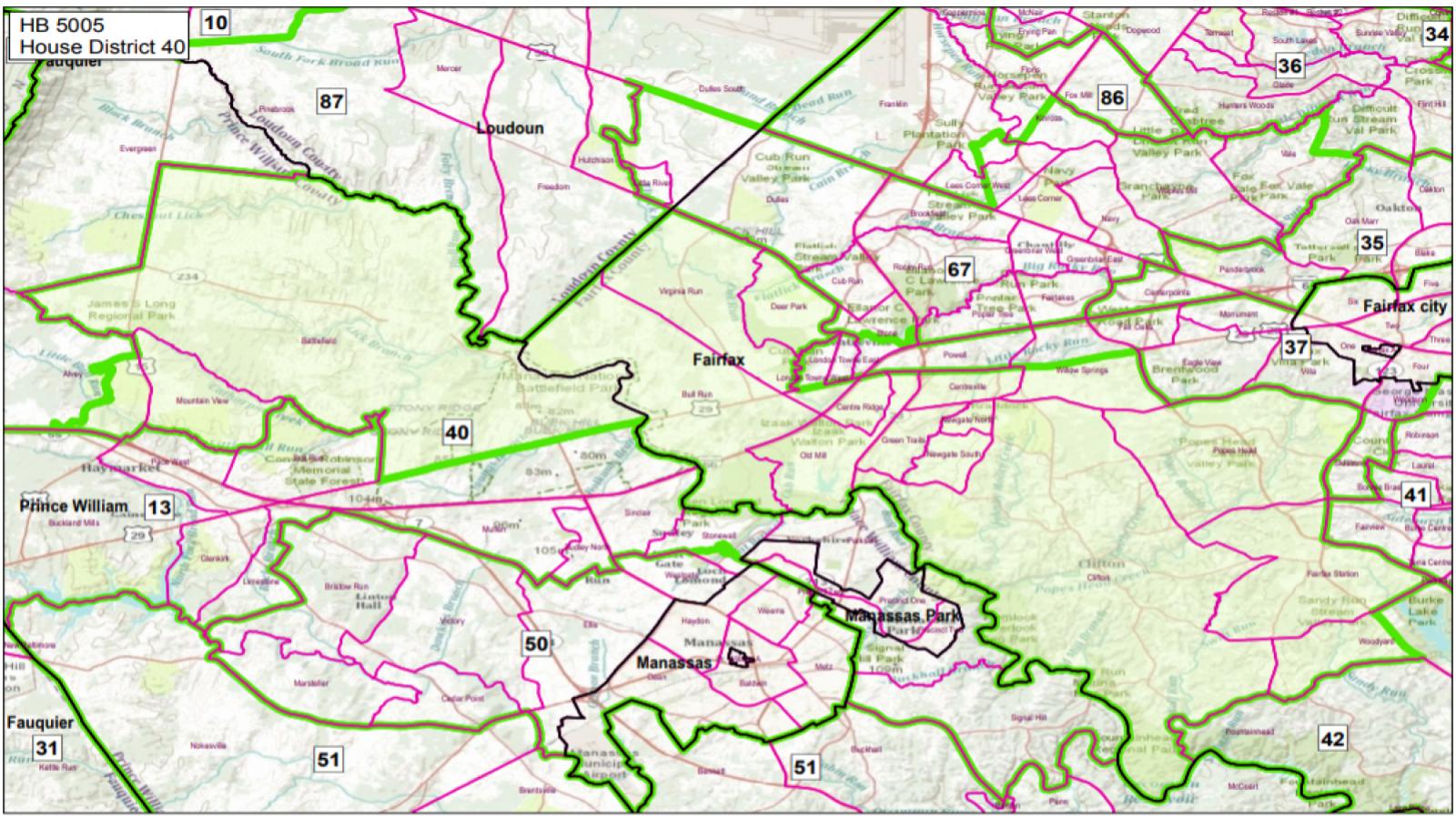 Tim Hugo
Current Position: State Delegate for VA House District 40 since 2003
Affiliation: Republican
Candidate: 2019 State Delegate VA House District 40
For more information, see Tim Hugo's post.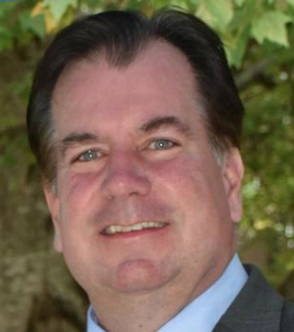 Tim, a lifelong Virginian and 30 year resident of Fairfax County.
Tim served as the President of CapNet – a technology association dedicated to educating and electing public officials who recognized the concerns of the technology community. He has also served as the Chief of Staff to the Chairman of the House Committee on Transportation and Infrastructure. Tim worked closely with the Chairman on groundbreaking national transportation legislation ("TEA-21''). During the Administration of President George H. W. Bush, he was the Special Assistant to the Assistant Secretary of Defense for Legislative Affairs.
In 2002, Tim was elected to the Virginia House of Delegates with almost 70% of the vote. He is currently third in leadership in the House of Delegates, serving as Majority Caucus Chairman. He also serves on the Commerce and Labor, Transportation, and Finance committees.
Tim earned his Bachelor of Arts degree from the College of William and Mary and received a Kodak Fellowship for the Senior Managers in Government Program, John F. Kennedy School of Government, Harvard University. He and his wife Paula live in Clifton, Virginia with their four children.
Dan Helmer
Current Position: Business Strategist
Affiliation: Democrat
Candidate: 2019 State Delegate VA House District 40
For more information, see Dan Helmer's post.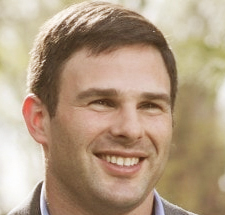 Dan Helmer is a combat veteran, business strategist, Rhodes Scholar, husband, and father.  His wife, Karen, is a public school teacher, and their two young sons, Harris and Aaron, attend class in Fairfax County Public Schools.
Dan is the son and grandson of immigrants.  His grandparents came to this country as Holocaust survivors and refugees. In America, they were welcomed and found prosperity, freedom, and peace. Dan believes that this, the American Dream, belongs to all of us – no matter our color, our religion, where we were born, or who we love.
In order to defend the country that had done so much for his family, Dan joined the Army and attended the U.S. Military Academy at West Point.  He then served in Afghanistan, Iraq, South Korea, in numerous domestic postings, and finally here in Virginia.  Dan remains in the US Army Reserve.
In the private sector, Dan was a business strategist who advised American businesses and US government agencies on how to solve their most complex problems.
Dan is a leader who is ready to bring out-of-the-box thinking to deliver better transportation solutions to Northern Virginia, protect our children in school while ensuring they have a high quality education, and protecting Virginians' access to quality, affordable healthcare.
Issues
Better Government
Tim Hugo
Taxes & Spending
Tim has consistently fought to hold the line on new or higher taxes, and has been a leader on eliminating wasteful and redundant state spending.
Tim is working to keep Virginia one of the top states in the nation to live, work, and raise a family. A big part of that goal is building a tax environment that fosters innovation and competition in business, and doesn't overburden hard-working Virginian families. As such, he has been a leader in opposing efforts to increase real estate taxes, income taxes and sales taxes, as well as opposing legislation that would have allowed localities to raise income taxes
Civil Rights
Tim Hugo
2nd Amendment
Tim believes that the right to keep and bear arms is one of the most important rights that we have, and he will fight to protect that right for all of Virginia's law-abiding citizens. Hand-in-hand with his commitment to protecting your 2nd Amendment rights is his firm resolve to  penalize those who use guns to commit a crime and obtain them illegally.
Sanctity of Life
Tim strongly believes that we should live in a society that promotes and protects the sanctity of human life and provide security for those who cannot protect themselves.
Dan Helmer
As your delegate, I will fight for a stronger and fairer Virginia. Regardless of the color of your skin, whom you love, where you were born, or what god you worship, we all have a stake in our Commonwealth's future.
It is appalling that in 2019, the Republican delegate from our district cast the deciding vote against equality for women, including those I served side by side with in Iraq and Afghanistan. The Equal Rights Amendment has my full support during the next legislative session and I will work across the aisle to get it passed for Virginia and added to the U.S. Constitution.
We need to stand up for communities of color and immigrants in a time of hateful and divisive rhetoric and policy. Our community has benefited greatly from immigration from every part of the world, from Korea to Vietnam to India to El Salvador.  In the House of Delegates, I will ensure immigrants have access to the American Dream. I also will protect voting rights and stand up against white nationalist violence.
With the upcoming redrawing of our Commonwealth's legislative districts, we need to combat gerrymandering and ensure that all voices have representation in our political system.
It's time to end corrupt, pay-to-play politics in Richmond.  I support fundamental campaign finance reforms that end unlimited donations, donations from Corporate PACs, and unlimited coordination with special interest groups.
Economy
Tim Hugo
Jobs and Employment
Over the last decade, the Commonwealth of Virginia has consistently been rated a top state for business. Through lower taxes, reducing burdensome regulations, and less intrusion into the private sector, Virginia has become a national model for how to attract and retain businesses.
Tim has made one of his top priorities be that the Commonwealth remain a pro-business state. He has made an emphasis to sponsor legislation to help foster a 21st Century economy in Virginia.
HB2101 – Tim supported this legislation which establishes "High School to Work" partnerships to promote internships and apprenticeships among Virginia high school students.
HB1931 – Tim supported this legislation which states that an employer shall not be required to release, communicate, or distribute to a third party any current or former employee's personal identifying information, unless required by federal law, state law, court order, warrant issued by a judicial officer, subpoena, or discovery.
Dan Helmer
I help run a small business that advises government agencies, non-profits, and companies on efficient spending. I know how to lead in managing our Commonwealth's financial resources responsibly. Increasing funding for schools, infrastructure, and healthcare can work within our budget so long as we cut wasteful spending. Right now, the  hard-earned money that Northern Virginians pay in taxes does not come back to our community. This needs to change. I will fight to make sure that our district's tax dollars are working for us.
An important part of healthy economic development is protecting labor unions and the right to unionize. I also support apprenticeships and trade schools and will work to increase trade job growth in the district and across the Commonwealth.
Education
Tim Hugo
Tim believes that every child in Virginia deserves a high-quality education. He has supported increased investment that puts more money in the classroom and pay raises for Virginia's K-12 teachers in order to attract and retain the best teachers. Just this year, Tim supported the 2019 state budget which included a 5% teacher pay raise and $85.7 million in new funding for K-12 education.
Tim also has supported legislation that would lower class sizes in primary and secondary schools, giving students more time with their teachers and improving the quality of education.
Regarding higher education, Tim believes that Virginia's public colleges and universities should admit more in-state students every year.  He has sponsored legislation to increase the share of in-state students at Virginia colleges and universities, so more of our kids can go to great schools.
In 2019, he voted to freeze tuition at Virginia colleges.  Tim Hugo supports reining in rising costs of college tuition.  Tim was also the chief co-patron of HB 1611, which will lower the cost of prepaid tuition contracts by more than $3,000 on an eight-semester tuition contract.  Both initiatives will help ease the cost of a college education on Virginia students and families
Dan Helmer
My wife Karen is a public school teacher, our kids go to Fairfax County public schools, and I graduated from a public high school. My education gave me incredible opportunities, including the chance to attend and graduate from West Point and become a Rhodes Scholar. I want all of our children to have the resources they need to succeed in school. That starts with adequately funding our classrooms and increasing teacher pay. Too often, students throughout Virginia are jammed into overcrowded classrooms and trailers, and quality educators are leaving the Commonwealth for more competitive salaries elsewhere.
Classroom safety must be a priority as well. My wife and the students she teaches should not have to practice active shooter drills during valuable learning time. We need to close the private sale and gun show loopholes and introduce common sense gun reform to protect our kids and our community, and we need to empower our police to ensure those who present a danger to themselves or others don't have access to firearms.
Environment
Tim Hugo
Tim believes in prioritizing the conservation of Virginia's natural beauty for future generations. From the Great Dismal Swamp to Great Falls, over 400 years Virginians have made a commitment to protect and treasure the Commonwealth's natural wonders.
On energy, Tim believes that Virginia requires an all-of-the-above approach. Energy independence has been America's "Achilles' Heel" in the recent past. Providing cleaner and reliable energy is a monumental task looking to the future. It will require the help of solar and wind incorporated with our existing coal, natural gas, and nuclear energy options.
In 2018, Tim sponsored legislation removing barriers for solar project development, strengthening our grid infrastructure, and directing utilities to generate more power from renewable sources — specifically 5,000 megawatts of utility solar and wind energy.
Dan Helmer
As a leader in the Army, I never walked away from the hard problems. Climate change is one of those problems and it's a pressing threat to our future. We can address it right here in our Commonwealth by removing the barriers that have stopped us from being able to invest in low-cost wind and solar energy.
We should aim to preserve the remaining rural character of the Occoquan Watershed and Prince William County's rural crescent by ensuring that we take on irresponsible development and provide incentives for eco-friendly infrastructure and environmentally sustainable housing.
We need leadership that will move the Commonwealth forward into a greener future. That's why I have made a commitment not to take money from corporate PACs or energy companies who want to influence politics at the expense of our environment.
Health Care
Tim Hugo
Tim believes a core function of government is to provide services to those most in need. Tim believes in taking real steps to improve and invest in the healthcare safety net to meet the needs of Virginia's most vulnerable citizens.
That's why Tim Sponsored:
This year, Tim co-sponsored HB 2267, which requires any health benefit plan amended, renewed, or delivered on or after January 1, 2018, to provide coverage for hormonal contraceptives (birth control), to cover up to a 12-month supply.
In 2015, Tim was the chief co-patron of HB 1940, which expanded coverage for the diagnosis and treatment of autism spectrum disorder. Based on research by the Virginia Commonwealth University's (VCU) Autism Center of Excellence report that the average age of diagnosis in Virginia is between six and seven years of age. This legislation expanded the coverage to individuals between the ages of two through ten.
In 2014, Tim's legislation, HJ 93, designated the first week in October, as Chiropractic Health Week in Virginia. The chiropractic profession promotes musculoskeletal health and overall wellness by encouraging patients and the public to maintain a healthy lifestyle through good nutrition, regular exercise and restful sleep instead of relying solely on medication.
In 2014, Tim co-sponsored HB 387, which ensures a simple pulse oximetry screening for critical congenital heart defects is performed on every baby prior to discharge. This Bill saves lives. If left undetected, critical congenital heart defects can result in death or disability.  By ensuring screenings for all newborns, these life-threatening conditions can be caught prior to discharge.
In 2011, Tim co-sponsored HJR 643, which designates May as "Lyme Disease Awareness Month" in Virginia. Then in 2013, Tim co-sponsored HB 1933, which requires health care providers notify anyone tested for Lyme disease about the risk of false negatives to better protect Virginians.
Mental Health
After the Virginia Tech shooting in 2007, Tim became committed to addressing mental health issues so that many of our young people could receive the help they need in the hopes of preventing another tragedy. Working with his colleagues in 2008, the Virginia General Assembly enacted comprehensive mental health legislation including several pieces of legislation that Tim co-sponsored. Last year, the Governor signed his bill, HB 1075, which requires community service boards to provide hospitals with informational materials on substance and alcohol abuse services to minors.
During the 2013 General Assembly session, Tim introduced HB 1609 which strives to improve the coordination between public four-year higher education institutions, mental health facilities, and local hospitals. HB 1609 ensures that all four-year public colleges and universities have mechanisms in place in order to expand services available to students seeking treatment. Specifically it allows universities and community services boards to work together so that there is notification when a student is involuntarily committed, or when a student is discharged from a facility and he consents to such notification.
Opioid Addiction
The opioid epidemic affects the lives of Virginians across the Commonwealth. Tim and the entire General Assembly are working to solve this serious issue. Medications are often prescribed for longer than necessary, resulting in unused medication being improperly disposed, illegally sold or abused. In Virginia, the most common drug overdoses are from prescription opioids. Tim is working to help stop overprescribing and to help end this epidemic.
 Tim's legislation, HB 1885, directs physicians who prescribe opiate painkiller medication to a patient for longer than seven days to contact the Prescription Monitoring Program (PMP). This allows prescribing physicians to see what, if any, controlled substances the patient is currently taking. This new directive helps limit overprescribing of painkillers.
The HB 2161 bill, which Tim co-sponsored, establishes educational guidelines for training health care providers in the appropriate use of opioids safe prescribing practices with the goal of preventing the overprescribing of opioids.
Dan Helmer
Every Virginian should have the financial means to see a doctor and get medicine when they are sick.  We need to protect healthcare for hundreds of thousands of Virginians – including tens of thousands of Veterans – who now have access to healthcare as a result of Medicaid expansion. I've worked with clients in the private sector to help reduce the prices they pay for goods, and in Richmond I'll use those same skills to combat the rising costs of healthcare. We need to be working to make healthcare accessible and affordable for all. This also means fighting to protect health benefits for police and firefighters who have served the Commonwealth; they should be covered if they get cancer or face PTSD as a result of their service to our community.
Families need access to reproductive healthcare that includes cancer screenings, birth control, and safe and legal abortion. I will fight to ensure  family planning decisions are between a woman and her doctor, not at the whims of politicians in Richmond. I'll also fight to remove taxes on feminine hygiene products to remove burdens on people who menstruate.
Infrastructure
Tim Hugo
Tim understands that transportation issues and road congestion are once again becoming a crisis in Northern Virginia. Tim Hugo opposes additional tolling on I-66 and on the Prince William and Fairfax County parkway and will continue to introduce legislation to give drivers more options to avoid I-66 tolls and supports their elimination altogether.
During his tenure in the House of Delegates, Tim has secured millions in critical transportation dollars for road construction projects in Northern Virginia, worked on countless projects to improve our local roads, and worked to get our fair share of transportation dollars from Richmond.
In 2018, Tim supported the NVTA's Six Year Plan, which created a budget of over one billion dollars for road improvement projects in our region including:
Dan Helmer
Each day, I face the same terrible traffic as most commuters in our district. For too long Richmond has failed to invest in our roads, mass transit system, and pedestrian infrastructure. As a result, our traffic is among the worst in the nation and it's only getting worse. Politicians in Richmond seem out of touch with the reality faced by most of us and have stopped common-sense investments in fixing Route 28, preventing excess and off-peak tolls on 66, alleviating congestion on Braddock Rd and in Clifton, and fixing deadly intersections like the Fairfax County Parkway/Popes Head interchange.
We need leadership who will make infrastructure a priority. We need to start repairing broken roads and building new ones. Two-thirds of our secondary roads in Northern Virginia are in poor condition. This issue is affecting all of us and our families; it is making it hard for parents to get home from work in time to have dinner with their kids and increasing the costs of commuting.
Safety
Tim Hugo
Protecting Victims
Tim is committed to protecting victims of abuse, violence, and human trafficking. As your Delegate, he voted to require abusers who are convicted of domestic assault a second time to spend at least 60 days in jail so victims have time and space to recover.
Tim has also been a leader in Virginia's fight against human trafficking having sponsored multiple pieces of legislation to combat this heinous crime. In 2011, he introduced HB 1898 which raised the penalty for abducting any individual for the purposes of prostitution or abducting a minor for child pornography to a felony. His next bill, HB 1606, made soliciting a minor for prostitution a felony as well.
In 2014, Tim then passed HB 485 to expand the toolbox for Virginia law enforcement to track down and prosecute suspected traffickers operating online. Finally, in 2015, he passed HB 1964 establishing Virginia's first standalone sex trafficking statute and provided for felonies for any offender caught trafficking children, regardless of whether the victim was forced, intimidated, or coerced.
Veterans
Tim Hugo
Virginia is home to nearly 800,000 veterans, roughly 1 in 10 of all Virginians, which is why Tim, as a veteran, has advanced and backed legislation supporting veterans. Legislation that includes making it easier to transition into civilian life and ensuring veterans have the best care available. Tim supports providing resources to those who complete their active duty.
In 2016, Tim co-sponsored HB 477, to establish two new veteran care centers, in Hampton Roads and in Fauquier County, in order to help provide veterans with quality long-term healthcare.
In 2012, Tim co-sponsored several bills aimed at helping veterans, two of which provide a real estate tax exemption for disabled veterans. The bills clarify that real property held in specific trusts by a disabled veteran, a disabled veteran and spouse, or a surviving spouse of a disabled veteran, qualifies for the real estate tax exemption for the primary residence.
House Bill 195 directs governing boards of public institutions of higher education to implement policies awarding academic credit to students for educational experience gained from military service.
To improve the delivery of benefit services to veterans, he sponsored HB 1121, to increase the ratio of claims agents with the Department of Veterans Services to the number of veterans in the Commonwealth to one agent for every 23,000 veterans, a 12.5 percent increase in the number of claims agents.