Summary
Current Position: State Senator of District 18 since 1992
Affiliation: Democrat
Louise Lucas was first elected Senator for the 18th District in 1992. The 18th District includes part of the cities of  Chesapeake, Emporia, Franklin, Portsmouth, and Suffolk and parts of Brunswick, Isle of Wight, Southampton, Greensville, and Surry counties
Senator Lucas is Chair of the Education and Health Committee and a member of the Commerce and Labor, Finance and Appropriations, Judiciary, and Rules committees.
News
Virginia lawmakers voted Friday to legalize marijuana, agreeing in principle to legislation that would allow retail sales to begin in 2024 and expunge many past convictions.
"Our commonwealth's prohibition on cannabis has clearly failed," said Sen. Adam Ebbin, D-Alexandria, who sponsored the bill in the Senate with Sen. Louise Lucas, D-Portsmouth. "We've had hundreds of thousands of Virginians branded as criminals and disadvantaged in various ways, and the war on marijuana has disproportionately targeted and impacted Virginia's communities of color."
The bill passed the House on a 55-42 party line vote, with Democrats supporting and Republicans opposing. The measure drew modest bi-partisan support in the Senate, with two Republicans joining the chamber's 21 Democrats in voting for the bill.
The Virginia Senate on Wednesday joined the House of Delegates in backing a resolution to erect a statue of teenage civil rights pioneer Barbara Johns at the U.S. Capitol.
On a voice vote, the Senate supported a resolution sponsored by Senate President Pro Tempore Louise Lucas, D-Portsmouth, to put a statue of Johns in the U.S. Capitol as the replacement for Virginia's statue of Robert E. Lee, which is now in storage at the Virginia Museum of History & Culture.
Lucas chaired the Virginia Commission for Historical Statues in the U.S. Capitol. In December, the panel picked Johns for the honor from a group of five finalists.
Marijuana legalization and criminal justice reform will be important parts of the budget, both in terms of spending and revenue. Virginia is expected to eventually pull in more than $500 million a year in new revenue when commercial sales begin.
Until that happens, though, Senator Louise Lucas says investments need to be made into expunging old criminal records and setting up a new Cannabis Control Authority.
"The long-term impact of prohibition on recreational marijuana use has had a profound impact on minority communities," she says. "High levels of incarceration and criminal record histories have limited options for individuals in the job market and their ability to better themselves and their families."
Several top Virginia Democrats showed their support for State Senator Louise Lucas in a Portsmouth rally on Tuesday.
This comes after Lucas and others were charged with felonies for protests at the city's Confederate monument on June 10.
NAACP President James Boyd said five more people were arrested on Monday, bringing the total number to 19. Boyd himself is facing two felony charges.
About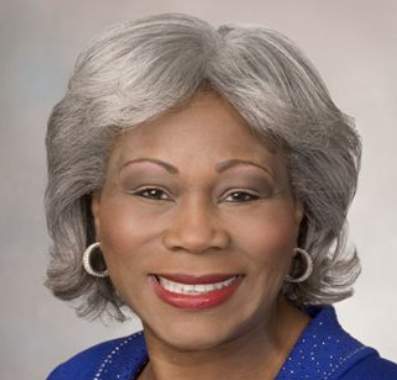 Source: Wikipedia
The Honorable L. Louise Lucas is a Portsmouth native and product of the Portsmouth Public School System. She is President/CEO of Lucas Lodge, Lucas Transportation, Portsmouth Day Support Program and Southside Direct Care Provider organizations operating in The Lucas Professional Center located in Portsmouth.
Senator Lucas began her federal career in 1967 as an Apprentice Shipfitter at the Norfolk Naval Shipyard (NNSY) and became the first Woman Shipfitter in July 1971. Senator Lucas began her public sector career path as Interim Executive Director of the Southeastern Tidewater Opportunity Project (STOP) in 1985 and was appointed Executive Director in 1986 where she served until 1992.
Graduating with honors, Senator Lucas received her Bachelor of Science degree (Cum Laude) in Vocational-Industrial Education from Norfolk State University in 1971 and her Master of Arts Degree (Magna Cum Laude) in Urban Affairs with a concentration in Human Resources Planning and Administration also from Norfolk State University in 1982.
Senator Lucas served in the position of Congressional Liaison for Sponsored Program at Old Dominion University from 1992 – 1994. She also served as Assistant Professor, Department of Academic Affairs and Special Assistant to the Vice President for University Advancement at Norfolk State University from 1994 – 1998.
Senator L. Louise Lucas was elected to the Virginia General Assembly in November 1991 and continues to serve the citizens of the 18th Senatorial District.
Senator Lucas is the mother of two daughters, Lisa L. Lucas-Burke and Theresa Lynn Lucas-Lamb who partner with her in various business entities and one son, the late Jeffery Lee Lucas, Sr. She has five grandchildren, and three great-grandchildren.
Experience
Work Experience
President/CEO
Lucas Lodge
2019 to present
Education
MA
Norfolk State University
2019 to present

Urban Affairs, with a concentration in Human Resources Planning and Administration, magna cum laude

B.S., Vocational-Industrial Education
Norfolk State University
2019 to present
Personal
Born in Portsmouth, Virginia on January 22, 1944. Baptist; member: Deaconess, New Mount Olivet Baptist Church.
Contact
Legislative Assistants: Vernon Tillage, Denis Young
Email:
Offices
Capitol Office
Pocahontas Building
Room No: E508
Senate of Virginia
P. O. Box 396
Richmond, VA 23218
Phone: (804) 698-7518
Fax: (804) 698-7651
District Office
P.O. Box 700
Portsmouth, VA 23705-0700
Phone: (757) 397-8209
Fax: (757) 966-9671
Web
Politics
Recent Elections
2019
| | | |
| --- | --- | --- |
| L. Louise Lucas (D) | 43,021 | 92.49% |
| Write-In (Write-in) | 3,494 | 7.51% |
| TOTAL | 46,515 | |
2015
| | | |
| --- | --- | --- |
| Louise Lucas (D) | 20,321 | 95.6% |
| Write In (Write-in) | 942 | 4.4% |
| TOTAL | 21,263 | |
Source: Virginia Legislative Information System
Committees
Committees
Commerce and Labor
Courts of Justice
Education and Health
Finance
Appointments
Studies and Commissions
Block Grants
Brown v. Board of Education Scholarship Committee
Electric Utility Regulation, Commission on
Federal Action Contingency Trust Fund Approval, Commission
Health Care, Joint Commission on
Voting Record
DANCE, ROSALYN has run in 8 races for public office, winning 7 of them. The candidate has raised a total of $939,451.
See: Vote Smart
New Legislation
Source: Virginia Legislative Information System