Summary
My name is Nanayaa Obeng and I am a Global Politics fellow at George Mason University. I  am currently majoring in Government and International Politics with a minor in business and a concentration in International Relations.
My goal after graduation is to volunteer with the Peace Corps and then pursue law school to study International Law.
My Democracy onAir Interview below was conducted on April 25, 2021.
I am a member of the hub because of its commitment compiling up-to date information on Virginia elections, politics, and governance. This ensures that the public can be knowledgeable about such information.
About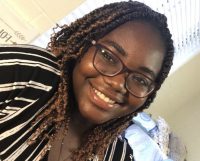 Passionate, driven, and hardworking student majoring in Government and International Politics seeking work experience and the opportunity to make an impact through government. Interested in working on issues concerning government policy, nonprofit work. and international relations.
Experience
Education
B.A in Government & International Politics
George Mason University
2018 to present

• Education Abroad: Dublin City University (Spring 2019)
• George Mason University Peace Corps Prep Program
• George Mason University Global Politics Fellow Spring 2021
• Studying Government and International Politics with a minor in Business and concentration in International Relations
Work Experience
Office Assistant
George Mason University Modern and Classical Languages
2021 to present

• Communicated with others in the office and people who called for information
• Arranged and organized important files and documents in the office
• Made copies and corresponded with Professors regarding their documents

Community Assistant
George Mason University Housing and Residence Life
2020 to present

• Connected students to available academic, personal, and professional development resources on campus
• Provided mediation of peer-peer conflicts in the residential community
• Assisted supervisor with ongoing student engagement and support related to their academic and intrapersonal wellbeing
Volunteer Experience
Research Assistant
Mapping Shadow Influence Project
2021 to present

• Coded data in Excel worksheets
• Wrote literature reviews on databases and research papers pertaining to the project

English Tutor
New Life College Prep Program
2019 to present

• Tutored middle school and high school students for their English classes and the SAT
• Advised and assisted high school seniors with the college application process
• Reviewed and proofread the essays of middle school and high school students
Contact
Email: Democracy OnAir
Web
Websites
onAir Activities
As a person who believes in democracy and the importance of educating my fellow citizens, I am glad to be an OnAir Content Curator for Virginia OnAir. This past election season was my first time voting in a Presidential Election. The feeling that I experienced from performing my civic duty is one that I will never forget. I think the work that Democracy OnAir does to inform the US public on federal, state, and local government politics is extremely important for media literacy. Recently, we have seen a growing distrust among the American public towards the media which can increase ignorance of important political decisions. It can also decrease civic participation. That is why I admire organizations that are committed to promoting the democratic values that are integral to the United States democracy.
Posts I am curating
These committee posts: 
General Laws
Appropriations
Courts of Justice
Commerce and Labor
Judiciary
Local Government
Privileges & Elections
Rehabilitation and Social Services
These VirginiaRepresentative and Senator posts:
David Bulova
Charniele Herring
Luke Torian
Dick Saslaw
Creigh Deeds
Lynwood Lewis
Barbara Favola
John Edwards
Magnify memberships:
Virginia onAir Magnify
Democracy Squad at GMU
Papers
Articles
Global Politics Fellows Papers
GPF Poster
Democracy onAir Internship
Democracy onAir Interviews
GPF Poster