Summary
I am presently pursuing a B.A. degree in Government & International Politics at George Mason University. I am concentrating in international relations and a minor in intelligence analysis. I am  currently involved with the Global Politics Fellows Program and am completing this spring an internship with Democracy onAir.
My current goal after graduating is to go to law school with a focus on legal issues related to physical security.
My Democracy onAir Interview below was conducted on April 25, 2021.
About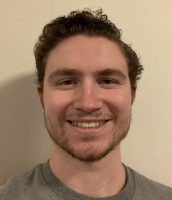 Loyal, persistent, and hardworking student majoring in Government and International Politics seeking work experience and the opportunity to make an impact through government. Interested in working on issues concerning government policy, national security, and international relations.
Experience
Education
B.S. in Government & International Politics
George Mason University
2018 to 2021

George Mason University: August 2018 – Present: Pursuing B.S. in Government & International Politics; concentrating in international relations and a minor in intelligence analysis. I have conducted research on Environmental Policy with Frank Manheim and assisted in his future written work about the relationship between federal and state policy. I am currently involved with the Global Politics Fellow Program.
Work Experience
Navy Lifeguard
2018 to 2020

Worked at Northwest Military Annex and Portsmouth Naval Hospital. Completed routine lifeguard duties including water saves, water testing, and giving routine medical attention and attended military exercises. Some of the military exercises included paratroopers removing their parachute and gear if in water, and coast guard swimming exercises.

Lifeguard
George Mason University
2018 to 2021

I have work at the Aquatic and Fitness Center on the George Mason Fairfax campus. This has involved water saves, giving routine medical attention, and supervising over collegiate swim meets.
Volunteer Experience
Volunteer
Clean the Canals

Environmental Sustainability: While in Dublin, Ireland, I worked with Clean the Canals, an organization dedicated to cleaning waterways running through and around the city.

Soup Kitchen Volunteer
2007 to present

Worked with communities in need in the Hampton Roads area. This involved feeding them a hot meal of the day and packing meals for later consumption.

Serve the City

The overarching goal of helping citizens in need throughout Chesapeake. My project was lawn-care and construction of a wheel chair ramp for an elderly resident.
Contact
Email: Democracy OnAir, School
Zipcode: 22030
Web
Websites
onAir Activities
Democracy onAir's mission to galvanize people into action is a goal that is necessary today more than ever. 159 million Americans voted in the 2020 presidential election. While polarization might have had the most to do with the turnout, it also showed that scores of people felt empowered to use their voice. Unfortunately, local and state elections rarely see good voter turnout, and certain demographics are known to have voter apathy. Democracy onAir's progressive strategy to target a younger generation through social media is a tactic that can be used effectively. I also think that directly connecting George Mason students with their representatives is a great way to make them feel more heard.
Posts I am curating
These committee posts: 
Senate Education and Health
Senate Finance and Appropriations
Senate Rules
Senate Transportation
House Agriculture, Chesapeake, & Natural Resources House
House Communications, Technology and Innovation
House Labor and Commerce 
House Public Safety
These Virginia representatives posts:
Louise Lucas
Janet Howell
Mamie Locke
Dave Marsden
Ken Plum
Cliff Hayes
Jeion Ward
Patrick Hope
Magnify memberships
Virginia onAir Magnify
Democracy Squad at GMU
Other onAir Activities
I am curating potential aircasts on the Committee posts listed above.
Democracy onAir Internship
Working with Democracy onAir to inform the general public of state assembly activities. This current internship session worked to collect all the bills of the 2021 session, build up committee chair posts, and coordinate interviews with them.
Interviews with Directors
Powerpoint